This article is part of "Celebrating Women Business Owners," a four-week series highlighting the achievements of women business owners. 
Collectively, women-owned businesses are changing the landscape of the business world for the better—generating $1.3 trillion in revenues annually, up more than 58 percent over the past 15 years*. To put that in perspective, $1.3 trillion is greater than the GDP of Australia. That revenue is more than the combined market cap of Apple, Microsoft, General Electric and Sony.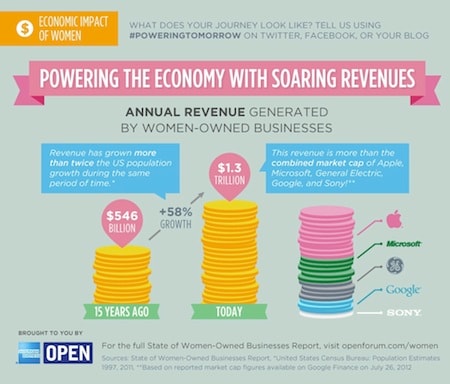 While most of the private sector was cutting jobs between 1997 and 2007, women-owned businesses were creating them to the tune of roughly 500,000 jobs. By 2012, female entrepreneurs employed approximately 7.7 million people.  
We're celebrating these successes, which are driving our economy, by sharing more results from American Express OPEN's study The State of Women-Owned Businesses. This week, we want to highlight industries in which women are thriving, some of the very same sectors we might not have seen women enter into in past generations. We also point out some sectors where there is opportunity for growth. Of particular note is the healthcare industry, in which women-owned firms dominate, with ownership of 53 percent of the firms in this sector. Education is another strong sector for women: Some 45 percent of educational firms are owned by women, while on a national scale, 29 percent of all firms are owned by women.  
In fact, this group is overcoming the notion that certain sectors were traditionally, or non-traditionally, for women. 
Industry Dominance
Women aren't just testing the waters in certain sectors; they are outpacing their peers in terms of growth. Women-owned firms are exceeding overall sector growth rates in 7 of 13 of the most populous industries including wholesale trade, finance and insurance, real estate, health care and social assistance, construction and arts/entertainment/recreation. This growth is also being funded more independently, with relatively less debt risk, as only 5.5 percent of women-owned businesses used a loan to start their businesses, compared with 10.7 percent of all firms.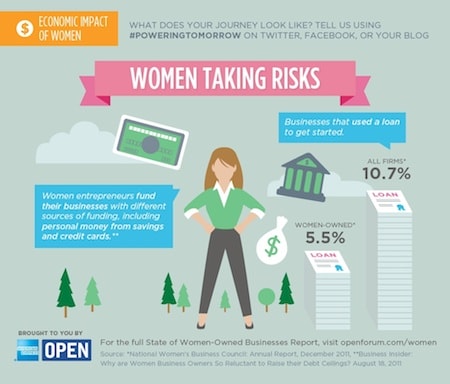 So where is the potential growth for women? Women are still under-represented in a few sectors like finance, with only 20 percent of finance and insurance firms being women-owned. Construction is also an under-represented area where just 8 percent of construction firms are women-owned. 
Join the Conversation
Be a part of this important conversation:
Re-post these infographics (click anywhere on the images and then right-click to save it to your computer)

Forward this article to a friend or colleague (you can use the OPEN Forum e-mail share tool at the top or bottom of this page)

Share and/or comment on Twitter, Facebook or your own blog about how you are #PoweringTomorrow in your community and within your business (Hint: Use this hash tag #PoweringTomorrow so we can all be on the same page!)  As a start, complete the following sentence:
"I am #PoweringTomorrow by ____________."
This is your space and your conversation. We want it to be thought provoking and useful, and ultimately help you push through the challenges of the entrepreneurial journey. 
Read the 2012 State of Women-Owned Businesses Report that inspired this dialogue.
View the infographic in our kick-off article, Celebrating Women Entrepreneurs' Business, Goals and Journey.
View the infographic examining women-owned businesses by location, Celebrating Women Entrepreneurs: The Magnitude of the Movement.
Allison Silver is the vice president of brand, advertising and advocacy for American Express OPEN, a role in which her responsibilities include oversight of "OPEN Women's Business Initiative" and "Victory in Procurement," as well as other programs designed to advance OPEN's mission of helping small business do more business.