In OPEN Forum's newest series, Choices, we ask entrepreneurs to open up about some of the tough decisions they've had to make—in their own words.
Prior to launching Sedulo Group in 2005, which helps its clients develop strategies to deal with their competition, Heath Gross served as a counter-intelligence agent with the U.S. government, where he was responsible for leading source operations in Kuwait, Afghanistan, Saudi Arabia, and Djibouti. But when an unexpected illness forced him to prematurely retire from the military at age 34, he realized that the skills he had honed combating terrorists could also be used to help companies understand their competition better—and protect themselves from divulging too much information of their own.
While competitive-intelligence—which can include finding out what your competitors are selling and for how much—can be a tricky business, Gross chooses to chooses to conduct his research in an ethical and somewhat "un-spy-like" manner. That means no dumpster diving for information or pretending to be someone he isn't, which makes his job of acquiring information more of an art form, and much harder to get results.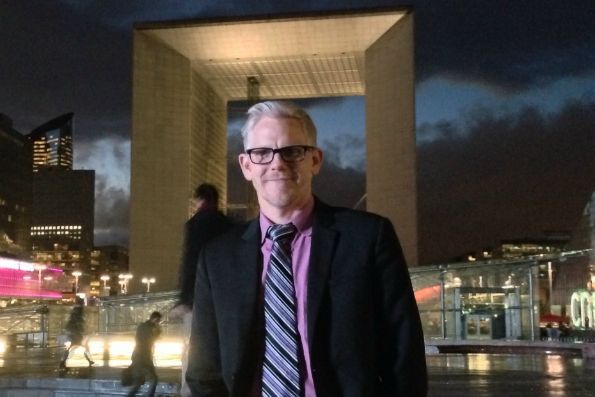 Heath Gross takes in the sights while on a recent business trip to Paris.
Here, Gross explains how he came to make that choice:
"While I was serving in the military, my primary job was to detect and investigate foreign personnel who might be trying to gather intelligence on the U.S. I was deployed to the Middle East after 9/11, where my job shifted from counterintelligence to counterterrorism. My task was to identify and recruit sources in order to gather intelligence related to planned or suspected terrorist threats.
"As an expert in HUMINT, or human intelligence, I knew how to listen to people and how to get information from them.
"When I left the military in late 2003, I went back to school to get my MBA. That's where I first heard about competitive intelligence, or CI, which is the act of gathering and analyzing information on a company's marketplace and its competitors. Before then, I had been uncertain about what I was going to do next or what kind of job I could get that would take advantage of the unique skills that Uncle Sam taught me.
"I quickly saw how I could use many of those same skills to gather information on companies and markets, so I started working as a CI contractor. I built a reputation as a sort of gunslinger that CI vendors would outsource their toughest intelligence requests to. Looking back, I will admit, I didn't really know what was legal or ethical at the time.
"Eventually, I went to work for a competitive intelligence firm based in Washington, D.C. It was there that I learned to operate within the legal and ethical guidelines of the professional CI community. What I came to realize is that collecting intelligence is easy if you are willing to break the rules, if you're willing to lie and pretend to be someone you aren't. What makes us professionals, what separates us from the amateurs, is that we can gather that same information, but do so in a way that is ethical and that does not jeopardize our reputation or the reputation of our clients.
"What I wanted to do was go about doing things the legal and ethical way. We don't use fake names, and when we call someone up and if they ask who we are, we tell them. That makes it much harder. We don't do any dumpster diving either.
"When I started my own firm, Sedulo Group, in 2005, I was committed to building it around best-in-class primary research conducted in a legal and ethical manner. I knew how important having a good reputation would be. That was something you could build a business around.
"For the first couple of years, I was just a one-man shop, working from my home. The turning point came in 2007, when I landed a large counter-CI project for a major pharmaceutical company. The client suspected that someone was using unethical, and perhaps even illegal, techniques to gather intelligence on them. As one of the few guys in the industry with a counterintelligence background, they turned to my company to help them confirm if their suspicions were correct, and if they were, they wanted to know who was responsible.
"I spent four months tracking down the people responsible and was able gather proof that they had acted both unethically and illegally. I was even able to identify the vendor that the individuals worked for as well as the competitor that had hired them. In the end, my client chose not to pursue legal action, but instead used the information to thwart their competitor's intelligence activities. The project was a major success, and in just a few months, I had made more money on that project then I normally made in a year.
"That same year, I landed another large project that involved a major U.S. freight company that hired me because they suspected one of their foreign competitors was going to attempt a hostile takeover. Things got crazy when I tracked the trail back to some Russian oligarchs.
"I suppose I could have gone out and bought a new house with cash, or perhaps a new sports car, but instead I decided it was time to invest in really building my company.
"Our job is hard. There is an art and science to it. The science is figuring out who has the information and how to find them. The art is figuring out how to legally and ethically get them to give you information once you find them.
"In addition to researching competitors and markets, one of the other things we do for many of our clients is to provide counterintelligence training. Our counter-CI training enables us to assess their vulnerabilities and build a custom training program that helps protect the company from information leaks and competitive intelligence activities. Recently we worked with one company where we went to one of their national sales meeting to see what we could learn about an upcoming product launch. It was incredible how much intelligence we could collect just from what they left behind in their meeting rooms and what was left on the white boards and in the trash cans. When we summarized everything in a report for the client, they couldn't believe how vulnerable they were.
"By the end of 2008, we had grown Sedulo to eight full-time employees and we had done about $750,000 in revenue. We have since worked with a wide variety of firms in sectors like life science, health care, professional services, information technology, and manufacturing. Today we have over 40 employees and more than $5 million in revenue.
"We hire employees from different backgrounds, including some folks who are ex-CIA. But we hire more people who have deep subject expertise or technical background, like medical doctors, PhDs, and engineers. Then we train them on how to conduct primary research. Their knowledge of the subject matter helps them understand the complexities of the industry and adds depth to their research and analysis.
"There's no question we've entered the era of Big Data. Companies have so much information and it's only going to grow. And they can get a lot from mining that data. But it's limited because you can only get information that's been published in the public domain. It's all secondary information.
"Our clients hire us because they want to know what's going to happen. That's where Big Data breaks down. We're not reading the tea leaves or making projections based on past data. By using HUMINT, we speak directly with the decision-makers to get primary information. If we want to know when a company is launching a product, I will call up the product manager directly to find out before it's been published somewhere.
"In today's move toward 'flat' organizations and technology-driven efficiencies, the idea of adding human analysis as a solution may not be a very popular notion. However, I have witnessed firsthand, both in government intelligence and in boardrooms, how an over-reliance on technology can hinder the decision-making process. What we do is provide an intelligent alternative to technology."
Darren Dahl is an entrepreneurial writer who writes about small businesses, and even teams up with them to write books as a ghostwriter.
Photos from top: Shutterstock, Daniel Wainright