In OPEN Forum's newest series, Choices, we ask entrepreneurs to open up about some of the tough decisions they've had to make—in their own words.
Kevin Knight planned to use the U.S. Army as a way to escape the troubled Hampton, Virginia, neighborhood where he grew up. But when a training accident—he was hit in the head with a training stick—detached both his retinas, causing blindness in one eye, his military career was over. That forced him to change gears and find his future in the world of business.
After attending college and graduate school, Knight gained experience working for Fortune 500 companies like General Motors until he saw his chance to start his own business—Knight Solutions, which is based in Leesburg, Virginia, and employs 160 employees who specialize in renovating military cemeteries. With his own business, Knight made the key choice to hire veterans for his workforce, as a way to help them take care of their fallen brothers and sisters while also earning a good living with a full-time job.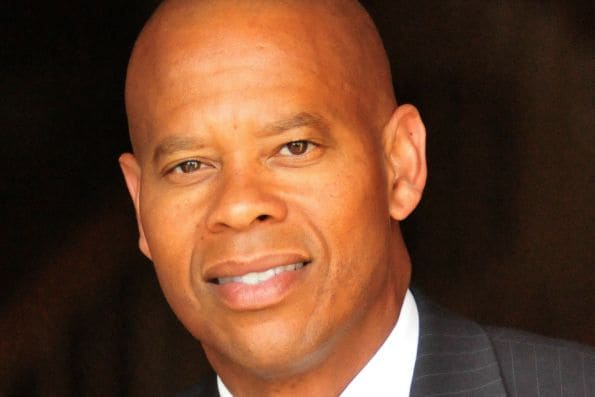 Knight Solutions founder Kevin Knight
Here, Knight explains how he made that choice:
"When you come from a large family like I did, and you see how hard your father struggled to make ends meet, you want to see something different for yourself. I figured I either needed to become a football star in the NFL or go into the military and retire there. Football didn't work out.
"After my eyes were injured, I was blind in my right eye, and I remember sitting in a chair in the doctor's office crying. I knew there was nothing for me by going back home. Staying in the neighborhood wasn't an option.
"At first, I tried working for a local shipyard, but I wanted more. So I decided to go to school. I graduated from Norfolk State University and then the University of Cincinnati, where I received my Master of Science in Organizational Behavioral Studies. I then worked for companies that taught me what I needed to know to launch my own business.
"I have a mentor at the Department for Veteran Affairs who coached me on how I could become a government contractor as a Service Disabled Veteran-owned business. In particular, I had seen the poor conditions of military cemeteries like Jefferson Barracks National Cemetery in St. Louis where my brother-in-law, a Vietnam vet, is buried. Everybody knows about Arlington National Cemetery, but there are more than 100 around the country that need help. I saw an opportunity to build a business servicing those cemeteries that made you feel good and whole at the end of the day.
"I used a $50,000 Patriot Express Loan to buy and lease the equipment I needed to start my business. In the beginning it was just me doing the landscaping work. But my vision has always been to take veterans who have seen action, bring them home, and give them a sense of ownership and responsibility. I want to give my fellow veterans a sense that they did not leave their brothers and sisters behind and that they are taking care of them now. Hiring veterans would be my way of giving soldiers who haven't fallen a way to contribute with their lives.
"Our core customer is the federal government. My first contract was to renovate the Winchester National Cemetery in Virginia. It's small, about five acres, but I hired three other guys and we did the work. I went directly to the VA hospital in the area and talked to the work manager who approved jobs for vets at the hospital. I told him that I want to give these men and women a chance at gainful employment. I did something similar with the unemployment office since they keep a database of veterans we can recruit.
"Our next one was Quantico National Cemetery. In fact, for our first four projects or so, I was there doing the work until I could afford to hire more guys to help out.
"As we've gained success, we've multiplied our strategy by hiring more veterans for every new job we've won. California, Florida, Texas, it doesn't matter. I tell the veterans' rep at the VA that I want to talk to 50 vets and that I'll hire 20 of them. I have a team of trainers that go around the country giving vets the skills they need to do the job and working on quality control to make sure everything is up to our high standards. We are currently working on between eight and 10 projects a year. And when we show up in town the VA knows, I will hire a vet.
"Each renovation that we do lasts about 18 months. At the conclusion, we offer our guys the opportunity to transfer around to another site. We are creating long-term jobs for these guys and gals, including benefits and 401(k). We do it right and don't cut any corners.
"We've changed lives. By hiring vets, we are thanking them for what they have done for our country. In some cases, by working in a cemetery, they get closure. We often deal with the worst cases of men and women who have been impacted psychologically and physically by war. We give them a new mission, which is something they get great satisfaction from.
"It's been an amazing ride. We provide jobs for 160 employees, make payroll every week, and continue to grow. Everyone has accepted our mission and vision. I am a big believer that if you do the right thing for right reason, glory follows.
"We have also received great feedback from loved ones who appreciate what we are doing for our fallen brothers and sisters. They thank us for our good work. We tell them that we're not just any old contractor. We are a veteran-owned and friendly company that hires vets to take care of your vet. That gives them the satisfaction that their government cares about them."
Darren Dahl is an entrepreneurial writer who writes about small businesses and even teams up with them to write books as a ghostwriter.
Photos from top: Shutterstock, Courtesy of Kevin Knight