In OPEN Forum's newest series, Choices, we ask entrepreneurs to open up about some of the tough decisions they've had to make—in their own words.
Marie Moody's love for her adopted mutts—Stella and Chewy—inspired her to launch Stella & Chewy's, 
a Milwaukee-based pet-food maker, in 2004. Since then, the company, which uses raw meats and organic vegetables to create frozen and freeze-dried meals for dogs and cats, has grown dramatically.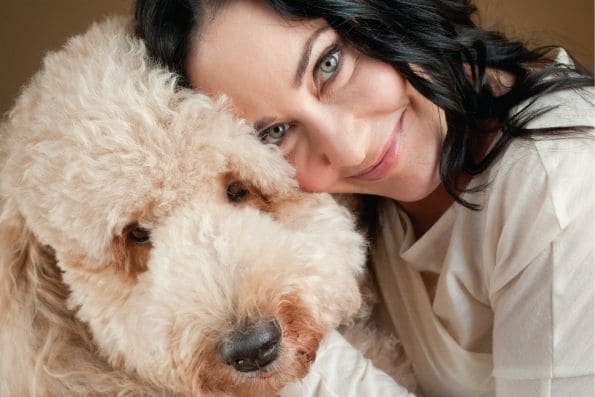 Marie Moody and her newest pet, Tummy.
But it didn't happen overnight. Moody has made many critical decisions along the way to propel that growth—including opening her own manufacturing plant and implementing breakthrough food-safety technology that made her raw-meat based food the safest on the market. She also made the significant decision two years ago to hire a CEO, Jen Guzman, to replace her in managing the day-to-day operations of the business so she could focus on the things she like doing best—like thinking about branding and the strategic direction of her business—while also making time for her nine-year-old son, Charlie, outside of work.
Here, Moody explains how she made that choice:
"I founded the company with the idea that I wanted to make Stella & Chewy's pet food available to as many people and pets as possible, because I believe there is nothing better than our food. I'm as passionate about this today as the day I founded the company.
"When I think about all the decisions I've made since founding the business, the food has been the driving force and this is what I think about—what will help my business flourish and as a result help the lives of pets.
"It all began when I adopted Stella, a terrier mix, in 1997. She was adorable but destructive. I figured she'd be happier if she had a boyfriend—and I'd have unchewed shoes—so Chewy, an Airedale/Shar-Pei mix, joined the family. I soon found out from the vet that Chewy was very sick with distemper. I began researching raw diets so I could nurse Chewy back to health. I shopped at Whole Foods, filling my cart with organic meats and veggies, which I prepared for him. Chewy's health dramatically improved on this organic dog food diet.
"What I learned in time was that well-meaning dog owners spend millions on puppy spas and pretty little sweaters, but not so much on their pets' dietary needs. I felt people would invest in organic raw pet food if they understood how important good nutrition was to their beloved animals' longevity. Based on my success with Chewy, I was determined to bring a healthy pet-food product to market. I spent the next six months writing a business plan, did tons of research, and drained my savings—and even took out a loan from my parents. Stella & Chewy's, my organic raw pet food line, was born in 2004.
"I had to learn everything as I went. But I surrounded myself with good people as soon as I could afford to. I understood that I couldn't do everything myself and I had no problem delegating. Having hundreds of people report to me and managing performance reviews and making hiring decisions is not where I thrive. I understand these are hugely important things but they're not where I want to focus my energy. I think more at a strategic level.
"As the company has grown over the past decade, the needs of the company have evolved. I came to realize that I simply wasn't the best person for every job. I needed help and a partner I could trust. I began to realize I wanted someone who had the skills that I didn't have, someone who was detail-oriented and thorough. I have been very fortunate in that the right people have come along at the right time and there is no way I could have done this alone.
"I hired Jen Guzman to be the CEO because she is a better CEO than I am. And believe me, she did not pursue this opportunity—I pursued her for many months before she would even agree to sit down and seriously consider my offer! I first met her when she was working for a private equity firm that wanted to invest in my business. We took a year to get to know each other and I was always impressed by how smart she was. I often found myself picking up the phone to call her up and run things by her. She had not been a CEO before, but knew she wanted to do it at some point. I also knew she was passionate about Stella & Chewy's and was hungry to prove herself. Then, one night at dinner, I convinced her by saying, 'Come in and run this thing and we'll see where we go from there.'
"People ask me why give I would give up the CEO title. I realize that not many other entrepreneurs would feel the same way that I do, but I have found the formula that works best for me. I see it more as that I gained a CEO as a partner rather than having lost something. But for some people, maybe acting in that role is what keeps them going on a day-to-day basis. But it wasn't that important to me. It freed me up to do what I am best at. The business is still my baby and I care and nurture it in a different way. I am still involved in everything from product development and marketing, but at a strategic level. But I don't need a title. 'Founder' is fine with me.
"Part of being able to attract great people is sharing my vision with them and also being able to recognize people whose strengths will match with what the company needs. It's not just about me—it's about providing a better life for pets."
Darren Dahl is an entrepreneurial writer who writes about small businesses, and even teams up with them to write books as a ghostwriter.
Photos from top: Shutterstock, Timothi Jane Graham / Courtesy of Marie Moody