In OPEN Forum's newest series, Choices, we ask entrepreneurs to open up about some of the tough decisions they've had to make—in their own words.
As a former commercial diver, Mike Comer learned about the healing powers of hyperbaric chambers, which are devices that allow people to breathe 100 percent pure oxygen at increased pressure. Originally used to help divers acclimate to surface pressures after being deep underwater, they are now used to speed the healing process of soft tissue wounds. When Comer recognized that those devices could also be used to help treat people suffering from complications of diabetes, such as non-healing wounds, he saw a business opportunity.
Comer's business, Wound Care Advantage in Sierra Madre, Calif., builds and operates 18 outpatient wound centers that use hyperbaric chambers, mainly in partnership with community hospitals in rural areas. While he and his 51 employees help save people's lives, Comer came to realize that he was putting his own quality of life—and his connection with his wife and children—in jeopardy by working too much. Until he finally learned how to take a vacation.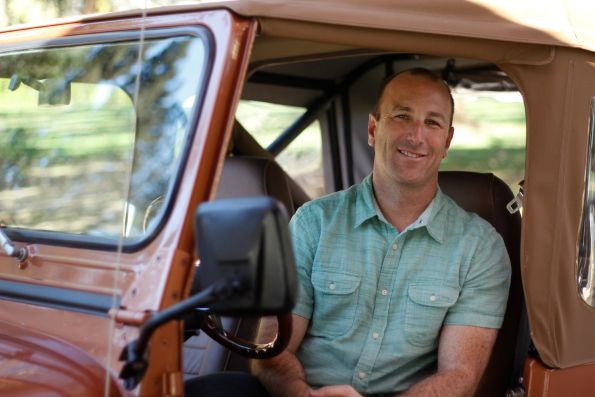 Mike Comer in his Jeep, ready to take a drive.
Here, Comer explains how he made that choice:
"I started my business in 2002. During the first few years, I worked 14 hours a day, seven days a week. I didn't feel like I had any other choice. Whenever I had spare time and wasn't working, I felt as if I was letting down my clients and the people who worked for me.
"I also have attention deficit disorder, so I find that I can't always focus on something for very long. But when I do, it's intense and overwhelming. Most people can't handle that. I was totally focused on growing my business.
"The result was that I had two young kids who didn't see me a lot. My wife wasn't happy.
"One day a few years ago, my wife told me that she'd planned a family trip to Hawaii. I said, 'OK, sure, but it's not the best time for me to go away.' I figured I would just put it out of my mind and look into it later.
"But she looked me in the eye and said, 'You're going on vacation with us.' She told me that if I wasn't at the airport in time for our flight, she would change the locks on our home. Whew. I got the message and we flew over to Maui.
"But for the next three days, I sat on the beach and pouted. I wasn't able to work on my computer because there wasn't any Wi-Fi. My wife had also taken my smartphone—it was a Treo—and put it in her backpack so I couldn't call anyone or check email.
"I sat there thinking about all the work that needed to be done. There were fires to put out every day. I knew I was missing chances to manage my people and get our machines in place. I convinced myself that everything was falling apart because I was away.
"By the fourth day, as I was grilling up some dinner on the beach, the sun started to go down. It was spectacular. And then I was like, 'What the heck is wrong with me? I am in paradise! I am going to blow my entire life chasing this business.'
"When I came back to the office, I said, 'Wow! I have way more energy than I did before I left.'
"That's when I made a promise to myself to take two vacations with the family every year, no matter what. The island of Molokai is a favorite of ours, especially because there are maybe two restaurants on the island. It forces you to unplug and allows you to recharge your mental batteries.
"But I also had to change my mindset when it came to the business. I made a commitment to invest in people and technology in a way that would allow the business to become bigger than just me. For example, I'm really proud of the partnership we have just formed with a company called Pristine that makes us the first company to bring Google Glass into a hospital through our wound-care program. We are HIPAA compliant and it helps us solve a problem by letting nurses and doctors communicate more efficiently by seeing exactly what's going on. The fastest way to treat a patient is to have the experts see the issue as quickly as possible and allow for rapid treatment.
"I also realized the importance of building a team you can trust. You need to put time and effort into mentoring them. If I didn't I have a team that I believed wouldn't let the business burn down, I would have a harder time getting away.
"I now hire great people. Whenever we have a company meeting now, I am the dumbest guy in the room. That's by design. That's what makes it work.
"We took a vacation this past Christmas and I only called into the office once the whole time, and that was to ask someone for the name of a song. It was so different from where I was just a few years ago.
"I also realized that I had to make those same opportunities to get away available to my people. That's why everyone gets 15 days of vacation plus holidays the first year they work for us. We encourage everyone to use those three weeks to enjoy, see things, and get away. Nobody earns my respect because they work past six every day, either, because I know they'll be mentally fried the next day. It's all about being as efficient as possible.
"We also give our people four days of volunteer time they can use for anything, from spending time in their kid's classroom and going on field trips to helping out in their community.
"Heath care is a stressful industry to work in and it's just too easy to get burned out. I've even learned that when I have really stressful days, the best way to deal with things is take the doors and roof off my Jeep and drive until I'm done. It's just another part of taking mandatory time for myself. It's how I've learned to cope with things when they get crazy and intense. I find myself doing it more and more. Nobody is going to give you a badge for working yourself into the grave."
Darren Dahl is an entrepreneurial writer who writes about small businesses, and even teams up with them to write books as a ghostwriter.
Photos from top: Shutterstock, Chris Schellenbach