In OPEN Forum's newest series, Choices, we ask entrepreneurs to open up about some of the tough decisions they've had to make—in their own words.
Back in 1997, Ralph Dandrea left his job working for a large home health-care firm owned by an insurance company to start his own tech company, ITX, outside of Rochester, New York. The company flourished, especially as it first made the transition into doing website work for other companies and, more recently, mobile apps.
But one of the big challenges Dandrea continued to deal with was not just attracting top tech talent to ITX, which now numbers some 100 employees, but also retaining it. After situations where the company won contracts but then lost the people it needed to get the work done, Dandrea chose to begin conducting what he calls "Commitment Conversations" with his staff, where both the company and the employees pledge to keep an ongoing open and honest dialogue about their mutual expectations so they can minimize surprises, eliminate anxiety, and create smooth transitions.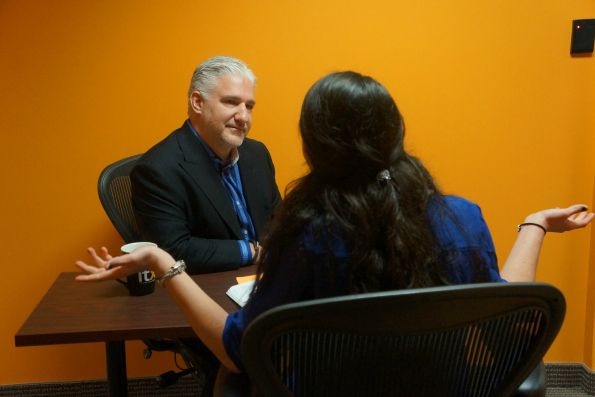 Ralph Dandrea listens to one of his employees.
Here, Dandrea explains how he made that choice:
"I talk to a lot of fellow entrepreneurs who tell me about how they thought their employees were signed up and gung-ho about their companies—until one day those same employees walk in and hand you their two-week notice. It's then that you hear the wild stories and excuses about how they just got another job offer out of the blue. You know they are lying and it makes you angry. Not only that, the company suddenly has a big hole to fill in a short period of time. That's a nightmare.
"That's what happened to us back in 2011. We had four people leave us in a short period of time. They didn't all leave for the same reason—one guy left to move across the country to be near his girlfriend—but it created uncertainty throughout the company. It was like, everyone was looking around and wondering, 'Who's next?'
"My management team and I came to the realization that we didn't really know who was committed to us and who wasn't. For example, we had one supervisor who had two people leave and she had no clue that was coming. It was a real eye-opener because we learned that you couldn't assume people are committed to you just because you didn't have any evidence that they were actively looking for a job. We knew we had to approach the problem from a different angle.
"We all know that the era our parents and grandparents lived in, one where everyone had a reasonable chance to work for the same company for their entire working life, is long gone.
"And that's fed by the sense that employers and employees are simply acting out of self-interest. As an employee, why would you trust that your employer would look out for your best interest, especially if it somehow threatened the company's bottom line? Employers, on the other hand, operate on the assumption that employees will eventually leave, or that they are lucky to have a job—so why should they get too invested in promoting their development?
"But we wondered if there might be a different way to approach this equation. I believe that every company is essentially a commitment machine: It achieves its goals when everyone—employers and employees—works toward the same mission, vision, and values. So why not create a structured approach to having open and honest conversations about how committed people are to the company? That's the central idea behind what we've come to call the 'Commitment Conversation.'
"We structure the Commitment Conversation so that each side knows what to expect from the other. We open up a weekly or monthly conversation between supervisors and employees to talk about any concerns that might be on the table that might get in the way of our commitment to each other. Maybe it's that the company isn't doing as well financially as it was or perhaps another company has approached the employee about a job. It's about creating an open and honest dialogue. It's not something you can read from a script. It is crucial that you have an authentic, intimate, one-on-one, conversation. That's how we can learn where we stand with each other and avoid surprises.
"One of the keys to implementing this tool successfully is to not take someone's lack of commitment personally. Now, we hear that statement all the time. But it's important to understand that other people have legitimately different concerns than we do. And that's OK.
"I don't expect team members to stay at ITX any longer than it serves their needs or meets their concerns. The goal is not to make team members committed if they aren't; it's to provide clarity by having them tell us when they're feeling less so. That's how we reduce surprises and eliminate the anxiety that's created among our employees and clients when someone leaves. I don't expect them to promise me anything that they don't want to promise. Saying 'I don't know' is OK. I would just like for each person to be honest about her commitment or the lack of it. If you're mad at your supervisor and want to leave, what's wrong with saying that? We just ask that someone give us enough notice so we can make the transition as smooth as possible.
"The Commitment Conversation is not intended in any way to make people do anything that they otherwise wouldn't do, to change their minds, or to try to make them be more committed. We are only attempting to obtain and maintain transparency about each team member's dedication to the organization, and in return, we will provide an opportunity to thrive within a transparent environment.
"The goal of the Commitment Conversation is something I've come to call workability, which means creating situations where we, and those around us, can thrive. When you can achieve that, you can then reap other positive benefits such as building protection for the organization, achieving clarity, and creating smoother career transitions. It imbues our relationships with more understanding, support, and respect.
"As the Commitment Conversation has become the norm at ITX, it has helped reduce the number of times we've been surprised. The average tenure of our employees has also has gone up. Almost half our workforce has now been with us for at least five years. That's astounding, especially for a tech company these days, where talent acquisition is at a premium all over the world.
"In the past year, we hired 11 people. And four of those were former employees who came back to work with us. We're excited to have them back even though they left before. And the reason they could come back is because our relationship was never destroyed by a lie. That's the kind of upside the Commitment Conversation offers."
Darren Dahl is an entrepreneurial writer who writes about small businesses, and even teams up with them to write books as a ghostwriter.
Photos from top: Shutterstock, Colleen Dandrea