In OPEN Forum's newest series, Choices, we ask entrepreneurs to open up about some of the tough decisions they've had to make—in their own words.
Becky Cannon has long immersed herself in learning about natural foods and practices, especially after she gave birth to her daughter, Emi, in 1979, while living in Japan. But after she moved back to the United States and was preparing for the arrival of her second daughter, Mari, Cannon missed the specialized baby products like wool cloth diaper covers that she had come to rely on in Japan. Sensing an opportunity, Cannon started a company, Family Clubhouse, out of her home in Asheville, North Carolina, in 1985, where she sold imported diaper covers through a mail-order catalog.
Today, the company has a different name, i play, and it has grown into a family of brands that includes i play, green sprouts, and grow healthy. As a whole, the business offers hundreds of natural, BPA-free, and PVC-free baby products like organic cotton clothing, swimwear, bibs, bottles, and toys at national retailers like buybuy BABY, Whole Foods, Target, and Amazon, through international distributor partners in over 25 countries, as well as a shop of its own in Asheville. The company now has 62 employees and annual sales totaling more than $10 million. But what's interesting is that Cannon's oldest daughter, Emi Kubota, is now an integral part of the company's growth and future. Kubota, who earned dual masters degrees in business and international relations from Columbia University, has taken on a fulltime role as vice president of the business and offloaded some of the work her mother had been doing for more than 30 years.
Cannon and Kubota admit they have hit a few bumps in the road as their relationship has evolved from that of mother and daughter to that of business partners. But it's a decision both of them say has brought them closer together.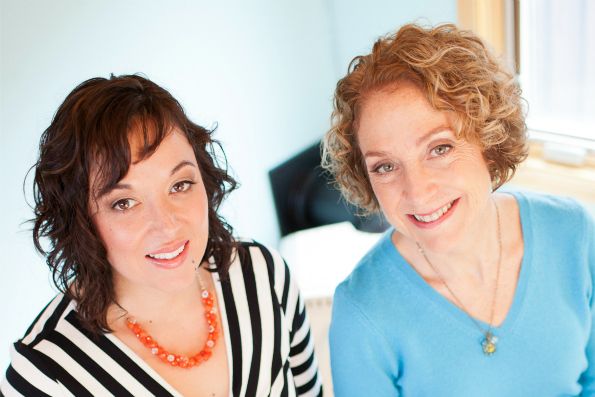 Emi Kubota and Becky Cannon at work on their next product.
Here, Cannon and Kubota explain how they made that choice:
Becky Cannon: I remember taking Emi to meetings and trade shows when she was three years old. I would bring booster seats and books and sit her right at the table. She grew up with it. But I wanted both my daughters to do whatever they wanted. I didn't want them to choose to run a business because it had been so difficult for me.
Emi Kubota: Our mother ran the business out of our house until I was 16. My earliest memory of working in the business was when I was 12. We were in our garage doing order fulfillment. As soon as I got my driver's license and could drive my sister and myself to school, she moved the company into an office park.
Cannon: It was always highly stressful. I remember when Emi was in middle school, she would ask me, "Why can't we just be normal like everyone else? No one else has employees running around their house!"
Kubota: Our mother made food for us that was healthy but not normal. My sister would bring mouthwash with her to school to rinse the black nori out of her teeth from our breakfast rolls. No one would trade lunches with us until I got to high school and Japanese food became more popular. Someone once paid me $20 for my homemade sushi lunch.
Cannon: Meanwhile, I was trying to run the business. We went through so many booms and busts I have lost count. At one point in the early 1990s, the orders for our cloth diaper covers were coming in like crazy. Then, they stopped. Our saving grace was that we invented the Ultimate Swim Diaper, a diaper with a waterproof outer layer and absorbent inner layer. We started making 10,000 of them a week. It's still one of our most popular products.
Kubota: I have heard a lot of the stories from the early years, and I knew she struggled at times, but I didn't really understand it as it was going on. I was doing my own thing. After I graduated from Middlebury College, I did some volunteer work in Kenya and Cambodia. I wanted to pursue a career in international economic development, so I moved to New York City to attend Columbia.
Cannon: But you also worked for the business on holiday breaks and for two years between college and grad school.
Kubota: I packed orders and inspected swim diapers. In high school, I was the yearbook editor, so I also helped with the layout of the catalog and the website.
Cannon: But after you finished grad school you went to India for a month instead of finding a job. Then you ran out of money and came home.
Kubota: It's true, I literally ran out of money. I was humbled by not having a job. I came home in 2008 with my tail tucked between my legs. So I asked my mother if there was anything I could do for i play to make money.
Cannon: But you didn't want to stay. You thought you were a big-city girl.
Kubota: I thought I could only live in New York, San Francisco, or London. Anywhere but back home in Asheville.
Cannon: She lived with me for seven months. While it was nice to have her back, I also wanted her to make a decision. I thought about selling the business and getting out. I hadn't made a profit for the first 10 years I ran it, so I wasn't focused at all on building an organization. I kept it lean.
Kubota: Meanwhile, I was doing phone interviews that weren't panning out much. Most companies were contracting in late 2008 and early 2009, not expanding. i play was expanding.
Cannon: Around that time, we started a big IT project where we were switching over our accounting system. And the consultant we hired suggested that it would be good for the company if Emi stayed on to help manage the transition. We asked you to commit to staying for a year.
Kubota: At the time, a year seemed like forever. But I remembered how my friend in grad school always thought how cool and socially responsible i play was, how it was doing well by doing good. It's a business with a purpose. And I had never thought about it that way before. So I decided to take the job.
Cannon: The next year, she took on managing the supply chain and then later, sales. She is a more detail-oriented person than I am. She has also brought a professional way to hiring and creating structure in the organization. But for the first year or two, she was always telling me what I was doing wrong. I felt like I was working with my father! I couldn't get a sentence out without being interrupted. But I think she has learned to respect me more over time.
Kubota: When I first got here, I thought I'd work for her for a year and then I'd be running the company.
Cannon: She thought she was ready for me to leave.
Kubota: It was hard for me to recognize that she has a different decision-making process than I do. She relies on her experience, whereas I am more analytical. But I realized how her approach was complementary to mine rather than in opposition. We also have a similar sense of design, though she likes more bright colors, and I am more boring and classic.
Cannon: But she's realized that pink dots sell whether you like them or not. You have to separate your personal opinions from those of the market.
Kubota: It's been a transformational experience working with my mother. We are open and honest with each other. There are high stakes involved. It can feel very personal when you get a performance review.
Cannon: We have to remember to make separate time to be a mother and daughter as well. Sometimes it can be hard to keep the lines clear. Emi coming on has definitely changed everything. We are growing and building for the future. I wouldn't be putting the energy into this by myself. We make a complementary team. I have the experience and she is young, bright, and energetic. She has a lot of freedom to do what she thinks is right. But the biggest mistake I make is that I assume she knows everything.
Kubota: This is the first year that I have gotten to manage the creative process of creating our swim prints. It's a big job and an important part of working with our key accounts. And she is now handing over those to me to manage. It's quite an honor, and I feel it shows how much she trusts me now.
Cannon: I never thought I would give up sales. But I have spent the past three years working on a book, grow healthy. grow happy. the whole baby guide, that will be a big part of our business and brand moving forward. It's been an opportunity for me to let go of some things. After slaying dragons for 10 hours a day for 32 years, it feels good to let Emi take on more responsibility. I even gave her my desk and office!
Darren Dahl is an entrepreneurial writer who writes about small businesses, and even teams up with them to write books as a ghostwriter.
Photos from top: Shutterstock, Matt Rose (www.mattrosephoto.com)