Christiane Lemieux was a fearless 23 year old in 1999. Just three years out of Parsons design school, with only a few jobs under her belt and $15,000 to her name, she decided to start her own design company—what would one day become furniture and accessory darling DwellStudio—out of her Soho apartment.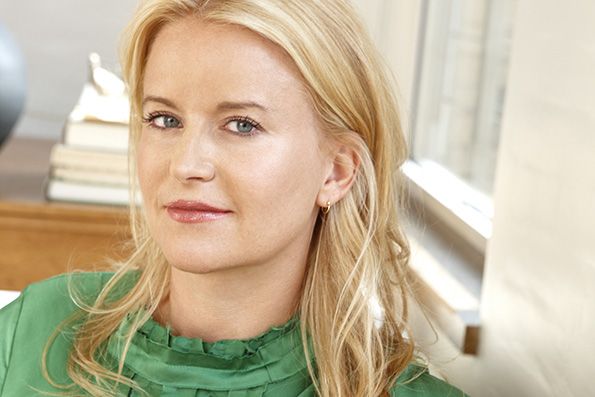 "I was doing textile repeats on my apartment window," she remembers.
Joshua Young, her boyfriend, now husband, shared the apartment and had a job kept food on the table and clothes on their backs in the early days. Meanwhile, Lemieux was determined to create a company out of her own textiles, so in March 2000, she went to a trade show with samples of bedding designs to sell, all sourced from manufacturers she knew from previous design jobs. Her fabrics were a hit and she started receiving orders—a blessing and a challenge.
"These orders were coming to my apartment and I kept thinking, 'How do I do this?'" she says. "I learned everything on the job, from processing to accounting to shipping."
The learning curve was steep, but by the end of 2000, Lemieux had enough cash to open her own office. She spent the next 13 years building her business, partnering with Target for four of those years (she still designs for the company under a private label, Room 365), scaling staff and weathering the bumps in the market.
Today, DwellStudio is thriving with more than 800 wholesale accounts, pieces in ABC Carpet & Home in New York City, and its own retail location in Soho. Wayfair.com, an online home furnishings retailer, acquired the company in August for an undisclosed amount.
Although the road has been long, Lemieux maintains that entrepreneurs should be risk takers. "Do it," she says. "Take the risk. If you can't take the risk, it is probably not the right thing for you. Some days it will be great and some days it will suck. The highs are high and the lows are low and there is nothing in between. It just is."
But the rewards make the ups and downs worthwhile. Lemieux recently spoke with OPEN Forum
How did you first become interested in design?
My interest in design came largely from traveling when I was a kid. My family would Christmas in Egypt and summer in Morocco. Seeing the world and staying at amazing hotels gave me a sense of design and made me want to bring it to people.
What challenges have you faced along the way?
Well, fulfilling orders from my apartment in the beginning was definitely difficult. But there were so many other hard times. About four years in, we got hit with a giant baby order and I had already maxed out my credit cards. I had to ask my parents for money. They floated me the cash and I paid them back, but it was hard. 
Our first office doubled as a showroom and didn't have any heat so in February 2001, we had to shut down for four weeks because we all were literally freezing.
I remember January 2009 when the world shut down. I was at Javits [Convention Center in New York City] and sitting at a table with a bunch of people who'd all gone to the same show for 10 years in a row. We looked at each other in horror. There weren't any customers. The show was empty. We all thought, "Oh my God, it is over."
How did you survive the recession?
We were still bootstrapping at the time and we scaled down our staff and got lean and mean. We were also really conservative with our inventory. We started looking for outside funding for the first time. But we didn't just want money; we wanted management help. We took our first investment in 2011.
How did the Target partnership come about and what was it like to work with them?
Oh, it was so great. For us—I mean, we were so small—it was like attending university for production, process, streamline and logistics. We learned so much. We worked with them from 2008 through 2011 and got the contract because I had done design work for Target prior to founding DwellStudio.
Joshua also works at DwellStudio. How do you make that work and with kids?
Joshua joined the company in 2004, and it has been great for a host of reasons, mainly because we are able to trade off watching the kids. If I'm in Paris, he is taking the kids to school. It can be stressful, though, because work never stops. But the flexibility is amazing. That, and we do different things. I head up creative and he is more involved with finance and real estate/store locations, so there isn't any conflict.
Tell me about the Wayfair.com acquisition.
It is more of a merger to help get us to the next place. To build an international lifestyle brand, you need a huge balance sheet and you need specialists in every area of your business. We are a design house; we aren't good at logistics and operations. Wayfair is best in class at logistics and the tech side of home; now our inventory is much better and customer service and logistics are more sophisticated. Everything is the same from a consumer facing perspective—we are still the same brand.
How do you compete with the dozens of other home retailers out there right now?
We just don't look back. We create trends; we don't follow them. Others may interpret our design, but we are like horses with blinders on. We make everything ourselves, from scratch. There is a difference between retail and a firm that creates products.
What is it like to work at DwellStudio?
It is very casual, very family. We [24 employees] are all moms and we support each other. If one of us has to go to a school function, we get it. We complete each other's sentences. Many of our babies are in Dwell catalogs.
What does the future hold for the company?
Keep your eyes open because early next year you will see a ton of new brands under the Wayfair umbrella. As for us, we are hoping to find more retail locations, to fill out our product assortment and to expand our catalog reach.
What about you? Do you have plans for a new company in the works?
I'm planning to stay. There will be other ventures, but for now I'd like to stick around and grow the company. It's a really exciting time.
 Read more articles on entrepreneurship.
Photos From Top: Thinkstock, Courtesy Christiane Lemieux