Though Rachel Leibowicz and her husband, David Goldstein, of Circa antique store deal with items far older than their business, 40 years does seem pretty old when compared to the other stores cropping up on their block. In that time, Leibowicz has been a witness to Brooklyn's Atlantic Avenue's transformation from a popular turn-of-the-century antiquing hub filled with shops only open on the weekends due to neighborhood violence ("I tell people I needed a bulletproof vest down here, and it's [pretty] close," Leibowicz says) to one of the bustling thoroughfares leading to the $1 billion Barclays Center arena.
Circa and Leibowicz have outlasted other antique stores in the area, and even some monied upstarts. One of designer Jonathan Adler's stores was a next-door neighbor, but now sits papered up and vacant with only a purposely distressed sign to show it was there. That's why many were surprised to hear that after 40 years in business, Circa would be closing at the end of the year. ("It's the end of an era," one commenter wrote on Brownstoner.com.)
"Everyone comes in and says, 'I'm so sorry, I'm so sad,'" Leibowicz says. "And I keep going, 'I'm dancing, I'm happy!'"
That's because even though Circa is closing its physical location at the end of the year, the business will live on online, helping the couple sidestep one of the biggest changes to their block: the skyrocketing rents. Her first rental was $125 a month when she opened Circa and two other antique shops in the 1970s, Leibowicz says. Her rent has gone up considerably since then, leading her to whittle her three stores down to the one storefront. Her landlord doubled her rent last year and made it clear she planned on doubling it again at the end of this year. "There's absolutely no profit," Leibowicz says. "We could hang on like this for years, not making a profit but just sitting here and letting every piece I sell turn into rent."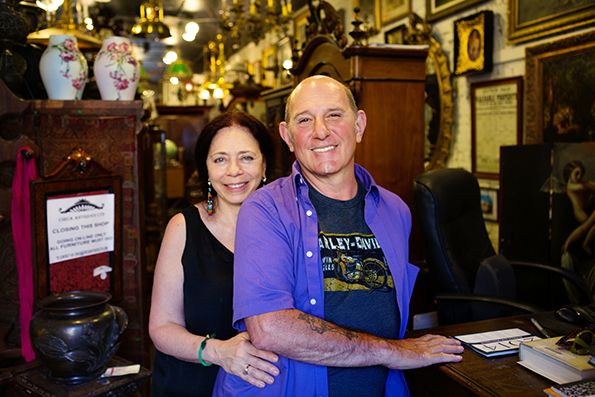 Instead, Leibowicz and Goldstein are revamping their existing website ("We're not foolish; we jumped online," she says) and turning their 1,000-square-foot basement into storage for the pieces they'll be selling from their home. "Even if I sell a tenth as much online," she explains, "there will be some profit." 
It's a move that many small-business owners across the country are making as well, as more consumers buy online. But not many of those businesses boast such rich, historical inventory. Leibowicz gave OPEN Forum a tour of her store and shared her own history as a hippie turned antiquing expert and store owner.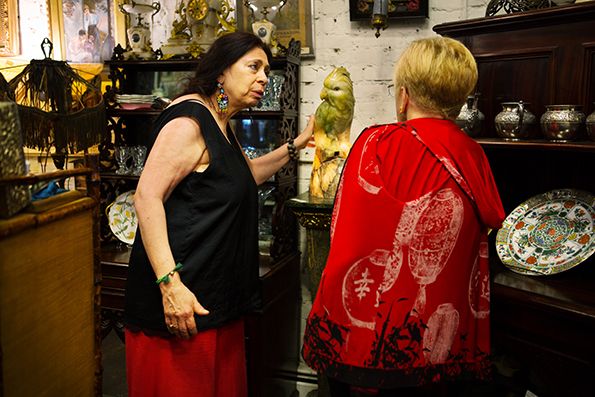 "It was a counterculture business," Leibowicz says of getting into the antiquing business. "No boss, and you could buy beautiful things and sell them at not an exorbitant profit. It seemed like the sort of thing you could do." She went from three pieces to entire stores full of goods.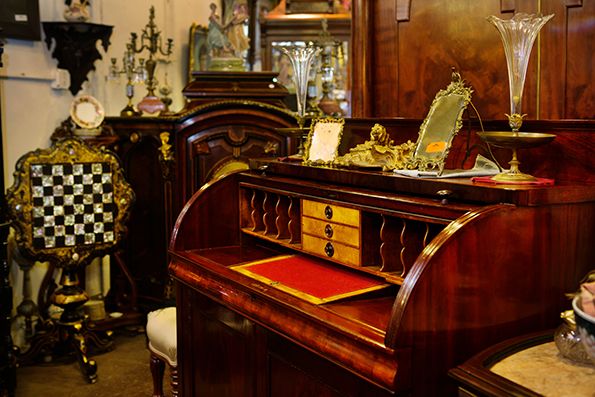 With zero experience in antiques or running a business, Leibowicz says she learned the ins and outs by striking up conversations with the other antique store owners on the block and by studying her newfound trade. "You learn what people like and you learn what you like," she explains. "I always kept up. I always bought the trade papers; I bought many, many books. I went to museums … and the pieces teach you.
"You have to have some sort of aesthetic sense," Leibowicz adds. "That's why every antique shop looks different. it's the owner, the buyer's sense, and you just have a clientele that likes what you like."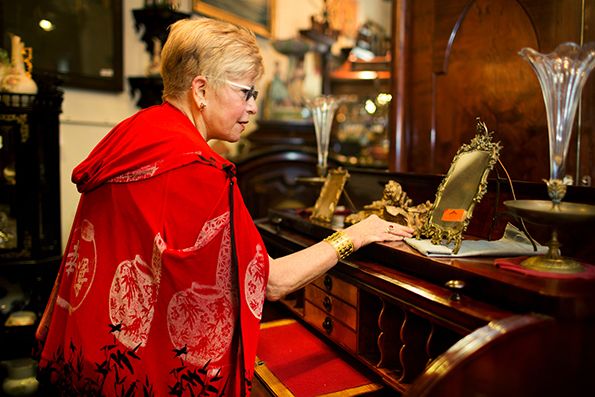 Atlantic Avenue was an antiquers paradise back in its heyday, but only on the weekends due to crime in the area. "I was the first one on the block who actually attempted to stay open a whole business week, not just weekends," Leibowicz says. "I was here by myself a lot. It was very dangerous. I used to have people come off the subway with chains they had just snatched and try to sell them to me."
Leibowicz made a point to appeal to as many customers as possible by selling furniture and tchotchkes at different price points to attract those who weren't in the market for a rosewood armoire or Austrian vases worth thousands. "I got bored just sitting here [and] waiting to sell the big stuff. I started at auctions buying huge amounts of small stuff," she explains. "It was very profitable. It meant you could sell to everybody because you had things for $1 and $10 and $20 as well."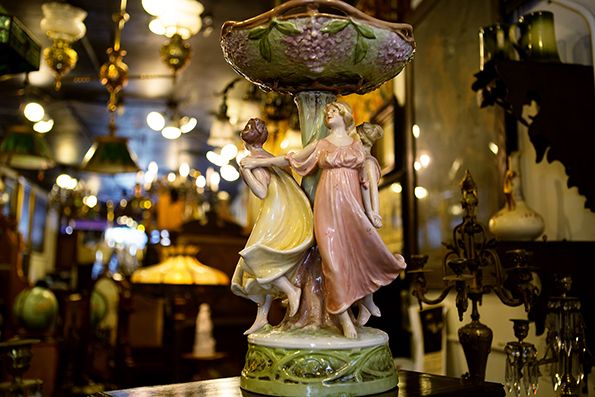 "The housekeepers and the nannies would love the small things, and they'd give me a few dollars a week," as an informal layaway service, she continues. "And I had the upwardly mobile moving in. I've watched my clientele buy one house, then another, then a summer house, that kind of thing. Their kids and my kids have grown up at the same time."
As more upwardly mobile families crossed the bridge to buy up, renovate and flip attractive brownstones, Circa became a go-to stop for the type of pieces that increase a property's resale value: mantles, bannisters, mirrors, chandeliers and more.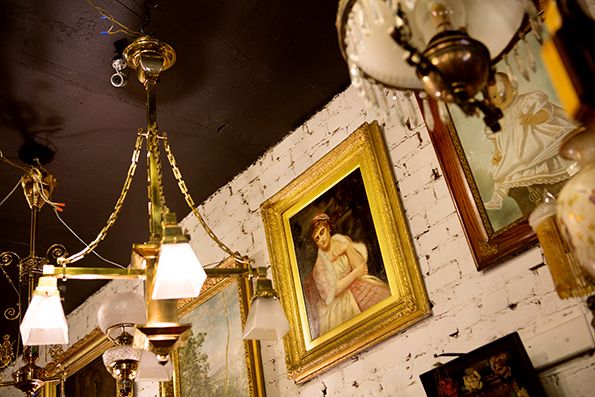 The store also attracted set designers for Broadway, theater companies and movies. Spike Lee's love song to his Brooklyn youth, Crooklyn, features pieces from Circa, as does Russell Crowe's A Beautiful Mind and the 1993 movie adaptation of The Age of Innocence. "I told people 'Michelle Pfeiffer's tush has sat in this chair!'" Leibowicz says, laughing.
"In the old days, when this was just strictly an antique stop and nothing else, people would come from Connecticut and New Jersey, Long Island, the boroughs. They'd come on the weekend to shop Atlantic Avenue for antiques."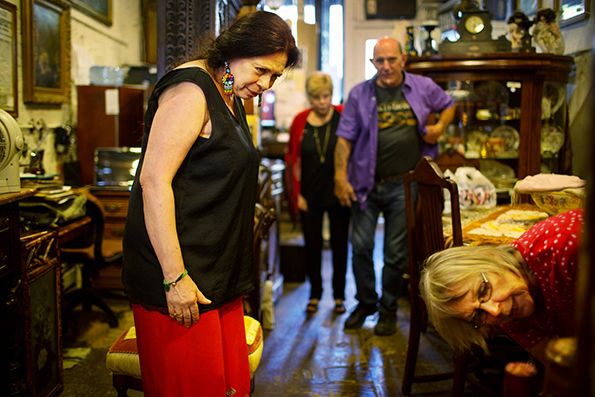 Then Circa felt the one-two punch of online retail and the 2008 financial crisis. "The bottom did fall out," Leibowicz says. "We've just been hanging on… I was overly optimistic since the market crashed. I kept waiting for it to come back and it never has. It was always a niche market, and now it's a smaller niche. The young people like mid-century modern. Plus, most of the people who were my customers are now my age, and they're winding down, not up. It's become harder and harder."
"If it wasn't for the Internet, I would have been gone already for sure," Leibowicz says. Circa has its own website, and also sells its pieces through Ruby Lane, an online marketplace for antiques, vintage pieces and collectibles. Leibowicz says 98 percent of her online business comes through Ruby Lane.
The move to online-only will be good for both her and her business, Leibowicz says. She's cutting out the overhead that gradually sapped away at her profits, and getting the chance to relax after a serious motorcycle accident last year. "I'm 61, and 40 years is enough," she says. "It is much more difficult for me to sit here all day than it used to be."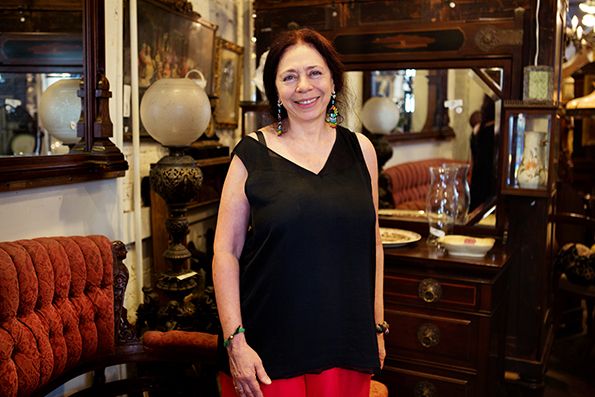 "I'm going to lie down on my couch, eating bonbons with my laptop by my side," she says, laughing. "I will miss the furniture business; that was always my speciality. Nineteenth-century furniture is what I know the most about. But I'll also get more time to relax and look around more carefully than I do now at [pieces], see my grandchild, travel. It'll change my life, but at 61, you're supposed to change. It's not like I didn't give it the old college try."
Photos: Julie Glassberg for OPEN Forum