Walking into the offices of Cissé Trading for the first time, especially on a bitterly cold winter day, feels like walking into a friend's cozy apartment—that is, if the friend has been baking brownies until the air is scented with chocolate and hoarding boxes of cocoa-infused products until they line nearly every available wall. That friend would be Diana Lovett, the founder of Cissé (pronounced 'see-say'), a fast-growing Mamaroneck, New York-based maker of gourmet brownie and hot cocoa mixes.
For Lovett—whose background is steeped in international aid, first as a graduate student abroad in South Africa and then at organizations ranging from Doctors Without Borders to Alicia Keys's Keep A Child Alive Foundation—Cissé is more than a company that sells chocolate mixes. It's a vehicle to make positive change in the world and prove that successful businesses can operate in a sustainable and transparent manner.
Growing Sustainably
Cissé's cocoa is organic and sourced from a Fair Trade cooperative in the Dominican Republic that counts 1,500 small farmers as members. By paying a fair price for the cocoa, Cissé enables the cooperative to invest the profits back into the community, for projects such as schools, improved farming practices and a health clinic.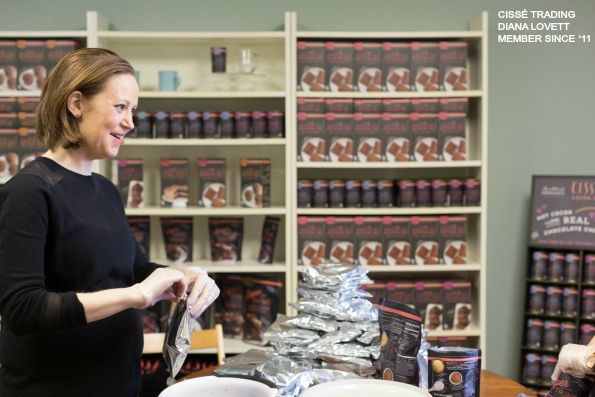 In the spirit of transparency, every link in Cissé's supply chain, from the cocoa processor in Europe to the 190-year old family run mill in upstate New York that makes and packages the mixes, is emblazoned on the packaging of every Cissé product for all to see.
"I always had an inkling that I wanted to do something that was a business that contributed to what I believed in," says Lovett. "This is very full circle for me."
That ethos, along with the irresistible chocolatey goodness of the products, has fueled Cissé's growth. In less than three years, the company's products—four brownie and cake mixes and three hot chocolate mixes—have found their way onto the shelves of more than 1,000 stores across the country, including Whole Foods Market, Fairway Market, Sur La Table and Kroger. Based on that early success, Lovett last year raised just under $1.4 million in a Series A funding round—the name for the first round of capital raised after seed financing—from a group of angel investors to help her grow the business further.
Blending Company Values and Consumer Spending
That's why on this particular day the Cissé offices are abuzz, as Lovett and her team scramble to prepare for Natural Products Expo West, a sprawling annual exposition for the natural products industry that is taking place the following week. That's where Cissé will unveil its latest product: Super Thins, a chocolate wafer topped with nutritious additions like coconut and cashews or cherry with sea salt that mark the company's first foray into the ready-to-eat snack market. "It's like a brownie cracker!" exclaims Lovett, as she and her team, in plastic gloves, hand-pack hundreds of Super Thin samples for the show.
The Super Thins launch is equal parts deliberate strategy and serendipity. After she had her first year of sales under her belt, Lovett last year went back to her initial financial model, built with an advisor, to see how sales had matched predictions. One thing stood out: The key variable in the sales forecast was velocity, or units sold per store, per week. Although Cissé's products were often best sellers in their categories, baking mixes and hot cocoa are inherently low velocity categories—people only bake so many brownies. So how could Cissé increase sales?
Lovett knew she needed a product that people would buy more frequently that also meshed with the company's existing lineup and brand values. Around the same time, the staff had been testing different recipes to include on Cissé's brownie mix box, so that customers could have different ways of making the mix—a smaller pan for fudgier brownies, for example. Kelsey Hopping, Cissé's director of marketing and operations, hit upon the inverse: the brownie mix spread so thin that it bakes up more like a wafer. When the staff couldn't stop snacking on them, Lovett knew she had found their high velocity item.
Expert Advice on Growth
Lovett hopes the Super Thins will be a hit. And if they are, she's ready—she's been preparing for high velocity growth from the start.
Early on, one of her advisors, a successful food entrepreneur, gave her some advice that stuck. "She told me, 'There are two different ways you can run your business: Either grow it slowly with an emphasis on profitability, or grow it to scale and position yourself for an exit,'" recalls Lovett. Those paths, the advisor continued, diverge right now, so choose which one you want to take.
Lovett didn't hesitate: "I'm ambitious. I knew I wanted to scale it," she says.
It hasn't been a cakewalk. Getting capital to fund growth has been a particular challenge, especially for a consumer goods startup in a tech-obsessed world. Lovett and her husband self-funded the first brownie mix prototype with their own savings. Then she moved on to credit cards. "That's a reality for early stage companies," she says, adding, "We felt like we could trust American Express." Currently, Lovett is a Business Gold Rewards Card Member. "I've used it to purchase thousands of pounds of nuts, dried fruit, vanilla bean and tons of other ingredients, to ship pallets across the country, to fly to meetings with buyers, to purchase materials for our trade show booth, to send samples to buyers and tons of other ways. It's indispensable."
In the fall of 2012, a successful Kickstarter campaign raised $20,000 for Cissé's first production run. But when the company's products began being picked up by retailers such as Whole Foods Market, Lovett knew she'd need more capital. So she pulled out her wedding list and began calling friends to see if they wanted to invest. If they didn't, she asked if they knew anyone who did. That strategy landed Lovett her first investor, a banker that was a friend of a friend, and allowed her to begin scaling the company and hiring. (The Series A round followed last year.)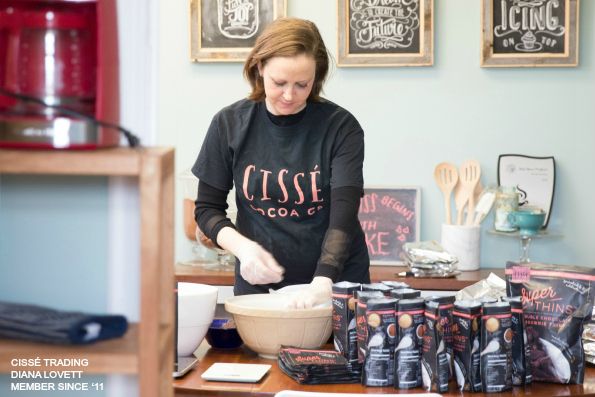 A Small but Strong Team
"For any small business, an important part of it is finding a good team—attracting them, retaining them and incentivizing people," says Lovett. In a small but growing company, it's especially important to find people who can where multiple hats. "When I interview people, I want to know, can they take out the trash?" says Lovett, only half joking. Today, Cissé is run by a strong three-woman team: In addition to herself and Hopping, Rachael Styer is director of sales.
A woman-led business involves its own challenges. For example, Hopping is currently out on a three-month paid maternity leave. "That's really hard from a business perspective, but I believed it was the right thing to do," says Lovett, who is herself expecting her second child in May. "Basically, we went from being a three-woman company to a two-woman company just as we are launching new products and adding lots of new accounts. It's a lot of additional work for the folks still in the office, but totally worth it in my opinion," she says. Lovett plans to limit her own maternity leave to four weeks—twice as much as she took when she had her first child around the launch of Cissé. Fortunately, she has "a very supportive husband," childcare and family close by to help.
Lovett is a believer in providing a structure so that everyone knows what's expected of them, and then giving them room to flourish. At the beginning of each year, she helps each team member set an annual goal. That's broken down further into monthly goals, and there are weekly meetings to review progress. "It takes a lot of the guesswork out and gives [employees] a lot of autonomy," she says.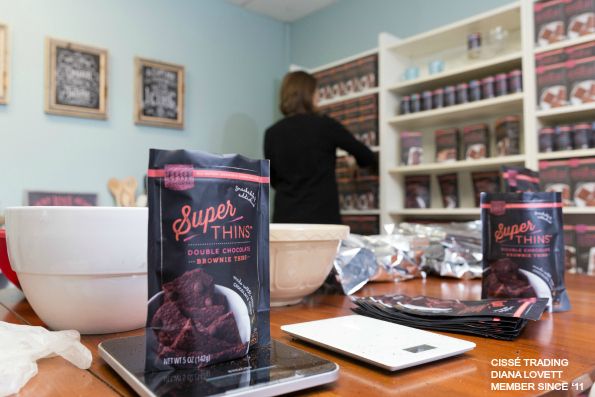 She takes a similar approach to managing the company's finances, especially cash flow. "In consumer products, the number one thing is, don't run out of money!" says Lovett, adding that there are times when all the company's cash is tied up in inventory, and others times when they run out of inventory. She prepares weekly balance sheets and profit and loss statements, and shares them with her board of directors. That way, she says, "If there ever is an issue they'll help me identify it way before there's a problem." The discipline has helped her get a better handle on projections and run the business more effectively.
Lovett also relies on outside eyes and helping hands to supplement her tiny staff. In addition to her board of directors, Lovett has built up a nine-person advisory board that she leans on heavily for advice on everything from what material to use for the Super Thins packaging to how to handle a TV interview.
In the end, though, growth for Lovett is just a way of maximizing the impact her company can have. "We're now doing exactly the type of things I want to be doing, focusing on the sales and marketing component and creating the market access that allows the [Fair Trade] cooperative to do the development on the ground," she says. "It's been very existentially satisfying."
Learn more about the benefits of the Business Gold Rewards Card.
Photos: Christopher Lane
CISSÉ TRADING / DIANA LOVETT / MEMBER SINCE '11