Manhattan's Fetch Club was the kind of business that seemed made for New York City—a "plush 5-star hotel and spa" for dogs. It offered its canine clients cozy designer bedrooms, colorful playrooms and a fitness room with treadmills and state-of-the art exercise equipment. Other amenities included a full-service grooming salon and a nightclub with gold walls and a disco ball. And then there was the Zen Room, where pampered pooches relaxed on pillows, soothed by a waterfall, rock garden and calming music.
But that was before Hurricane Sandy hit.
In October 2012, the storm destroyed homes, businesses and the dreams of people like Fetch Club's owners Janna Lee and Peter Balestrieri. The day after the hurricane, Fetch Club, located on the ground floor of a building overlooking the East River, was "an aquarium," Lee recalls. There was nothing left.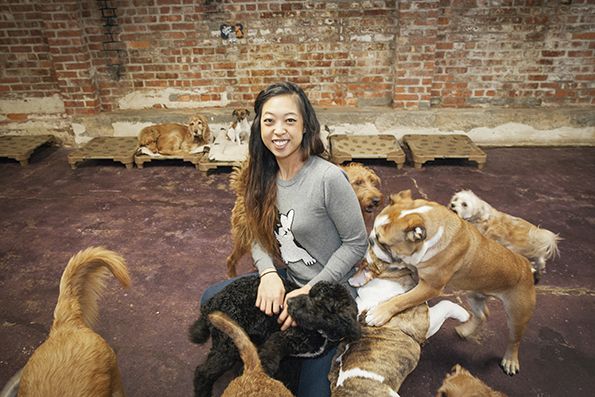 Instead of calling it quits, Lee and Balestrieri doubled down on their business, deciding to take out a loan and rebuild, brick by brick. The process was incredibly difficult and exhausting, Lee says, and sometimes, two years later, it still is.
On a recent rainy day, Lee, 29, sat in an armchair at Fetch Club, staring out at the same river that had engulfed her business. She had been waiting for a call from her insurance company. When the phone rang, she tensed. The conversation that followed was heated and long, and when she hung up, she sighed heavily.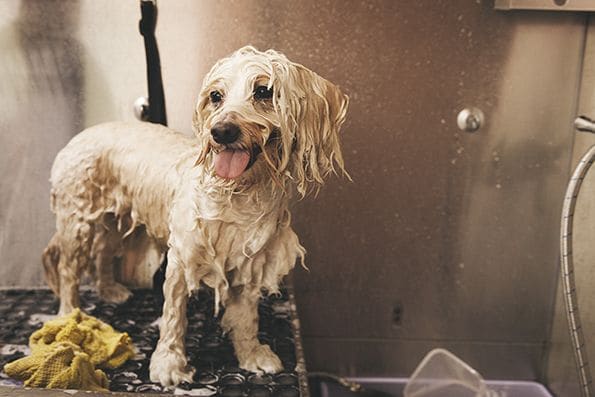 Lee and Balestrieri have desperately tried to recoup their losses after the storm. Despite having flood insurance when Sandy hit, they have received virtually no payout from their insurance company. In 2012, they waged a bitter court battle to recoup their business startup cost, valued at $1 million, as well as lost revenue, which Lee estimates to be an additional $1 million.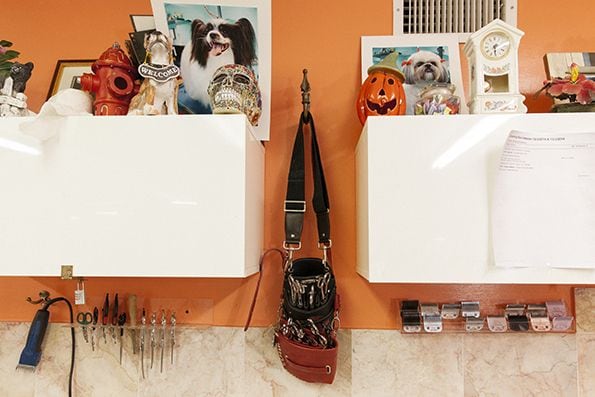 "We had to shut our doors for six months and rip out every wall and wire," Lee says. "The landlord had a policy that covered the whole building, but all the flood damage was ours. He got paid out, but the insurance company wouldn't pay out twice. That's why we're in court."
To add to their woes, Fetch Club's insurance premiums have tripled after Hurricane Sandy.
"They have a gun to my head," she says. "As a small-business owner, I have to have insurance."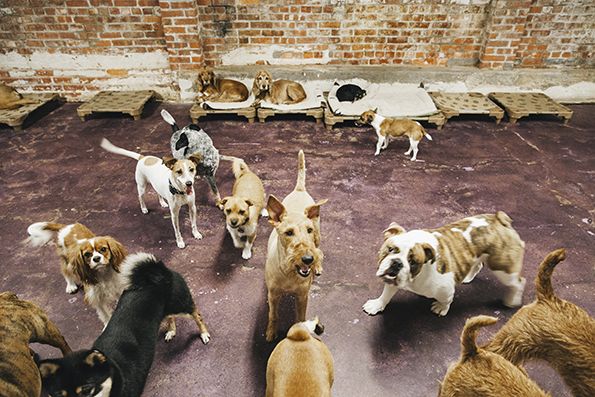 Lee and Balestrieri are hardly alone with their difficulties. The past two years have been nightmarish for people who lost everything in the storm. To make matters worse, many people ensnared in Sandy-related insurance disputes have not been able to count on much, if any, federal aid to ease the pain. According to the latest data from the United States Recovery and Accountability Transparency Office, as of October 2014, only 23 percent of money from the $48 billion storm recovery fund has found its way to Sandy victims. And while the Small Business Administration recently approved SBA disaster loans totaling $1.5 billion for New York individuals and businesses, only about $267.5 million was approved for businesses alone.
Fetch was not one of those businesses.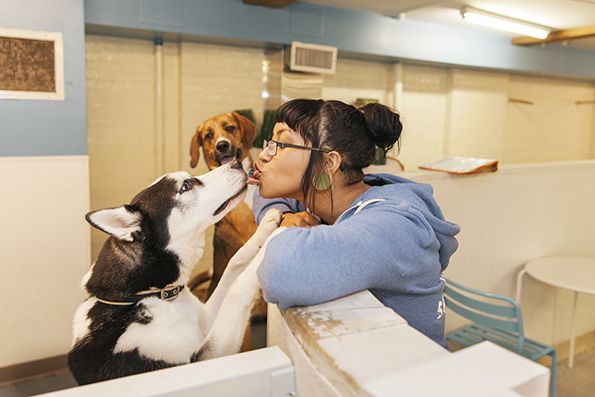 "We employed over 25 hard-working citizens, even during our rebuilding process, and now have a huge loan hung over our backs," Lee says.
As a result, the Fetch Club of today barely resembles its original concept. These days, the dogs' play areas are spacious but somewhat bare, with painted cement floors replacing bright Astroturf and fluffy rugs. Instead of fitness equipment, there are clean, serviceable dog runs. The Zen Room, the salon, the doggy disco? All gone. While much of the clientele returned after the flood, Lee says some never came back.
Still, there is a warm, spirited vitality to the place that customers feel the minute they walk in the door.
"We have a big team here, about 30 employees. It's a 24-hour operation. We know what we're doing. It's like clockwork," Lee says.
Proof of this can be seen everywhere, from the busy retail space to the whirring laundry room to the immaculate kitchen. Everything is organized. Neatly stacked dog dishes sit next to custom-mixed food and, in another cabinet, meticulously labeled medicine. Posters inform caregivers of their charges' feeding issues ("Dogs with Allergies," reads one sign: "Beethoven–beef; Louie K-chicken; Foxy Lady–wheat").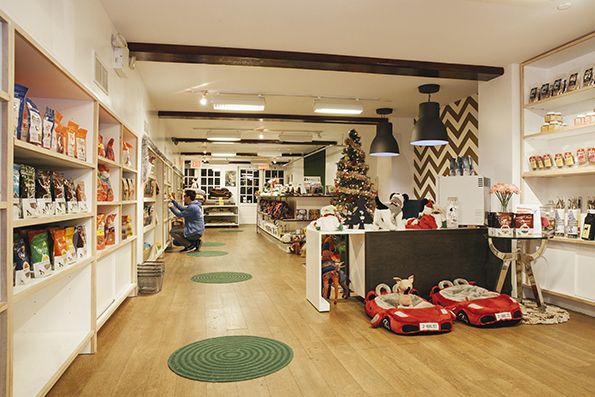 "It's very important to take care of the dogs well because all these dogs are somebody's baby," says Taylor Rose, Fetch supervisor and recent college grad.
In the small dogs room, 20 or so excited miniature breeds tumble and play, supervised by a "runner" in a lemon-colored t-shirt named Jack. In another room, supervised by another runner, a handful of larger dogs amble about, wagging their tails whenever they see a visitor.
"It's a 12-hour playdate around here," Rose says, happily greeting the dogs. "We sit with them, play with them, lie down with them. I would do it even I didn't get paid."
Much like her employees, Lee's commitment to Fetch Club's vision has not wavered.
"We'd still like to franchise," she says. "After the hurricane hit, we had to use the money we were going to put into expanding for rebuilding. But we'd still like to open up more Fetch Clubs in the future."
In the meantime, Lee, who has begun working toward a degree in veterinary nutrition, says it's been a tough but valuable learning experience.   
"This is the reality of small business," she says. "I've learned so many lessons, like read all 5,000 pages of your insurance policy before signing it."
Read more articles about leadership.
Photos: Katrina d'Autremont for OPEN Forum