Fierce competition may dominate the country's biggest metro markets like New York or Chicago, heavy with lookalike businesses seemingly on every corner. But small businesses in mid-tier or growing cities can tend to have more breathing room. And some are finding that cooperating with others in their industries, rather than competing, can actually improve everyone's visibility and revenues.
The restaurant business can be particularly cutthroat. But a handful of restaurants in Richmond, Virginia, are working together in creative partnerships and mentorships, growing their businesses and earning national accolades for the city's dining scene. 
Reaching Out
It took a catastrophic fire in 2013 for Dutch & Co. co-owner Caleb Shriver to connect with nearby bakery owner Evrim Dogu. The morning after Sub Rosa bakery burned, Dogu wheeled a bakery cart down the street to ask if Shriver could sell what was left of his inventory.
The pastries sold out in minutes, and Shriver invited Dogu, along with partners Phil Perrow and Michelle Shriver, to come back on Sundays (when Dutch & Co. was normally closed) to cook and sell items out the back door. 
"Dutch & Co. is notoriously reclusive," admits Shriver, who moved to Richmond from Chicago in 2010. "We don't speak out a lot, we don't do a lot of social media. It was new to us to reach out like that."
Sharing sparked Shriver's creativity as he saw Dogu cook from his Turkish culture. "Watching him work was definitely inspirational," Shriver says, and he added a few creative dishes to his own menu, including a fermented beet juice sauce and a charred eggplant side dish.
Sub Rosa reopened a year after the fire, but the partnership lives on—the two are planning several upcoming dinners together in both locations.
Building Relationships
In the summer of 2011, The Roosevelt was one of the first fine-dining restaurants to open in now-trendy Church Hill. Co-owner Lee Gregory is widely credited with setting a friendly, collaborative tone when he and business partner, Kendra Murden, started a regular potluck dinner to build industry relationships.
"We realized very quickly that we were much better as a town and dining scene if we were aligned together," Gregory says. "We felt we could make some real noise for Richmond. But if we were all jackasses to each other, that wouldn't happen."
Everything we do as small-business owners is personal. It's a personal relationship whether it's customers, other business owners, purveyors, whatever. That's how you move the line. That's how word of mouth starts.
So, when new restaurant owners called Gregory to ask questions, he shared tips and advice rather than hanging up. "Everything we do as small-business owners is personal," Gregory says. "It's a personal relationship whether it's customers, other business owners, purveyors, whatever. That's how you move the line. That's how word of mouth starts."
Changing Business Strategy
One of the young chefs Gregory inspired was Brittanny Anderson, who had recently moved back to Richmond from New York City and was working in The Roosevelt kitchen. In 2014, Anderson opened her own restaurant, Metzger Bar & Butchery, down the street. She got nothing but support from her former boss.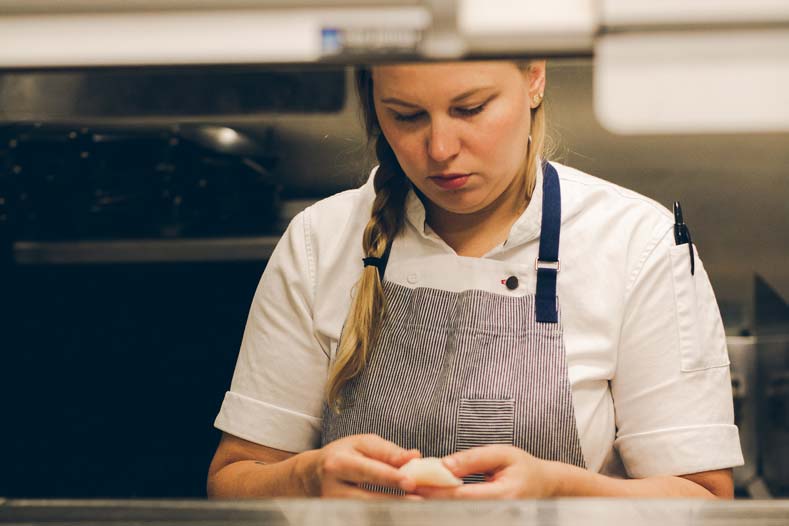 Brittanny Anderson, owner of Metzger Bar & Butchery
"I had questions about electrical, plumbing and who am I supposed to call? In New York, I had my list, but in Richmond, I didn't have that base," Anderson says. "Lee shared his contacts. That really helped me be someone people could trust. Probably nobody would have done that for me in New York."
Anderson found herself adjusting her business priorities. "For me, the most important thing in business is relationships," she says. "Staff, employees, partners and also competitors. Thinking of them as relationships makes it a lot easier to work together than to compete."
For example, when patrons can't get a seat at Metzger, Anderson's staff will call nearby restaurants to secure a table. "It's inspiring to me to think about business as a collaborative and community experience versus just me sitting around making money," she says.
Two Heads Are Better Than One
Joe Sparatta had a runaway hit when he opened Heritage restaurant in 2012, featuring local ingredients and house-made charcuterie. When it came time to expand, Sparatta surprisingly decided not to open a second Heritage but instead to partner with one of his top competitors. He and Lee Gregory opened Southbound restaurant in 2014.
"There are a lot of chefs out there who think it's crazy, but Lee and I think a little differently," Sparatta says. "If you collaborate, if you embrace other people, it's about helping grow the city. Then that's like having a free PR firm that pumps all of us up."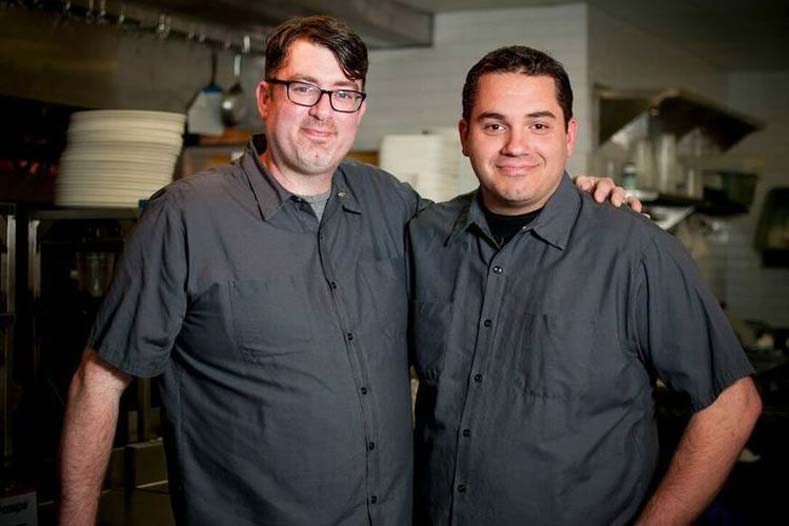 Lee Gregory (left) and Joe Sparatta, co-owners of Southbound
Partnering meant Sparatta and Gregory could continue running their own restaurants while splitting time at Southbound, which has a much larger dining room. "On our own, each of us wouldn't have had enough resources for that size of restaurant," Sparatta says. The profitable restaurant has received top accolades, including being nominated for Richmond's best new restaurant of 2015.
Reaping What You Sow
When Owen Lane had to shut down his critically acclaimed restaurant in late 2015, he discovered firsthand how a collaborative attitude can pay off. With one of the highest closure rates of any type of small business, restaurants come and go constantly without much fanfare. But when The Magpie closed, the Richmond restaurant community rallied. "The outpouring was incredible," Lane says. "It kind of caught us off guard."
Supporters raised nearly $5,000 to help Lane catch up on business taxes and pay key bills. And then the job offers started pouring in.
"The more you put out there, the more you teach, the more you give, the more comes back in your direction," Lane says. He now runs Vagabond, a much larger space in which he has part ownership.
All these restaurants are busy every night, regularly nominated for awards and mentioned in national press coverage. Most recently, Richmond was named by National Geographic as a top dining spot for 2016. The city's collaborative food industry just seems to keep racking up the wins.
Read more articles about partnerships.
Photos (from top): iStock; Kate Thompson of Betty Clicker Photography; Diego Valez