When Veronica James launched Urbandillo her line of collapsible blankets and accessories on Black Friday, she used a pop-up store in Nashville, TN, to capitalize on mall traffic during the holidays and show off the new product.


"My products are highly demonstrative, so we needed to be able to actively demonstrate along with the product display," she explains. The pop-up store has also given James a chance to see how customers interact with the product and to test different price points, both of which wouldn't be possible in a traditional retail environment.
Of course, pop-up stores are popular among established retailers large and small. Reports cite that Toys 'R Us has added more than 600 new pop-up stores this holiday season. Andrews Jacobs, co-owner of JAM Paper & Envelope in New York City, says adding two pop-up stores this holiday season will help quadruple sales during the company's busiest time of year.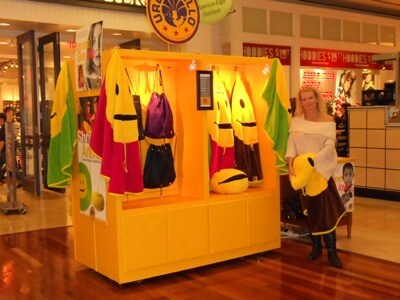 Should you jump on this growing trend? Consider these pros and cons:
PRO: Pop-up stores give retailers more flexibility than a long-term lease. 
James wanted to keep overhead low for her new business, so a pop-up location made sense. She ran a mall kiosk selling Silly Bandz last year to raise funds for Urbandillo's launch, which helped the designer get up to speed on sales techniques and mall traffic patterns.
Short-term leases have allowed JAM Paper & Envelopes to have a presence in high-rent neighborhoods that might otherwise be out of reach. "You're only paying that high rent in the best two months of the year," adds Jacobs.
As pop-up stores become more common, it also becomes easier to negotiate short-term leases with management companies. Jacobs says he tried to do a pop-up store a few years ago and found that few New York City landlords were open to a one or two month lease. Now, he says, more landlords understand the concept and the economy has made them willing to consider short-term tenants. That may not be the case in all markets, though, as James notes that the concept isn't as widespread in Nashville yet.
 
CON: Setting up a pop-up store can be almost as much work as a traditional store. 
Though Jacobs says his company was able to open two pop-up locations in under seven days, he warns that setting up shelves, arranging window displays, and stocking merchandise can be time-intensive.
Excess merchandise from a pop-up location will need to be transported elsewhere a month or two later; nevertheless, it's important that the location feels well stocked. Otherwise, customers might assume you're closing, as some did at JAM Paper & Envelope's Upper East Side location. Says Jacobs, "it's 7,500 square feet, so it looked empty" until he tripled the amount of merchandise.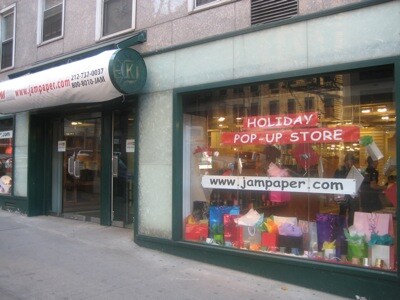 PRO: High unemployment rates across the country make it relatively easy to find people willing to staff a temporary location. 
James says the challenge wasn't finding people, "it was finding the right people."
Jacobs cautions that new people don't know the merchandise as well as seasoned employees and "it's a little sad knowing that these people won't be with you in a month." He makes sure that at least one of his regular employees is at each location at any given time to help things run smoothly.
CON: Luring customers to a temporary location can be challenging. 
Most people won't know to look for a pop-up location unless they're already customers, so eye-catching displays can help draw them in. Jacobs actually decided against a prime location in Soho because he felt the frontage was too small to impress passersby and pique their curiosity. "Windows are very important to us," he explains. "[Ours] are very holiday-focused." The displays also stress that it's a pop-up location so customers won't assume that the company couldn't hack it once the lease ends.
Want more tips on pop up stores? Check out these stories:
Creating an attention-grabbing display in a high-traffic location was also a priority for James, who hired someone to build a custom pop-up shop. "The branding, the colors... it has to match and make people want to stop," she says.

Both James and Jacobs have found pop-up stores to be a powerful vehicle for building brand awareness. "I never had a location on the Upper East Side before, and now all these people are seeing us!" says Jacobs. He hopes that pop-up customers will visit the permanent locations, order online, or return to pop-up stores next holiday season. Either way, Jacobs adds that "it's fun to see your stuff everywhere!"


Image credit: Combined Media