If you think not much has changed in mailing since cars and trucks replaced the Pony Express, you'd be mistaken. And one business in particular stands out as an agent of change in this seemingly staid industry.
In its quarter of a century of doing business, AccuZIP has garnered the attention of its peers for its mailing solutions. The national software company based in Atascadero, California provides a suite of mailing solutions that handle data management, postal presorts and more for companies big and small. Many of their products have become the standard-setters for companies like the United States Postal Service (USPS), even helping to earn AccuZIP a spot in a Smithsonian National Postal Museum virtual exhibit last year.
"We don't typically wait for something to happen—[by then] it's already too late, especially how fast this industry is moving," founder and CEO Steve Belmonte says.
For someone who "never, ever intended to start a company," Belmonte has done a pretty bang-up job—the company is celebrating its 25th year in business and has an incredibly low company attrition rate, with the average employee tenure being 10 years minimum. But when speaking to Belmonte and AccuZIP's president Kristen McKiernan, it's clear that the pursuit of recognition isn't what drives the business's success. If you ask them, it's all about their customers, better known within AccuZIP as "customer partners."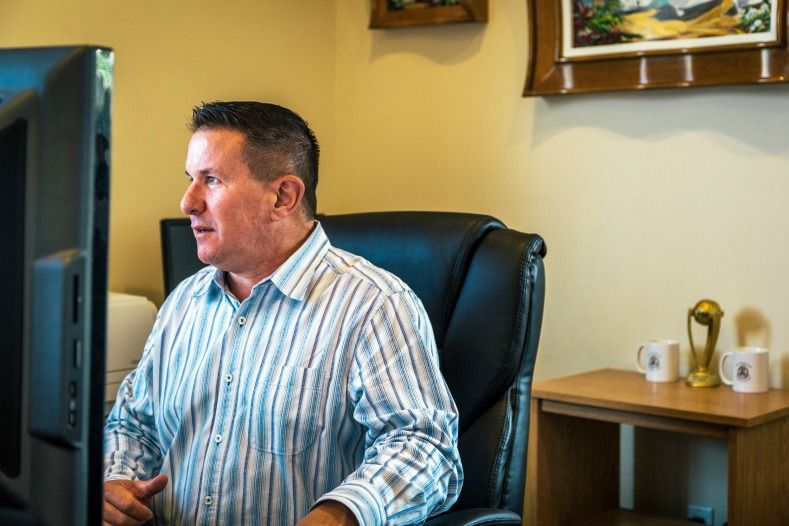 AccuZIP founder and CEO Steve Belmonte
"The tagline of the company is 'our technology, your success,'" McKiernan explains. "We're not in it for the big win. We're in it for the long term. As we grow, our customers grow with us, but we never lose sight of the customer."
Giving customers what they want is part of the company's origin story. Before starting AccuZIP in 1992, Belmonte had a well-established track record of two things: being a people person and a self-starter. Ever since he was six years old, Belmonte and his mother moved every two years, "so I had to make new friends," he explains. "I moved out of my home when I was 15.5 years old [and] lived on my own. At 16 years old I was manager of a grocery store, [then I] bought my own home when I was 18."
At 18, Belmonte also started his first company, a small graphic design business. Soon his customers were asking him to add printing and mailing services, which he did through third-party vendors that weren't always the best partners. When Belmonte's third-party mailing software provider told him they were tripling their price, he decided to find a new postal solution. But that plan hit a bit of a snag.
People like consistency and depending and trusting their brand.
—Steve Belmonte, founder and CEO, AccuZIP
"I looked around and I couldn't find anything for the Macintosh computer, so I decided to write my own," he explains. "While that press was rolling [and] I was getting bored of watching [television], I would write code." 
That code became what is now known as AccuZIP6, a mailing solution that sorts, standardizes and stores local mailing addresses in a database and integrates with USPS requirements. Back in 1990, the product was just for Belmonte to use on his Macintosh to better serve his graphic design and printing customers. But after realizing there were probably other business owners out there who were in a similar bind, he launched AccuZIP and began shopping the software around at trade shows. Turns out, there may have been a reason there wasn't a Mac-based product on the market.
"There was really no demand for it," he says now. "Our first distributor said, 'If you could make this thing a Windows product, we would be more interested.'"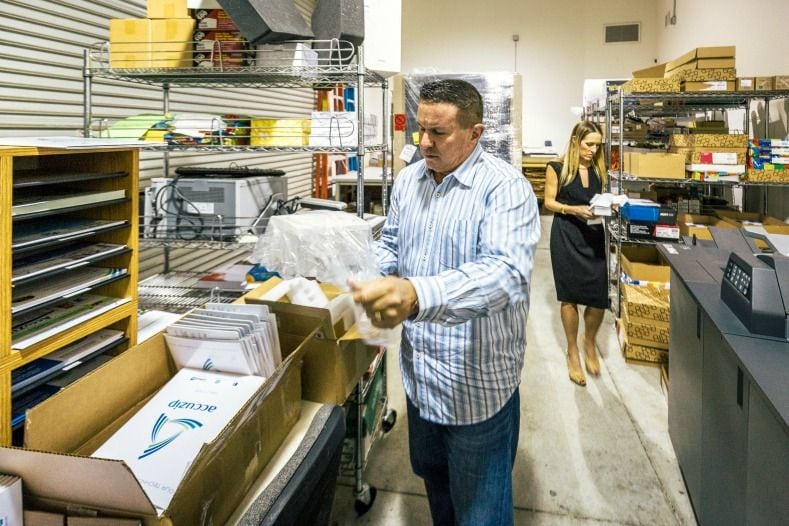 Belmonte with AccuZIP president Kristen McKiernan
Belmonte spent a year writing new code for a Windows version of AccuZIP, and was able to sell it to a much more enthusiastic audience. ("We were selling on an order of 100 to 1," he says. AccuZIP dropped its Mac version after 10 years, but is bringing it back next year.)
Since its launch in 1992, AccuZIP has made innovation part of its brand ethos. The original software preempted the use of delivery barcodes by two years, and their Living Mail product—which lets you send automatic text messages, emails or pre-recorded voice messages to mail recipients—came on the scene years before other companies started offering similar services, according to McKiernan.
Innovation as a brand value helped AccuZIP adapt to and stay ahead of what was once seen as a potential disruptor of its industry: the rise of email.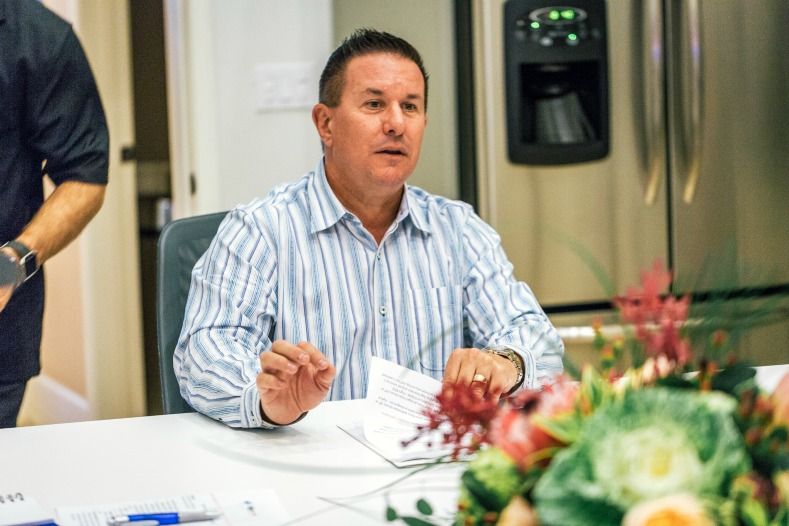 AccuZIP's customer service promises a 15-minute response time for support emails.
"I remember when people were saying, 'Oh, the post office is done,'" Belmonte recalls. "I knew email would never replace mail because spam killed it. It's too easy to block a message." Knowing that direct mailing would still play a significant role, Belmonte and and his team had to determine what the right product mix would be for their customer partners. They decided not to throw the baby out with the bathwater.
"You really have to find the balance between keeping your existing technologies, but also expanding technologies that [are] going to allow you to adapt to this new technological landscape," McKiernan explains.
Businesses weren't going to go all in one way or the other: They needed multi-channel solutions, and AccuZIP wanted to be the one to help them. Recognizing that customer partners wanted the digital hallmarks of tracking while providing the tactile experience of receiving mail, AccuZIP "married our solutions for print and digital," she says. "We [kept] our flagship product, the AccuZIP desktop [software] that focuses on the mailing industry, but started to add additional [products] like mobile and cloud solutions such as our AccuTrace product, which allows for tracking."
To a layperson, AccuZIP's greatest asset may just be its founder's ability to predict what his customers—and in turn, the mailing industry—will need next. Belmonte says the company is working on a piece of technology he's patenting right now "that will change our industry [as] we know it."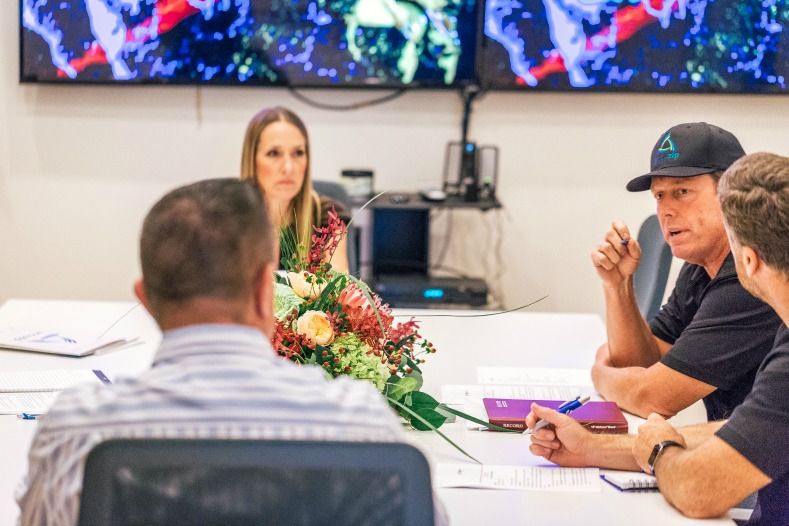 Belmonte and McKiernan meet with AccuZIP employees Rolf Gehrung and Eric Lambeth.
When asked for his secret sauce, Belmonte happily obliges. "Things don't need to be complicated," he says. "People like simplicity, they like value.
"Look at what you're doing today, whatever products or services you're creating and how people are using the end product," Belmonte continues. "Then you look at ways to make that whole process converge [to] make their life easier and rewarding. You can make technologies to either make something that exists better or create a new experience for that person."
Deep in that explanation is another asset that can't be overlooked: a desire to help people. It's a concept that's behind all of their customer service policies, and the one to which Belmonte attributes AccuZIP's success. According to McKiernan, AccuZIP's 99.9 percent of customers rated the company's service as excellent in a survey. There's a guaranteed 15-minute response time for support emails. In its 25 years, customers always get to speak to an employee during business hours, rather than an automated attendant or voicemail. And if a sales call came in at the same time as a support call, the support call would be prioritized "because we believe that support drives sales," Belmonte says. "They know they'll get help when they buy it."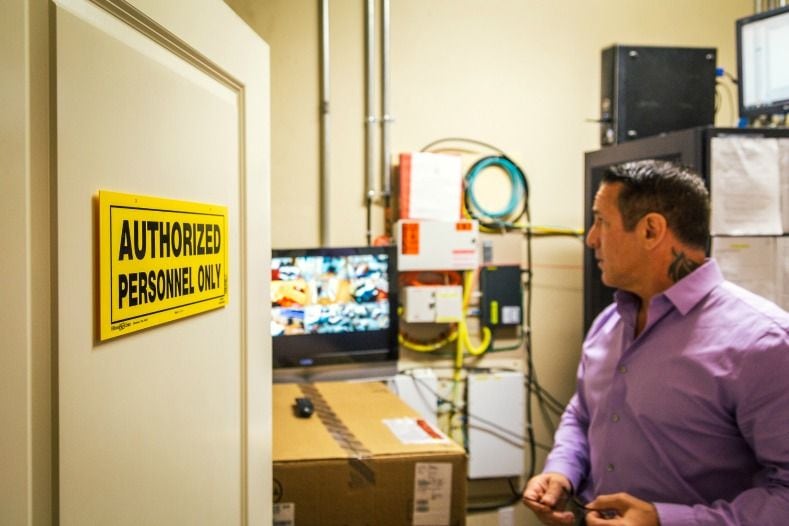 AccuZIP system administrator Dave Belmonte checks out the server room.
But one of the biggest shows of customer support AccuZIP has is its price-lock guarantee, a policy that's been around since the company first launched. If a customer partner pays their bills on time, they will always pay the same price they originally paid for AccuZIP's products or services, no matter if the company increases the price. There are long-time AccuZIP customers who have paid the same price since 1992.
Many have scoffed at the policy (though Belmonte is quick to point out that AccuZIP has multiple sources of revenue through their different products). But it's more than a gimmick to get people in the door.
"People like consistency and depending and trusting their brand," he says. "So that's why the price-lock guarantee was hugely important—they can depend on the fact that their budget next year will be the same when it comes to this type of product."
McKiernan and Belmonte prepare labels for shipping.
AccuZIP has built their name on this type of care, and its prescience. And Belmonte doesn't plan on changing those values anytime soon as the company works toward being "on the backend of everybody, supporting our customer's success regardless if anyone else knows they're using our technologies," he says.
"You look back on the old days and they didn't have all this technology," he muses. "People are still people. They still like to be hugged, they still like to be cared for, they still like to feel important, and that will never end. We keep those traditions going even today."
Photos: Kim Carroll