With more than 8 million people living in Manhattan and the surrounding boroughs, New Yorkers are pretty familiar with the concept of waiting in lines—especially for something that's garnered some Internet and word-of-mouth buzz. But these days, the lines that people are most willing to wait hours in—the ones that snake around city blocks and warrant their own hashtags—don't lead to exclusive nightclubs cordoned off by velvet ropes and beefy bouncers. They're for a good meal.
More often than not, these lines are forming at the doors, carts and stands of small businesses that are changing the way New Yorkers think about eating. Food mashups—pairing two or more disparate foods to form something even tastier—may not have been invented here, but it's sure been perfected in the kitchens of New York-based small-business owners like Keizo Shimamoto of the ramen burger and Dominique Ansel, who at this point, almost needs no introduction thanks to his cronuts' overwhelming fame.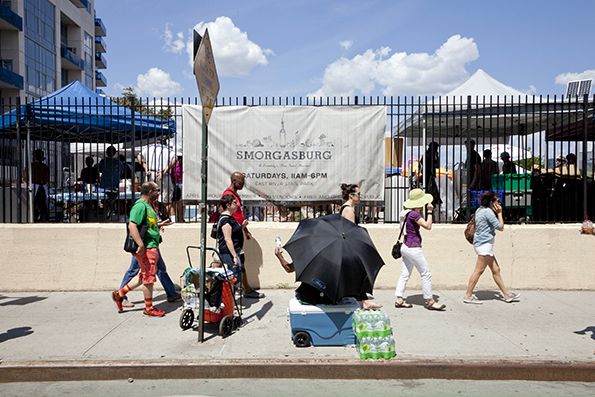 There seems to be one place in particular where the lines are long and the opportunity for food mashups are plenty: Smorgasburg in Williamsburg, Brooklyn, a weekend open-air market where hundreds descend on vendors selling food and drinks. Smorgasburg has seen its fair share of vendors go on to open their own stores based on the popularity of their creations (Shimamoto got his start here). In search of the next big thing, OPEN Forum spoke with a few business owners to get the stories behind their #foodporn creations.
Takumi Taco
You guys are known for your unique spin on the taco. How did you come up with the concept for Takumi Taco?
Derek Kaye of Takumi Taco: Takumi Taco was inspired from the love of two great cuisines: Mexican and Japanese. My partner is Marc Spitzer, who's the executive chef at Bond Street, which is a Japanese restaurant in Manhattan. He comes from a very fine dining Japanese background, with a strong knowledge of Japanese flavors. But both of us are very much in love with Mexican cuisine. At the end of the night, when he is done with work, he goes with his kitchen crew for tacos, and a lot of times when I'm out with my guys, we'll all get tacos. We both just thought it would be great to take the taco shell and see what we can do with it, using some Japanese flavors where Mexican had normally been.
What brought you and your business partner together?
We were both working together on different projects together for other concepts that we were involved with. We both saw three-and-a-half years ago that people really enjoyed a mashup of cuisines; we came together and tried to think of something that would be a fast, casual setting that we could produce a lot of at once. We got together and figured out what fillings go well inside of the taco shell and just went from there with it.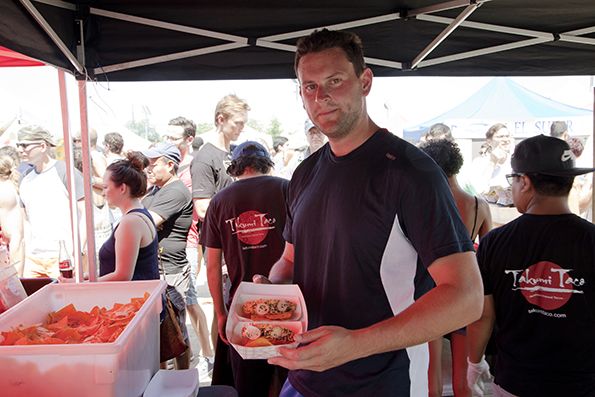 Why do you think so many popular food-mashup concepts come from small-business owners?
I think small-business owners can be risk takers. They maybe have less to lose since they're not a large business. They're willing to look at things [from] a different light than maybe somebody else who has a vested interest in doing it a certain way. Because we're a small business and we're at a market, that gives us a different platform to show our food, [especially] being at Smorgasburg. I think that's also a place where they really push for creativity; they want people to come up with things that are really unique, and they've really been great at accelerating small businesses as well.
You guys founded Takumi Taco in July 2012. How has your business evolved since your launch and presence at Smorgasburg? 
We now operate in four weekend markets and are in an office building Monday through Friday with plans for more expansion this year. 
The Bruffin
How did you develop the bruffin?
Michael Bagley of The Bruffin: Honestly, I am always on the run—usually in the car—and I don't often take the time to eat properly. As my partner Medy [Youcef] is the baker, I gave him the challenge to create a "meal in a muffin." I didn't want a donut, sandwich or another piece of pizza, and it had to [use] all-natural ingredients. So he came up with something that initially was a breakfast muffin, with a pastry similar to a brioche; he [later] took it a few steps further and lightened it up to the level of a blend of croissant and brioche. I named it bruffin!
We then began experimenting with different ingredients. We thought that taking our inspiration for creating different flavors from various countries throughout the world would be interesting and fun.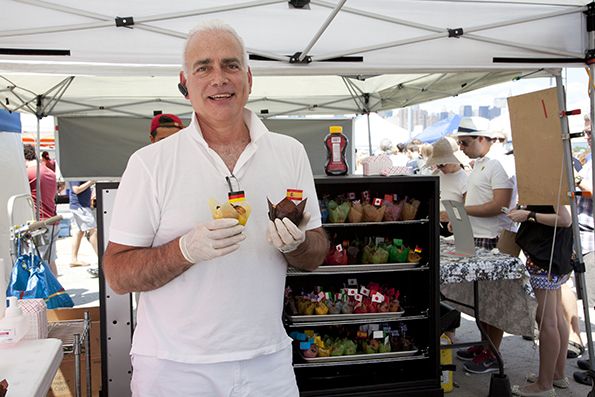 Your presence at Smorgasburg has really had an impact on your business. How did you find out about it, and what do you like about selling here?
We were invited to interview to join the 2013-2014 program. When the two reps of Smorgasburg polished off six bruffins in the interview, we kind of knew we were in! The volume and diversity of the patrons that come to the market is significant in both its buying power, as well as being a great tool for measuring audience response to what we are selling. There is such an international presence that really understands and appreciates our concept. The validation that we have received over our selections of countries represented and their respective ingredients has been terrific. 
All of the wonderful things that have happened to us since we decided to introduce The Bruffin to the NYC market resulted from our presence at food markets. Our relationship with Fairway, [Good Morning America] Live [and] our pending cafes all result from our Smorgasburg relationship.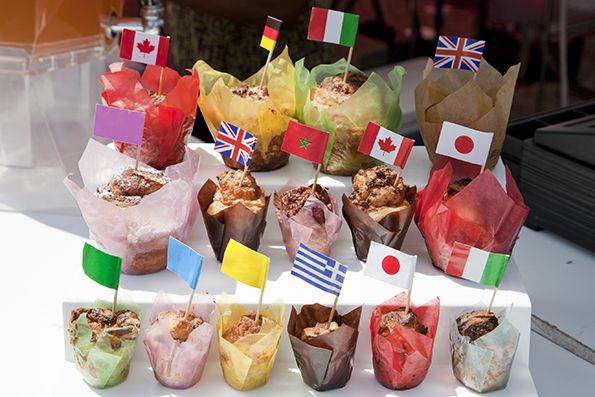 Can you tell us more about your brand expansion?
After garnering such a following in the area, we decided it was time to look for our first brick and mortar. We had been looking at locations around the city and we were in negotiations on a space on the Upper East Side. During this process, we were approached by the folks at The Yard [a coworking space in New York] at their Delancey Street location. They offered us the retail space in their lobby. After researching the market, we decided that this could be a great startup as the first physical location for The Bruffin. A few weeks later, while we were still in negotiations on the UES location, the new Gansevoort Market founders invited us to be one of 24 select vendors. The scope of what it would require for us to be part of this new venture so close on the heels of Delancey Street was something we felt confident we could handle.
It was just around this time we met the vice president of food services for Fairway [a grocery store chain]. He came by and was very intrigued by The Bruffin. After the first bite, he introduced himself. After the second, he said, "I want The Bruffin, the flags and the story in all 14 of our stores." The addition of Fairway as a partner was not beyond our wildest dreams, but certainly [was] something we didn't anticipate would happen so soon. We decided we would forgo the UES shop as our coverage in the city with the two cafes and seven Fairways was enough, for the time being. We see The Bruffin as almost a new food category. With its versatility, The Bruffin offers options for breakfast, lunch, dinner or in between; it can be a snack, part of a meal or a meal in itself. 
Butter & Scotch
What inspired you to do a new take on the s'mores bar?
Allison Kave of Butter & Scotch: 
The S'mores Bars evolved out of our S'mores Pie, which has been one of our most popular desserts. We wanted to come up with a different and more simplified way to serve it at Smorgasburg, and after some testing, the S'mores Bar was born! It's been a big hit.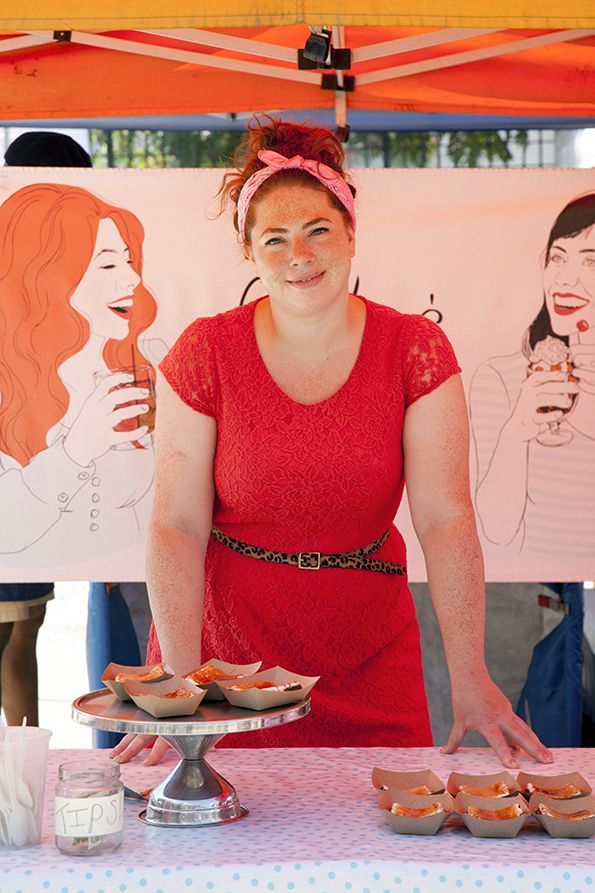 What do you like about being a vendor at Smorgasburg? 
There are so many great things about being at Smorgasburg. There's a great camaraderie among the vendors—we all know each other, swap delicious and creative food and help each other out when we're in need. Sometimes you run out of change—it happens! The market itself gives you so much exposure to people you'd never reach in a normal retail environment—thousands of visitors from all over and outside of NYC come through every weekend.
How has your business changed since you started selling at Smorgasburg? 
It's definitely grown, and we've secured a lot of catering and wholesale clients through our presence there as well. There's a certain cred you get from being a Smorgasburg vendor that definitely helps boost business.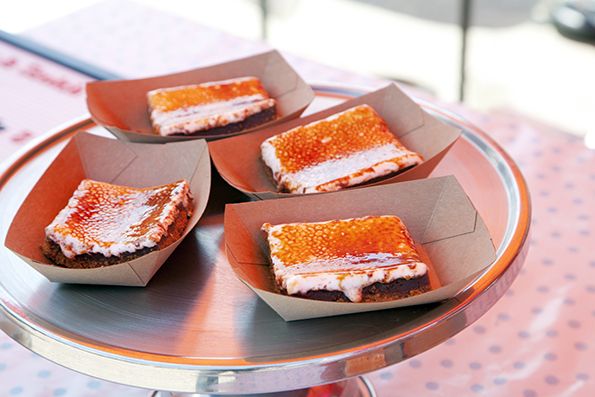 How did you start Butter & Scotch, and what are your goals for your business?
We [Kave and her partner, Keavy Blueher] teamed up for Butter & Scotch in order to open our first brick-and-mortar location. We'd each had our own successful businesses and had already been Smorgasburg vendors previously: [I] owned
First Prize Pies
, and Keavy owned
Kumquat Cupcakery
. We were already friends and decided to join forces to open a dessert and cocktail bar. We're currently building out our space and aim to open in the next month or two. We'll definitely keep a booth at Smorgasburg, though. We love it!
Brooklyn Wok Shop 
Pastrami isn't what you'd typically expect to find in a dumpling. How did you come up with that idea?
Melissa Chan of Brooklyn Wok Shop: 
Pastrami dumplings [were] the idea of my husband, [Edric Har], though the toppings [were] mine. We had a smoker and, after using it for ribs and other items, smoking corned beef was a natural step. The first few pastrami dumplings had Cheetos on top, then potato chips and all sorts of other toppings. Eventually sauerkraut won the taste test.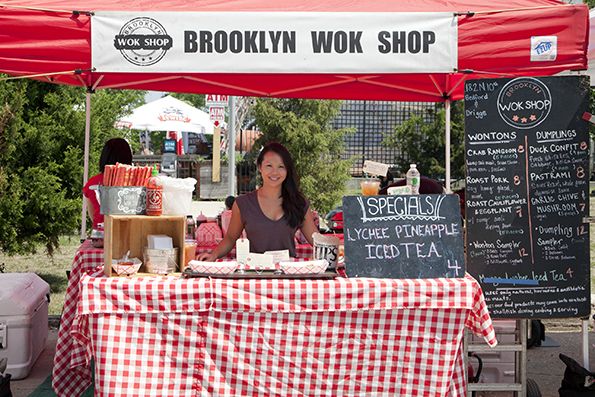 We really didn't start Wok Shop as a dumpling shop, but we quickly learned our customer gravitates towards them. Edric's cooking background is Italian and French, so when we started making dumplings, we followed traditional Chinese recipes from what my mom and family taught us. Though they did well, it wasn't inspiring and didn't use any of Edric's skills. At Smorgasburg, people are looking for fun and creative ideas; it was screaming to let Edric cook what he wanted instead of what we thought we should be cooking.
How has your business changed since you started selling at Smorgasburg? 
The exposure is priceless. Our dumplings are great appetizers, so we've gotten a lot of catering parties through Smorgasburg. We are also able to be more creative; it's a great test market for new products, and getting feedback is quick. Our customers are right in front of us and sometimes they dig right in. It's great when you can see them enjoying it. We are now currently working on new items to bring to the market this fall.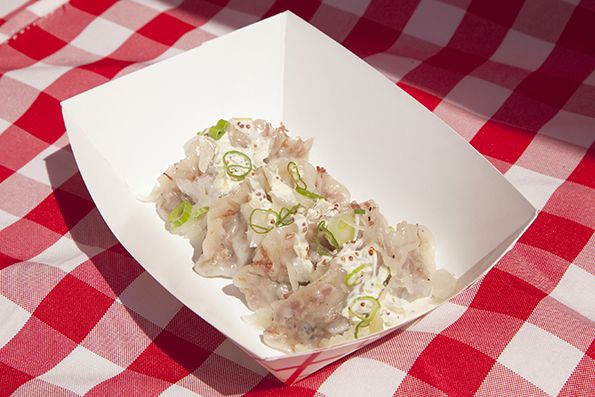 We are a small shop in the Williamsburg area. We really are a mom-and-pop shop: Edric is in the kitchen and I take care of the front of the house. Our initial concept was to open a gastropub in the area, but after living here first, we missed our everyday casual Chinese restaurant and found very limited options. The idea came to us one night to open Wok Shop, elevating take-out Chinese classics. In the past three years, we evolved [and] our menu is a blend of two cultures. Edric was brought up eating his mom's home Chinese cooking and his old-school Italian Godparents' Sunday gravy. His cooking background is Italian and French, but his Chinese cooking background is from memory and taste, growing up in Chinatown. 
Our goals for the business has evolved as well. As a small business, the everyday grind is real and very hard, customers will tell you what they want and you have to evolve to meet their expectations. [We want] to fine tune what works and expand to other boroughs. We would love to expand with Smorgasburg, do more outdoor events, fairs and festivals. We also plan on expanding our chili oil line, which is being sold online and in retail stores. We have two more flavors in mind, if only we can find the time. 
Photos: Will Steacy for OPEN Forum