Quirky travel writer and TV host Julia Dimon knows what it's like to travel, a lot. A self-described "hard-core travel junkie," Dimon's traveled to more than 80 countries and six continents. She's done downward dog in Rishikesha, India, the yoga capital of the world where the Beatles went to practice, biked the Atacama Desert in Chile and bungee jumped the Zambezi Gorgi Swing in Zambia. Her Toronto Star-based column "Confessions of a Backpacker" catapulted Dimon into becoming a syndicated travel columnist, and co-host of National Geographic Adventure's "World Travels" and Outside magazine's Outside Today television series with Ethan Zohn, as well as hosting MSNBC's online "Destination Getaway" series. 
In her years of travel, Dimon has stymied the typical idea of road warrior fitness. It's easy to become complacent when trying to juggle business meetings and fitness routines while traveling. After dealing with Fort Knox-like airport security lines and hours of jet lag, most people are exhausted. How many times can one hit a cramped hotel "gym" or kiddie-size pool? Yes, it's better than not working out at all, but if you're bored, here's a chance to get creative.
Read these travel fitness tips, as told by Julia Dimon.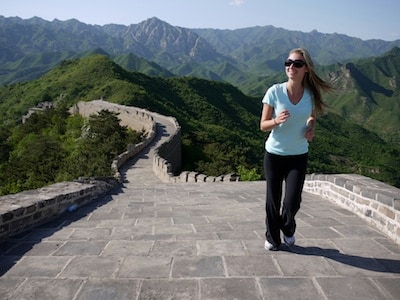 Dimon jogging the Great Wall of China
Try a City Running Tour
Kill two birds with one stone by running with a city tour that combines exercising and seeing the city you are in. Plus it's a chance to be social. There's one in almost every major city from Rome to Sydney. (Background information: check out http://www.globalrunningtours.com/ for site all over the world.)


Want more exercise-on-the-go tips? Check these out:

Go Hashing
I did this in Beijing and it was amazing. It's quirky, fun thing. A lot of beer is involved with a frat vibe. (Background information: It's called a drinking club with a running problem. That's because hashing combines drinking with running. So if you aren't sure about the whole running thing, or want to drink and jog, give this a try. It's typically three to five miles, but you can run at your own pace and runners of all calibers come out for this. More than 350 chapters are in the U.S., which a large concentration in Colorado. So become a Hash House Harrier and give it a try.)
Go Bouldering in Central Park
You wouldn't think Central Park, in middle of concrete jungle, would offer some of the best bouldering, but it does. The heights aren't drastic, you just climb rocks and it's all free movement. It's cool because it's off the beaten path in the heart of Manhattan.
Try Parkour
I joined a group of parkour in Hong Kong and we ran around the city, in a team of young urban guides. They get together to explore the city, turning urban spaces into a playground. It's a new art of movement and jumping, tumbling and leaping around. I found them on MySpace. It's an emerging sport in North America. Watch the video here.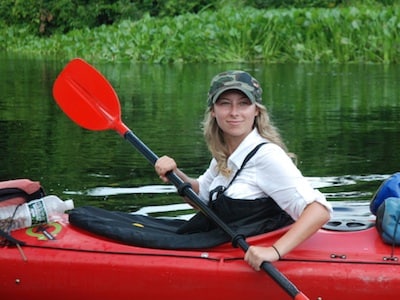 Dimon kayaking in Venezuela, courtesy of Katherine Di Mari
Go Kayaking or Kayak Fishing
Going kayaking in Orinoco Delta, Venezuela was an amazing experience with all the wildlife in the jungle, like capuchin monkeys hiding in the trees. I also enjoyed kayak fishing in Brooklyn. It's a relatively new sport that combines fishing with kayaking. It's more sustainable and you're closer to nature. You can really be one with the water. Plus there's an added skill level because you don't have the comfort of a steady boat, because if you catch a big fish, you're going for a ride. I didn't catch anything, but it was a beautiful day.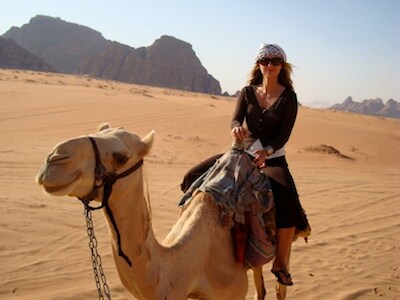 Dimon in Jordan, courtesy of WT
Try Something Extreme That You Could Never Do at Home
Snorkeling with whale sharks off the coast of Mozambique was a bit athletic, because of the swimming, but it was such an incredible experience. Whale Sharks are the largest fish on the planet. These gigantic monsters only eat plankton, but with big wide mouths gapping open it was one of those connectivity with nature moments that is so good for your mental health.
If You're Tired…
From Dimon's blog: Take a 15-minute walk and then stretch on the pool deck. Make your routine realistic, but it's important to do something active, even if it's just a half-hour's worth of moving around. While waiting for connecting flights, walk around instead of sitting or take the stairs to your hotel room instead of the elevator.
Use Social Media
Social media is a great way to reach out to people to workout with when you're visiting a new city. (Background information: Julia regularly gets tips from her Twitter http://twitter.com/#!/juliadimon followers and recommends following an assortment of celebrity trainers: Tracey Anderson (@GoTracy) Michael George @michaelgeorge1, Jillian Michaels @jillianmichaels, Jeanette Jenkins @jeanettejenkins and Mark Blachard @truepoweryoga.
Here are some additional Dimon tips.
Dawn Reiss
http://www.mediabistro.com/dawnreiss
is a Chicago-based journalist who has written about everything from eating crickets in Cambodia to the trial of former Illinois governor Rod Blagojevich.