This year marks the seventh Small Business Saturday, a day dedicated to supporting small businesses across the country. Small Business Saturday, which falls on November 26th this year, was founded by American Express in 2010 and has gained serious momentum since its launch. According to a consumer survey commissioned by American Express and the National Federation of Independent Business (NFIB), more than 95 million consumers shopped on Small Business Saturday in 2015, spending around $16.2 billion total at independent retailers and restaurants across the U.S.1 More than 4,100 Neighborhood Champions rallied local businesses in 2015 and created events around the day.
So how can your business get the word out to customers about the importance of shopping small on Small Business Saturday and beyond? These three entrepreneurs share ideas on how they help foster their local communities all year long.
Ledbury: Crafting Luxury Shirts With an Eye on Local Community
It was September 2008 when Paul Trible and Paul Watson knew their careers were in for a change. Both were living in England, having just graduated from the University of Oxford, and both had jobs waiting for them.
The pair had often talked about their love for the tailored shirts readily available in the U.K. Instead of starting the jobs they'd lined up, they decided to start a shirt-making business in the U.S.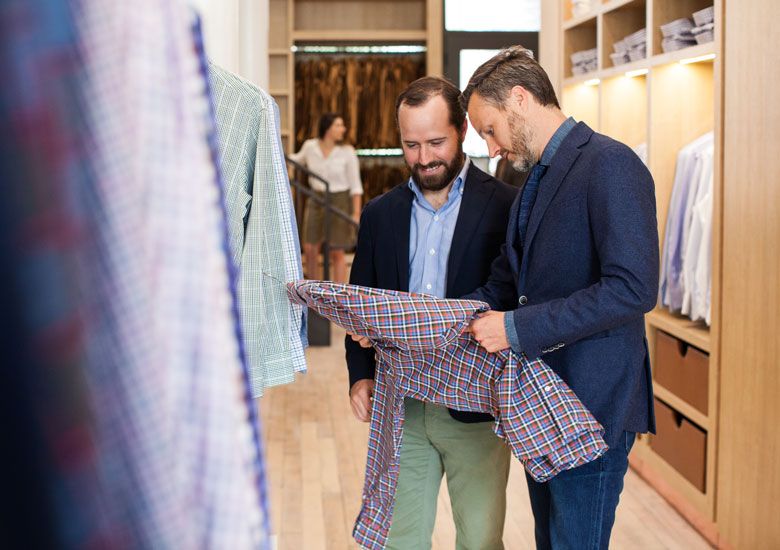 Ledbury founders Paul Watson (left) and Paul Trible discuss shirt designs at their flagship store in Richmond, Virginia. 
In December 2009, they moved to Richmond, Virginia, and founded Ledbury, a men's luxury apparel company. Business took off and today there are two locations in Richmond and one in Washington, D.C. Nearly 80 percent of their business is online, with 95 percent of that from outside the greater Richmond area, according to the founders.
The concept of community has been at the center of Ledbury's mission from day one. "It has always been about the local story," says Trible. "When we started marketing the business, we realized we could tell the story of Paul and I, or it could be a richer conversation where we include friends and places we interact with on a regular basis."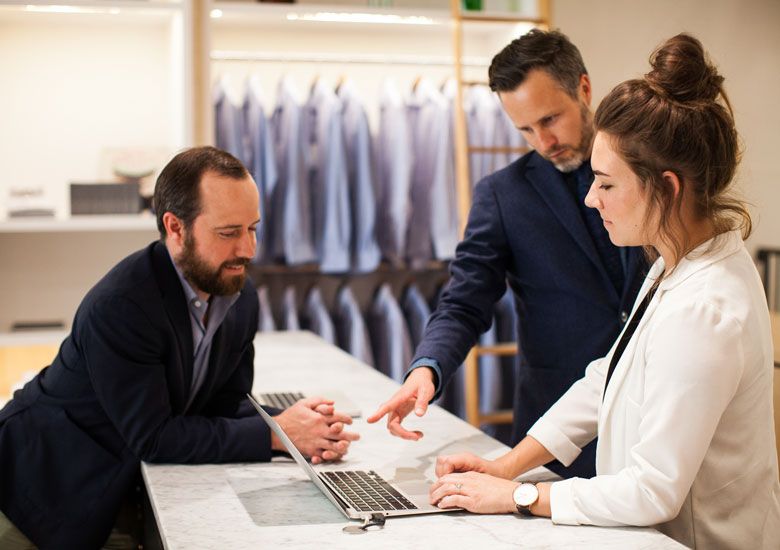 Ledbury's website features stories of local artists, chefs and entrepreneurs. 
The pair started telling stories of local artists, chefs and entrepreneurs on their website. In each photo, the featured subject would wear a Ledbury shirt. Today, Ledbury has more than 100,000 people on its email and newsletter list, according to the founders. The company also hosts one weekend-long quail hunt each year where they bring in customers, vendors and investors along for the fun. To help build buzz in the past, Ledbury has hosted social media contests to give customers a chance to win a free trip to the hunt.
Ledbury has participated in Small Business Saturday since 2010 and plans to continue indefinitely. "We get the word out on social media and keep longer hours at the stores," says Trible. "We also do promotions. It definitely drives foot traffic."
Bwè Kafe: Brewing Coffee to Bring Relief to Haiti
More than 300 miles north of Richmond in Hoboken, New Jersey, sits Bwè Kafe, a coffee shop that sells Haitian coffee and features Haitian-inspired art, run by Dale Ryan and her brother, Evan Ryan. The store opened in May 2013 as a spin-off project of a nonprofit their mother started to help victims of Haiti's 2010 earthquake.
"Part of our profits go to Love for Haiti, the charity our mom started," says Dale, adding that every coffee blend includes beans from Haiti and the space is decorated with indigenous art from Haiti.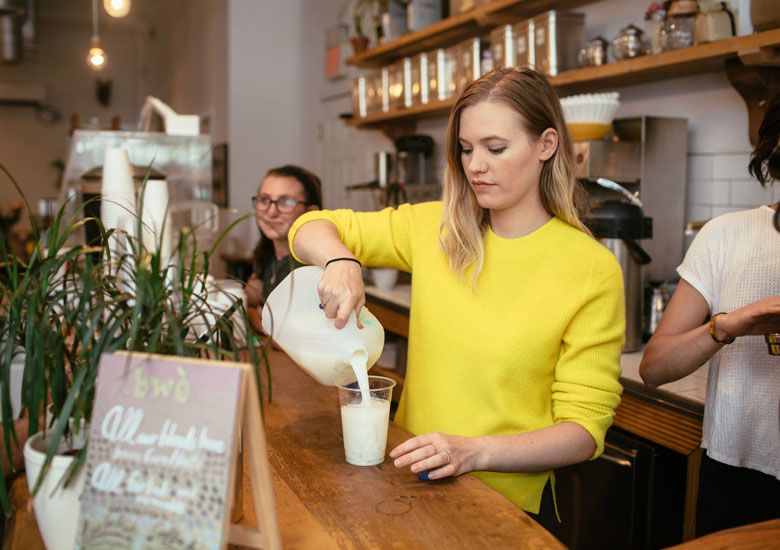 Bwè Kafe founder Dale Ryan prepares a drink at the business's Hoboken, New Jersey location. 
Business has been good from the start for the sibling co-owners and in November 2015, they opened a second location in Jersey City. Along with its philanthropic mission, the Ryans are dedicated to fostering a sense of place, starting with a 10-foot-long "community table" in the center of both cafes.
"Strangers sit next to each other and enjoy coffee; we've had two marriages come out of people who met at that table," Dale says. "We also use the table to host community events at no charge. Right now we have a weekly French class. [In the past] we've had a meditation workshop, an essential oils workshop and other events."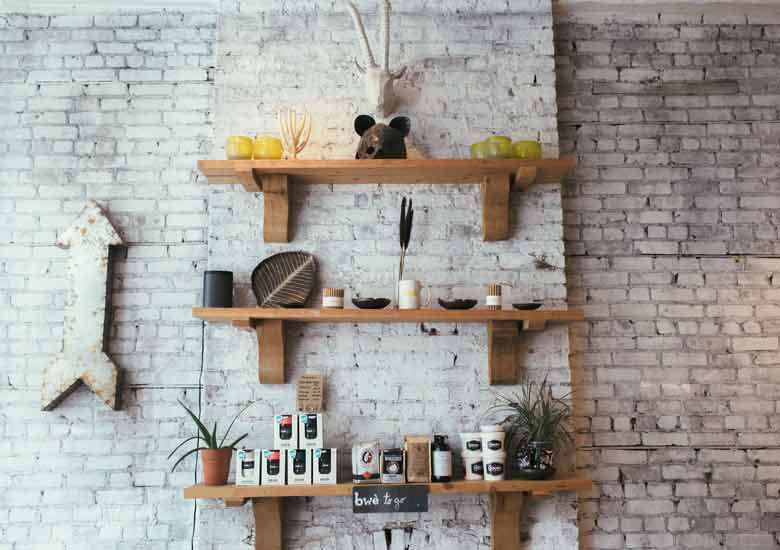 Artwork and crafts decorate the walls of Bwè Kafe. 
Bwè Kafe jumped at the opportunity to participate in Small Business Saturday back in 2013 when they'd been open just six months. "It reminds people that they don't have to go far to get unique gifts for the holidays," says Dale, adding that every year they put up marketing materials around the store for Small Business Saturday and offer gift baskets at 10 percent off. "This year, we are going to put together more packages for our customers and incorporate some Haitian crafts," she says.
Journeys of Life: Selling Soulful Gifts in Pittsburgh
Another 350 miles west of Hoboken on Bellefonte Street in the Shadyside district of Pittsburgh is Journeys of Life, a bookstore and gift shop for people with a variety of spiritual and religious belief systems. Local Jean Haller founded the shop in 1989 to provide items for people "who are on a path or a way to something," she says. Many of her customers are recovering from hardships while others are looking for items to cheer up a friend who might be down.
Journeys of Life founder Jean Haller opened her bookstore and gift shop over 20 years ago in Pittsburgh's Shadyside district.
From the day she opened, Haller worked hard to build a community around her, donating time and resources to nonprofits in her area—from a school for at-risk youth to an animal rescue to women's organizations. A few years ago, that community showed up for her in an unexpected way.
At 3 a.m. on November 13, 2011, her phone rang and she was informed that an electrical fire had destroyed her store. "I was the Neighborhood Champion for my area and it was two weeks until Thanksgiving," she remembers. "I had to do something."
Haller's community gathered around her and helped her open an interim location in a matter of days. That Small Business Saturday was one for the books. "I couldn't believe how many people came into the store," she says. "I think I cried most of the day."
Haller talks through items for sale at Journeys of Life.
Haller renovated her former space and moved back the following May. She continues to participate in Small Business Saturday. "I always do giveaways," she says. "I've started buying inventory specifically for Small Business Saturday because I want to offer good deals for my customers."
This November, Haller plans to start marketing on Facebook and through her email newsletter several weeks before the day and offer a number of in-store promotions.
"I recommend every entrepreneur get involved in Small Business Saturday," she says. "You get amazing marketing materials2 and you have the chance to hold a party in honor of your customers."
Working Together, No Matter What
Whether it's highlighting other businesses on the company blog or providing a physical space for customers to gather, these three entrepreneurs help prove the importance of fostering community. Business owners are smart to collaborate not only with each other and offer cross promotions, but also with local charities. On Small Business Saturday and beyond, try thinking of fun ways to rally your neighborhood for a cause—whether that's shopping locally or giving back to your community. As Jean Haller notes when partnering with nonprofits in her area, the help you give "will come [back] to you."
Learn more about how your business can get ready for Small Business Saturday.
For more tips on using social media for your business, access our exclusive guide, The Right Content, Right Now: Navigating Social Media for Business.
1Estimates are based on consumer self-reported data and do not reflect actual receipts or sales.
2Terms apply. Visit the Shop Small Studio to learn more.
Photos from top: Kevin Kim (1); Kate Magee-Joyce (2); Kevin Kim (2); Cory Morton (2)