In physical therapy, if you push too hard, or move too fast, the result could be detrimental. The same goes for business growth, as physical therapist David Reavy, owner of React Physical Therapy in Chicago, learned a few years ago.
Reavy used his own savings to open an office within a popular gym in 2007. The workout facility was a hot spot for professional athletes, and it didn't take long for them to become patients at Reavy Rehab, as it was originally called. Athletes and non-athletes alike responded well to Reavy's whole-body approach to therapy: Rather than treating the symptoms of an injury or physical limitation, he focuses on the patient's core, ensuring that all muscles and joints are in sync, in order to help build strength and performance, long term. "We restore people's quality of life," Reavy says. "We give them hope."
Reavy entered the physical therapy field for highly personal reasons. When he was 18 years old, he was riding his bike in Chicago when a van hit him from behind, throwing him into the air. He landed on his back, bruising his bones, which led to muscle spasms, lower back pain, thoracic pain and pelvic dysfunction. Physical therapy made him feel worse, and as time passed, the pain continued. When he decided to become a physical therapist, his hope was to help himself, and, one day, others like him.
Between 2007 and 2010, Reavy Rehab grew rapidly, thanks to word of mouth, expanding to five offices throughout the city and suburbs. But for Reavy, that growth became a problem. He didn't have time—or systems in place—to oversee each office and train staff. There was no consistency among the offices, and treatment plans given to patients varied by therapist.
Rather than trying to correct the course at all of the locations, Reavy decided to regroup. He'd continue operating the office that was performing the best—the downtown location, where he spent the most time—and close the rest.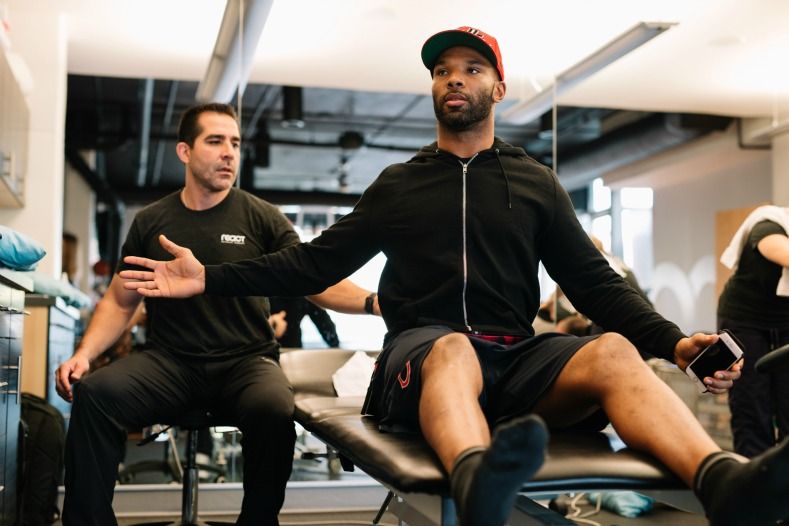 David Reavy (left), owner of React Physical Therapy, with Matt Forte, running back for the Chicago Bears.

"It was painful," Reavy recalls. "It wasn't an easy decision, but we weren't providing the same level of care. I thought if we were able to come back to one location, everybody gets trained here and then they go back out. That's what we're in the process of doing."
In 2012, he applied for a loan and, using all of his resources, invested in a new, expanded space. At the same time, he brought on a chief marketing officer, Eun Jung Decker, who helped launch a rebranding campaign and create a new business identity. He knew he wanted to grow again, but this time, he wanted to do it slowly and correctly.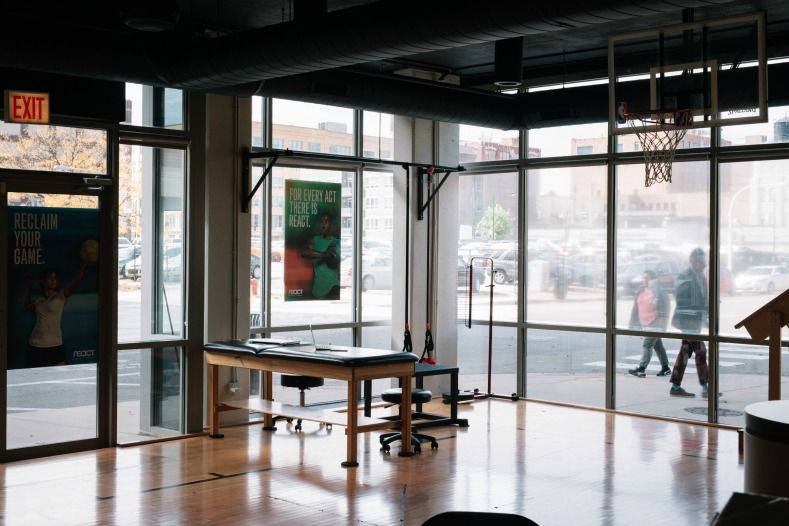 "We took the time to contract and set processes and now we can replicate them," Reavy says. "So you have operational consistency and brand consistency," he says.
Today, if you walk into React, in Chicago's trendy West Loop neighborhood, it feels like entering a high-end gym or yoga studio. Smiling faces greet you from behind the front desk, and the floor-to-ceiling windows allow a natural glow into the 5,000-square-foot studio space, where physical therapists work with patients on treadmills and Pilates machines. Part of the rebranding goal was to banish any kind of medical office feel from the business—hence, changing the name from Reavy Rehab to React—so that the atmosphere reflects the philosophy of Reavy, which embraces mobility, stability, strength and power, rather than focusing on limitations.
The seven physical therapists on his staff have been trained in his own, personal method, called the Reavy Method, which is recognized by the Illinois Physical Therapy Association. The method starts by focusing the body's central hub—the pelvis, back and shoulders—to analyze how muscles and joints work together and, from there, improve body movement and function. "Why do you have pain?" Reavy asks. "It's all about forces. Movement is physics."
Reavy says that his unique approach to physical therapy has made it easy to find employees. "I think our physical therapists are looking for a difference," he says. He maintains a continuing relationship with his alma mater, University of Illinois at Chicago, which sends students to React to shadow physical therapists. "They come here for experience, and they want to come back," he says.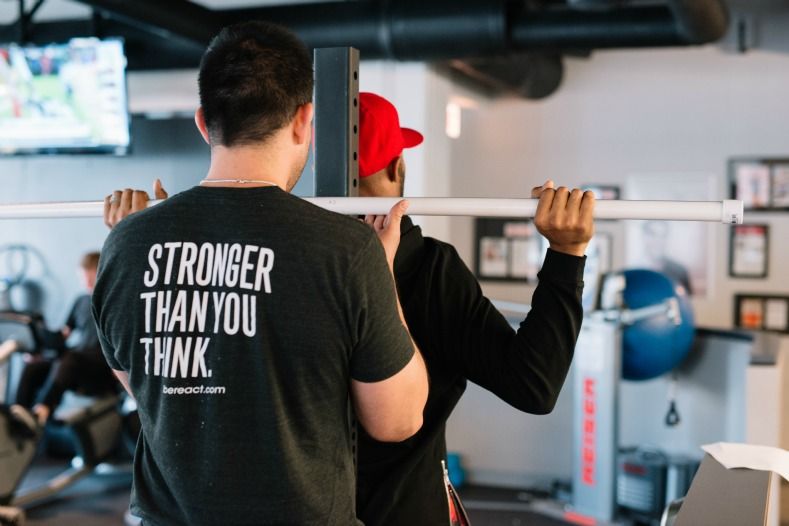 Patients have also responded to the quality of therapy. Reavy says more than one-fifth of his patients—including five of the Chicago Bears starters and a number of professional basketball players—have found him through word of mouth. Since the relaunch, Reavy says React has seen growth in its patient load, averaging an addition of 140 patients per month in 2013-2014. That's up from 2012-2013, Reavy says, when each month saw an addition of 61 patients, on average.
Reavy recently opened a second clinic in the Chicago suburbs, and he has his eyes on many more. He's doing it differently this time around and collaborating with businesses that align with React's goals. The new location, he says, is located inside of an athletic training center. "It fit our niche," he says. "It's inside a place called TCBoost. It's a sports-performance training center and they see pro athletes, high school athletes, college athletes, and they get it. They understand what we do. It's great for us."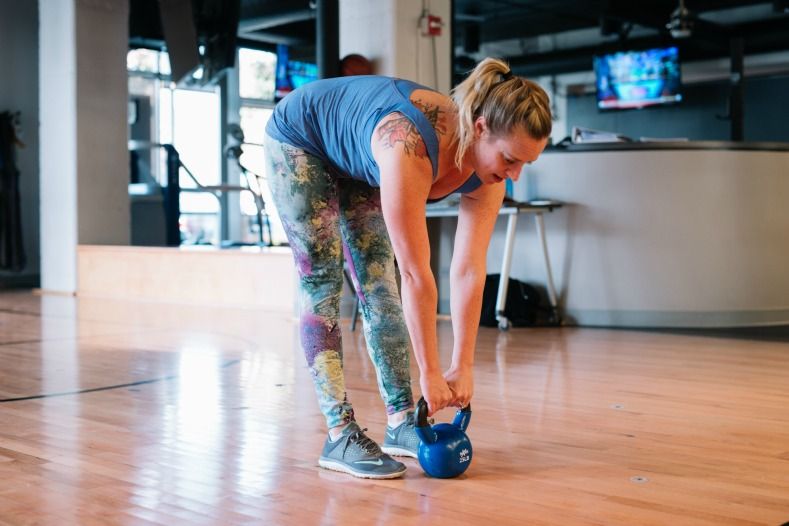 He's trained the staff that work there in the Reavy Method, so there's brand consistency, which was lacking in his past locations."Ideally, we'll partner with other physical therapists, teach them the method, train them," Reavy says. In time, he plans to expand to at least 30 clinics in the Chicago area before expanding globally.
"We're really revving up the engine," he says. "We're ready for growth."
Photos: Ten Photos