When her daughter was about nine months old, Marilyn Weber suspected the baby had a hearing problem. She took her to different doctors, but struggled to get a definitive answer. "They kept saying, it's your first child, you don't know what to expect, all kids are different, that type of thing," says Weber. It took 11 months of medical visits before her daughter was diagnosed with severe hearing loss, and by age 3 that diagnosis progressed to profound hearing loss. That's when Weber began learning American Sign Language. "I just wanted to always be able to keep up with my daughter and her needs and be able to talk to her and be involved in her world," she says.
She had no idea, then, that what she learned about working with the deaf community would go on to shape her career. Today, as the president and CEO of San Antonio, Texas-based Deaf Interpreter Services, Inc. (DIS), Weber leads a nationwide business that provides certified interpreters (on site and remotely), captioning services, American Sign Language video production, Americans with Disabilities Act consulting and other services to businesses and consumers. Nine full-time employees work in her Texas office, handling business operations duties such as scheduling and billing, business development, payroll, accounting and more. DIS also works with 12 full-time interpreters and nearly 100 part-time employees and 100 independent contractors stationed around the country to provide interpreting services. More than 20 years after the business began, it's still growing fast: In the last two to three years, the number of employees and the business's revenue grew by 75 percent, says Weber.
Leading by Example
Her path into interpreting was actually a surprise to Weber, herself. "I'm not sure why I got certified as an interpreter," she says. "My intention was never to become an interpreter." In 1990, she was working as a pharmacy technician at two hospitals in San Antonio. She'd been commuting an hour and a half each way to Austin to take classes at the nearest sign language school, which happened to be an interpreter training program. When she graduated from the program and passed a state board, her name was entered into a statewide registry of certified interpreters. All of a sudden, the hospitals where she worked were reaching out to her and asking her to interpret for patients. Without an interpreter, a deaf mother would have to rely on their child to interpret what a doctor was saying to them—a tough situation, all around.
She began to worry about her daughter's future. "I was going and attending these conferences and getting really involved in the deaf community and I realized, my gosh, there's nothing here, there's no services for her. What's going to happen once she gets a little older? Am I going to have to be there with her?" says Weber. "As I got more involved with the deaf community, the deaf community was saying, 'You need to do something about this.' And I'm thinking, you're right. I do need to do something."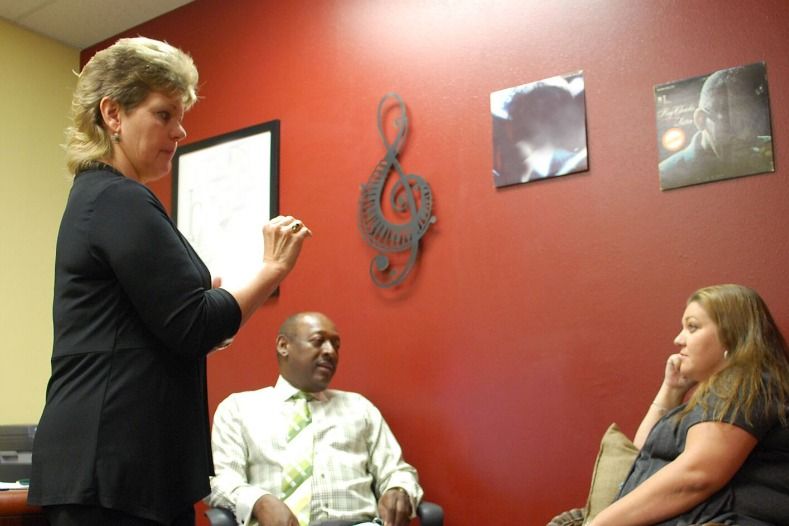 Deaf Interpreter Services president and CEO Marilyn Weber, left, with employees Larry D. Smith, director of program management and business development, and Crystal Tower, coordinator and deaf support specialist
She decided to leave her job at the hospital and focus on interpreting. She spent a few years providing interpreting services to different colleges and universities, and then began working for an interpreter service in San Antonio, where she was one of three part-time employees. Not long after, the owner of the service—Deaf Interpreter Services—was suffering from health problems and decided to retire. Weber took out a loan from a local bank to purchase the business. She immediately set her sights on growth, and began hiring interpreters from a new interpreter training program (ITP) through a college in San Antonio and from the ITP she'd attended in Austin. After one year of owning the business, she had a dozen employees who could provide interpreter services wherever they were needed in San Antonio and the surrounding area.
Soon after, the reputation of the business spread around the deaf community. "As we traveled and connected with the deaf community, the deaf community had our cards and they'd go to the doctor and hand them the card and say call DIS. I need an interpreter." Weber incorporated the business and started expanding nationally.
She found interpreters around the country through interpreter registries and through recommendations, and hired them so they could work in their own communities. As technology advanced, business opportunities multiplied: Through video remote interpreting services (VRI), an interpreter in one state could use a video interface to interpret for a deaf person in another state.
A One-Stop Shop
Challenges come with growth. Weber says one of the biggest challenges is having the right number of employees and contractors to respond to the need. It's not uncommon to have 20 video interpretation service calls scheduled within the same hour on the same day, only to be followed by sparse appointments. By hiring contractors, she says, she's able to expand and contract the services as needed. "The biggest issue is having enough good people in the right places at the right time," says Weber. Her contractors and employees tend to find her. "They hear about us," she says. They inquire via the website and that could lead to a hire, anywhere in the country.
DIS hasn't just grown in size, but also in scope. Weber says that when she hears about a need from customers, she tries to accommodate it, whether it's for the deaf community or others. The business offers a concierge service that helps blind people schedule appointments. A portion of the deaf community is also blind, and DIS has interpreters trained in tactile interpreting to work with them. They've also provided readers (people who read a test or document aloud) to help employers who are working with individuals with autism or attention deficit disorder.
We're determined to make a difference in people's lives and be there for them. Where there's a will there's a way.
—Marilyn Weber, president and CEO, Deaf Interpreter Services
DIS also has a video production studio and works with government agencies and businesses to create training, informational and educational videos for the deaf community (they've produced more than 5,000 videos). And then there are the services you may not expect from an interpreter business, such as an upcoming fitness classes aimed at helping older deaf community members improve their balance, and, recently, a class on wills and probate. Weber says her dream for the future is to continue along that very trajectory: growing in size and scope and responding to the needs of the community. "We've become known as a one-stop shop," says Weber.
But DIS is more than a one-stop shop. It's the dream business that Weber created to answer all the needs that she, as a mother of a deaf child, felt deeply. "We saw all the issues and the problems for so long that I know the frustrations," she says. That's what drives her to continually offer new services and help others. "We're determined to make a difference in people's lives and be there for them," she says. "Where there's a will there's a way."
Photos from top: iStock, Courtesy of Deaf Interpreter Services