Few tasks in business are more cringeworthy than filling out an expense report. Most of us wait until the last possible second to tally amounts printed on crumpled receipts found at the bottom of our wallets, look through emails to find notes about purchases made or sift through Excel documents designed for the purpose. Regardless of the method, dealing with expense reports is nothing short of annoying.
Until now. Or, until March 2009, to be exact. That's when Web veteran and computer engineering guru Dave Barrett debuted Expensify, a software platform that allows users to take photos of receipts with their phones, sync them with debit and credit card information and identify which purchases can be expensed. The product works as a bridge between employees and employers, even reimbursing expenses via direct deposit.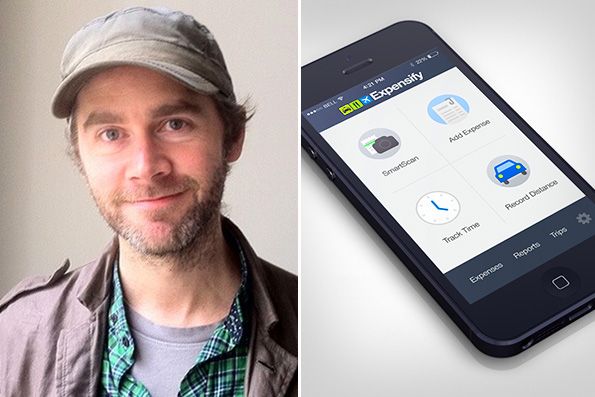 With a reported 1.5 million users, 27 employees and $6.7 million in funding, the San Francisco-based startup is growing rapidly. Barrett spoke with OPEN Forum about some of his unique hiring techniques, amazing perks and how founding an expense reporting company was never part of his plan.
You must really have it in for expense reports to want to start a company around the concept. 
I think everyone hates expense reports, but that isn't why I thought about starting the company. The surprising secret of Expensify is that, initially, I had no interest in expense reports. I'd sold my previous company and wanted to launch a pre-paid debit card. As part of that idea, I created an expense report reimbursement program. I launched the card at TechCrunch in 2008 and people liked it, but they said the expense report functionality was even cooler. "If we could use that expense report with our existing cards, that would be great," they told me.
Since it was 2008 and the banking sector wasn't very healthy, I decided to bag the idea and focus the company in a different direction. At first I thought expense reporting would be the dullest possible industry to get involved with, but now that I'm in it, I think it is incredible. We have total awareness of the reporting structure of every one of our company clients. There is so much interesting data there. We've also found that expense reporting is inherently mobile, making our product even more attractive. Leads come to us. We don't do any marketing.
What was the public reaction when you were in the conception stages?
There wasn't any reaction because I didn't tell anyone. Actually, that is my biggest piece of advice: Don't tell anyone what you are doing. I wasn't afraid that someone was going to steal my idea; I didn't tell anyone because when you do tell people, the experience is completely demoralizing. In the years leading up to this, I would go to friends or family and tell them an idea I had for a company and, with the best intentions, they would say things like, "Well, have you thought about this? And this?"
Talking to people about an idea made me spend my days thinking about why I was going to fail. With Expensify, I didn't tell anyone but my wife until we launched. I'd been working on it for about 18 months at that point.
I understand that you stole office space for the first few years of Expensify. What's the story there?

We spent our first two years working out of coffee shops, but by our third year we had six people and needed an office. We had a friend who lived in an apartment complex in San Francisco and one day we went for a visit and saw this beautiful lounge on one of the upper floors with flat screen TVs. No one used it during the day, so we decided to sneak in every day and work up there.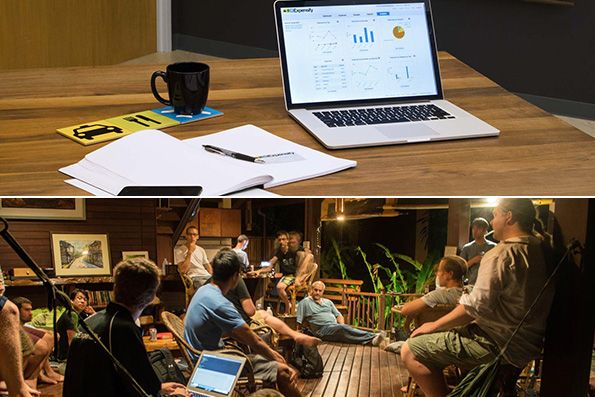 We'd stand outside and wait for the door to open and we'd just slide in behind a random tenant, making sure not to make eye contact with the guy behind the desk. We did that for about eight months. 
You are extremely selective when it comes to hiring, but you don't look at resumes. How do you vet your candidates?

We spend an enormous amount of time on hiring and firmly believe that a great person can be 100 times more productive than an average person. We don't look at resumes because we don't care. We don't work with recruiters, either. We've tried, but everyone hired through a recruiter we've eventually fired. Good people don't need recruiters.
So, in place of resumes, we ask our applicants to answer four essay questions: 1. What is your website and why? It is a choice not to have a website. 2. When did you start programming and why? Great people started at a very young age for reasons they can't explain. 3. What do you want to do for the rest of your life and how does Expensify fit into that plan? Good people will have a strong internal motivation and see us as the shortest path to a long-term objective. 4. How did you hear about us?
We are hiring vigorously, but because of our vetting process, it really takes time. I'd say we hire about one new person per month these days.
San Francisco's tech job market is red hot right now. How do you compete for the best talent?
In addition to good salaries, we have a unique perk where we take the entire company overseas for a month. We recently got back from Croatia. We usually go in the fall and focus our time on a particular project. It isn't mandatory, but nearly everyone goes and it is a great hiring incentive.
Well, that sounds amazing. How do you do that? Do you pay for everything?
We pay for the flight and that's it. Most of our employees will rent out their places on Airbnb for the four weeks, so it comes out being cost neutral. And we generally pick places that are cheap, hot, dirty, uncomfortable and foreign. It is designed to be an out-of-touch experience, and it ends up producing a level of creativity that doesn't usually happen anymore. For example, last year while sitting at the beach, one of our team members came up with the idea that we should reimburse expense reports with Bitcoin. And so we launched that initiative. And since, Bitcoin has exploded.
Now that tax season is approaching, what's one expense-related tax tip you can offer small-business owners?
Don't forget to expense your mileage. Seriously, it is the single most commonly overlooked expense and can amount to lots of money when you tally it up. 
Read more articles on building an empire.
Photos: Thinkstock, Expensify