When he decided to jump in to the multibillion-dollar payroll business, Joshua Reeves, CEO of ZenPayroll, a cloud-based payroll service, didn't set out to slay a giant. "We just wanted to make the world better," Reeves says.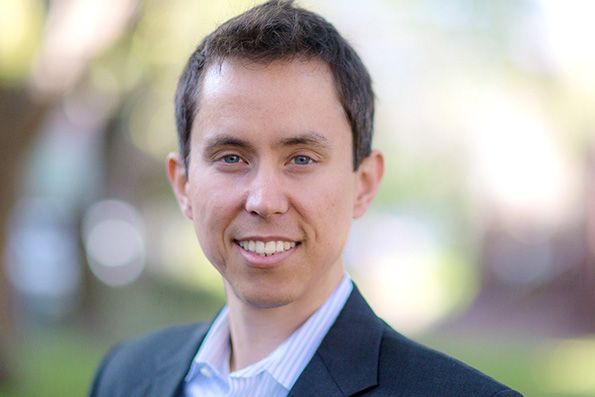 Reeves and his co-founders already had friends and relatives involved in the payroll industry. And the more they learned about what worked and what didn't, the more they realized they could make a difference. Their philosophy? "Never accept the status quo," Reeves says. "It's about what could be."
Launched in December 2012, ZenPayroll has more than doubled the number of employees it started with and already processes more than $400 million in annual payroll for small businesses. While that sounds impressive, it still pales when compared to the billions in revenues garnered by industry behemoth ADP.
So what would compel an entrepreneur to enter an industry with such a powerful top player and no shortage of smaller providers as well? Despite the dominance of companies like ADP and Paychex, Reeves explains, about half of all small businesses still do their payroll manually. And, according to the IRS, that leads to about 33 percent of small businesses getting fined annually for incorrectly doing their payroll, for which they pay out about $5 billion a year in penalties.
Inspired by payment solutions provider Square, Reeves knew something like payroll was much better done by software than by people. "Square rethought payments," he says, "and came up with a simpler, easier, really enjoyable way [to get it done]." Reeves believes small-business owners need to be freed from the "archaic, manual, back office processes" they've had to endure for decades.
"Small-business owners shouldn't have to be experts in what taxes they need to pay," Reeves says. "That won't make you, for example, a better baker." This new take on payroll management helped Zen garner support from investors—the company received $6.1 million in seed funding and more recently raised $20 million from venture capitalists
New Way of Thinking
Still, as long as employees get paid, does anyone really care about who administers the system? That type of attitude is part of the reason why Reeves took on the payroll giants. "Getting paid used to be a 'special moment' when employees were shown appreciation for their hard work. There was a special connection," Reeves says. "Today, compensation is very impersonal and transactional."
Lamenting the loss of that feeling, ZenPayroll is putting the focus back on the people. As Reeves explains, "We wanted to make getting paid a celebration of how work is done."
One way of accomplishing that is to create ways that employees benefit from the payroll process as well. Reeves insists employees should be "equal stakeholders" in the payroll process, so employees essentially get accounts for life, with access to their pay histories. On payday, they get a "You Got Paid" email, and Zen offers them a "giving" option where they can donate to a charity one time or every time they get paid.
As part of its innovative take on payroll, Zen offers an API integration with other SaaS (software as a service) providers, such as Xero and FreshBooks, that makes it easier for entrepreneurs to run their companies.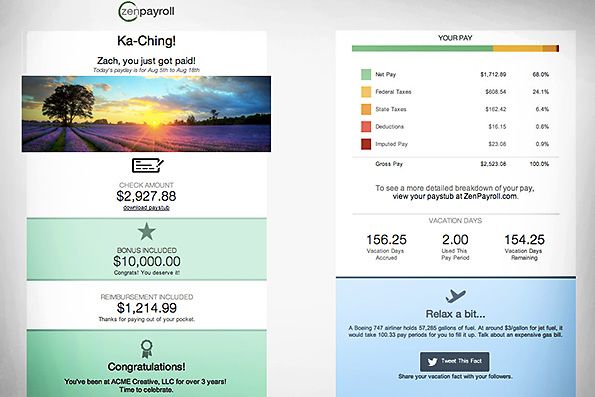 Putting People First
Reeves attributes part of Zen's early success to focusing on its customers. "We want to be their payroll partner, not just a provider,"  Reeves says. Zen also markets to accountants and bookkeepers, since he points out they're often a small-business owner's "most trusted partner."
Every slayer of giants needs tools to get the job done. While David had his slingshot, ZenPayroll's "weapon" of choice is technology. Reeves attributes part of Zen's success to:
Business owners enthusiastically shifting to the cloud
Mobile tech, which allows entrepreneurs to do their payroll from the beach, their local breakfast spot or anywhere they happen to be
The advent of paperless technology services like E-File, eFax and ePayment
Want to slay your own giant? Reeves advises using what you have to your advantage, much as David did. That's what Zen did. Then, to maintain its upstart edge, Zen created a list of company values to guide its operation:
Employees should have an ownership mentality.
Don't optimize for the short term.
We are all builders.
Go the extra mile.
Do what's right.
Be transparent.
Reeves says ZenPayroll wasn't intimidated by the spectre of fighting industry giants. And although he didn't set out to slay the Goliaths of the payroll industry, more than one-third of Zen's customers have switched over from other payroll companies. Even so, Reeves says he's not really focused on the incumbents in the space. Rather he says, "We want to provide the best process and experience so [clients] love Zen [because] we help them grow." That customer love has translated to great word-of-mouth. A recent survey of current clients show that 87 percent have recommended Zen to another company.
As its popularity grows, Zen continues to differentiate itself from other industry players. Reeves says, "We ask ourselves, 'What can we do that no one else can?' We learn from the past, but we're building what we think is best and always looking to the future. Agility has no baggage."
Reeves knows Zen's millions in funding give it an advantage. "We have the mindset of a David," he says, "but the resources of a Goliath."
But, he adds, "You can never take anything for granted. The work is never done. We have the potential to build a very big business with millions of clients. But we realize it's a marathon, not a sprint."
Read more articles on startups.
Photos: Cassandra Hubbart, ZenPayroll