For Clint Greenleaf, the journey to CEO of a peanut butter company has been an unlikely one. After training with the Marines in ROTC, he became an accountant and "retired" at the age of 22. He self-published a book on men's style and etiquette, after friends bet him he couldn't, which led him to launch a successful independent publishing company. By his own admission, Greenleaf has always had a big entrepreneurial appetite.
In 2011, after growing Austin-based Greenleaf Book Group from zero to $10 million in revenue, with more than 40 best-sellers to its credit, he sold the company and began looking for his next entrepreneurial adventure. Through mutual friends, he connected with a group that was thinking about launching a new brand of peanut butter and was looking for an experienced CEO. After studying the peanut butter market, which was largely split into two categories—tasty but full of junk, or healthy but unappetizing—Greenleaf and his team realized there had to be a happy medium. With its simple formula of just four ingredients (peanuts, cane sugar, palm fruit oil and salt), HomePlate Peanut Butter was born.
The company's name, and the reason why seven former professional baseball players make up HomePlate's investors, stems from a little-known fact: According to Greenleaf, starting as early as Little League, into the farm system and minor leagues, all the way to the majors, ballplayers have long relied on peanut butter as a quick, convenient source of healthy carbs and protein. We may see them chewing bubble gum or spitting sunflower seeds on the field, but it's peanut butter that fuels some of our favorite players.
And the company is clearly onto something—the Major League Baseball Clubhouse Managers Association has named HomePlate its official peanut butter, and it can now be found in the clubhouses of all 30 Major League Baseball teams. For the rest of us who can't hit a ball 450 feet, HomePlate's line of Creamy, Crunchy and Honey peanut butters can be found on Amazon and on the shelves of some 500 stores, primarily in Central Texas for now, with plans to expand to another 1,000 by year's end.
But lest you think Greenleaf spends all his time in the bleachers at Fenway and Wrigley, he faces the same challenges and hectic day-to-day of founders at many fast-growing companies.
We recently spent A Day in the Life with Greenleaf and three members of his team, as they traveled from Austin to Fitzgerald, Georgia, for a check-in session with their packaging manufacturer.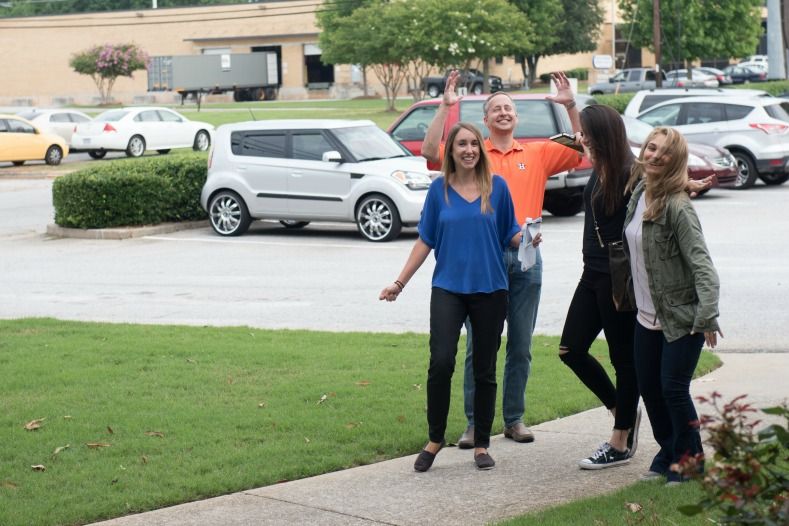 9:54 a.m.  "We flew in to Atlanta that morning for a quick trip. It was important for us that the whole team came, so we can have a better understanding of the operation. On the phone, it's easy to get distracted by other things. When you're sitting in the conference room with experts, it's easy for them to grab someone down the hall to add some insight. You don't get that over the phone or on Skype. Also, they get to see that you're genuinely interested.
"In a relative commodity space, you want to lean on your vendors. That's one of my big tenets. You want to lean on them to know what you're doing well and what you're doing differently, and insights on industry trends and opportunities. We made this visit so we could talk to them about not only producing more product and allowing my team to see the operation, but adding new products. The four of us are talented in different areas, but why not go to the experts?"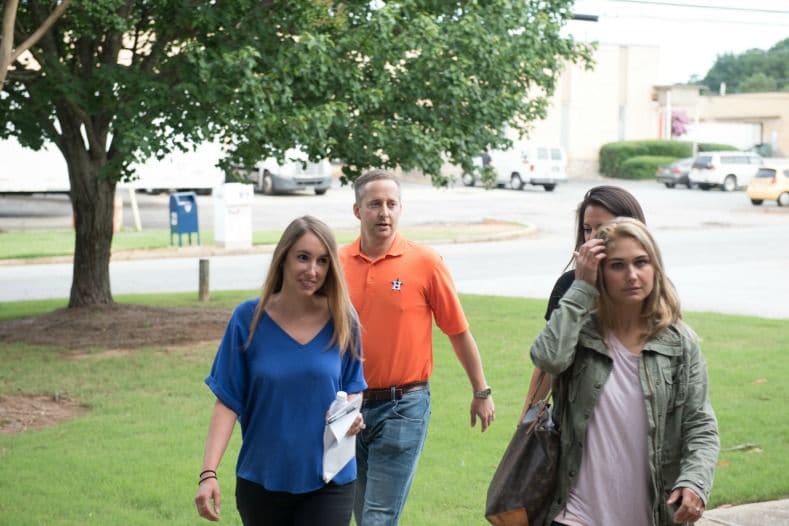 9:55 a.m. "Caleigh, to my left, is our marketing manager—she controls our brand messaging and works with retail to help broaden the messaging of the company. Sara, in blue, is our director of sales. Her job is to get product into stores and off the shelf. Allie, in the jacket, is our logistics associate and admin, who communicates with our baseball contacts.
"We tried to pick people who had industry experience. Caleigh worked at a wine company, Sara worked at a food-brokerage company. The vendors act as two or three additional employees, if you manage it correctly. It's trying to find a lot of those Venn diagram cover points—as much coverage as possible."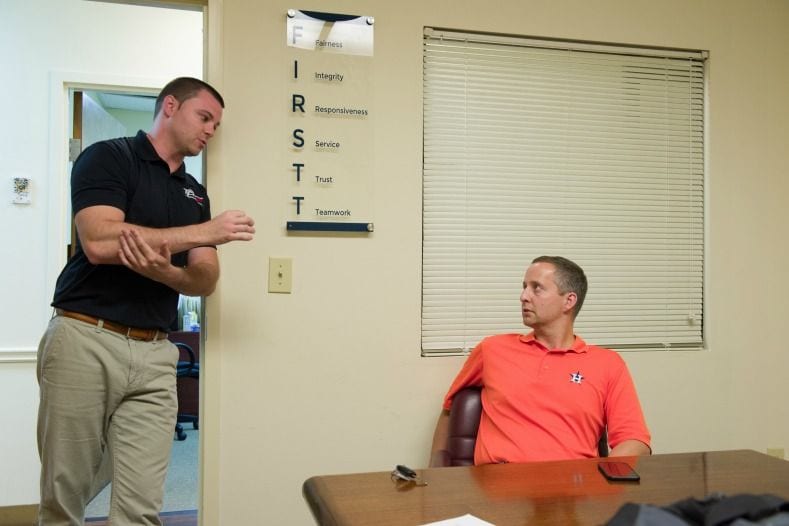 10:17 a.m. "This facility doesn't actually make the peanut butter—they package it into our squeeze packs. Listening to Justin, a sales manager, say 'you want to avoid this or avoid that' is huge for us. And that's a lot more important to me than negotiating price. When I don't know anything about the industry, it's good to get expert help from anyone who can give it to you."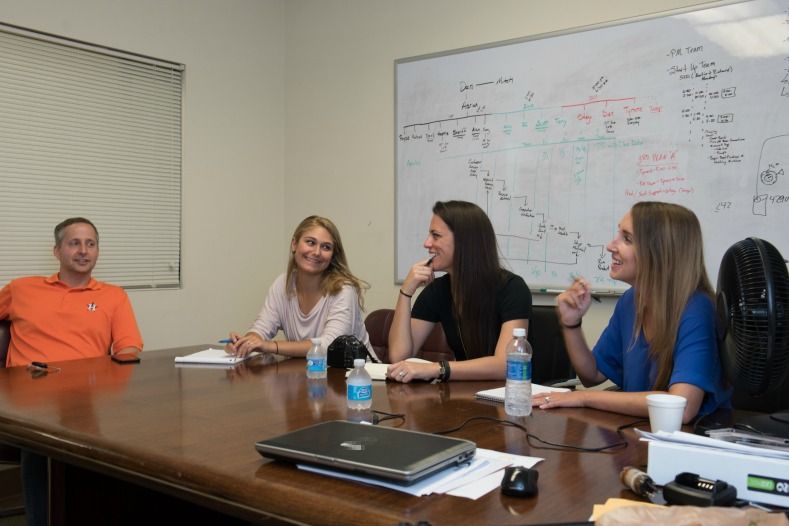 10:43 a.m. "A meeting like this comes down to the personal connection you make, rather than what you see while you're there. Peanut butter is a fairly simple product—the main purpose of the visit is making the personal connection. So you spend the majority of your time in meetings. We can't take ourselves too seriously. Just because you're working doesn't mean you have to be miserable."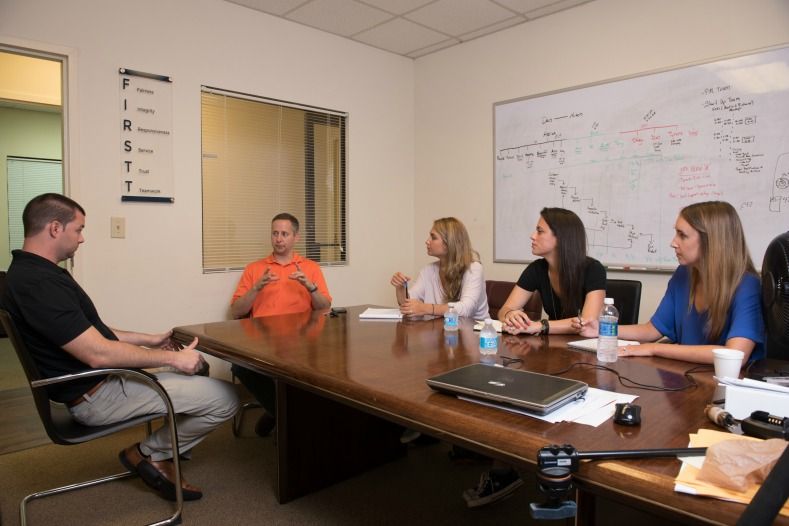 11:08 a.m. "Here, Justin is talking about the limitations that his equipment can handle. You walk in with a wish list and you realize that you're not going to get everything. It's not about 'yes, we can do it or no, we can't do it'—but you see what's possible. Knowing that helps us avoid shopping around for other people."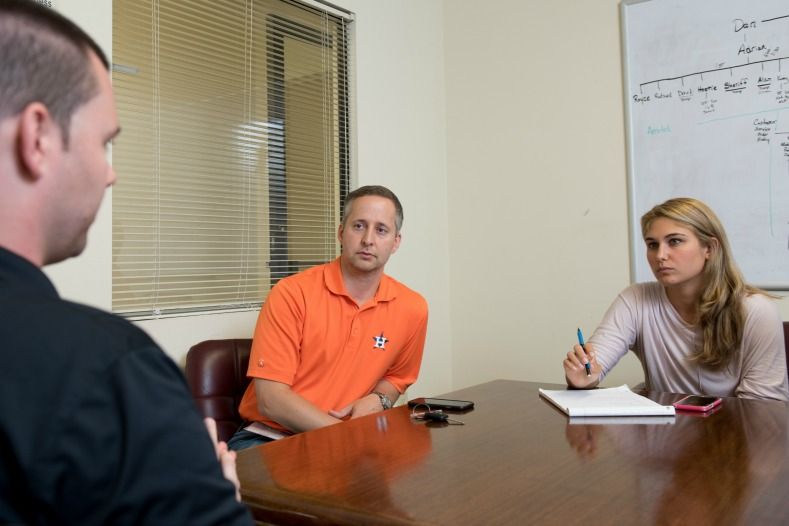 11:15 a.m. "A lot of this is letting the manufacturing company talk more, as opposed to it being The Clint Show. They're all experts. Part of my job is to shut up and get out of the way."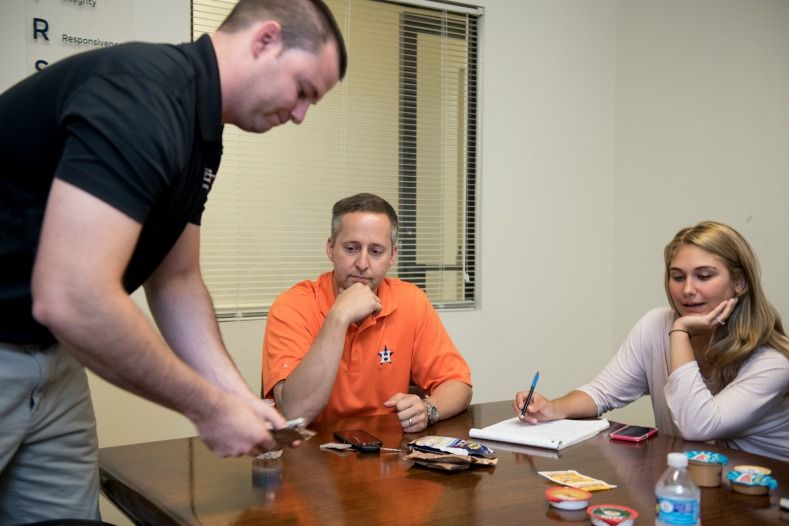 11:32 a.m. "These are some of the other products that they make: Showing us their capabilities, having us think outside of our box, trying to decide what that right mix might be—squeeze packs versus cups, for example. And knowing what they do makes it easier for us to figure out what we want. Seeing other capabilities is good data for us."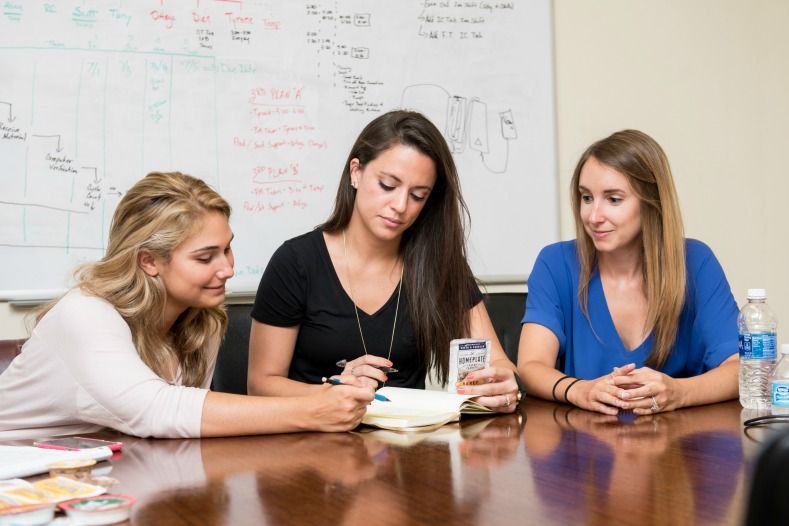 11:49 a.m. "Taking notes of current product and identifying ways we can improve is essential. I think the general rule is that we never want to do a straight reprint or a straight repackage. It's about increasing or decreasing the font size, for example—we want to improve every time we do it. That's part of our core message: We're not always going to get it right the first time or come up with improvements every time, but we're going to continue tweaking and see what works best."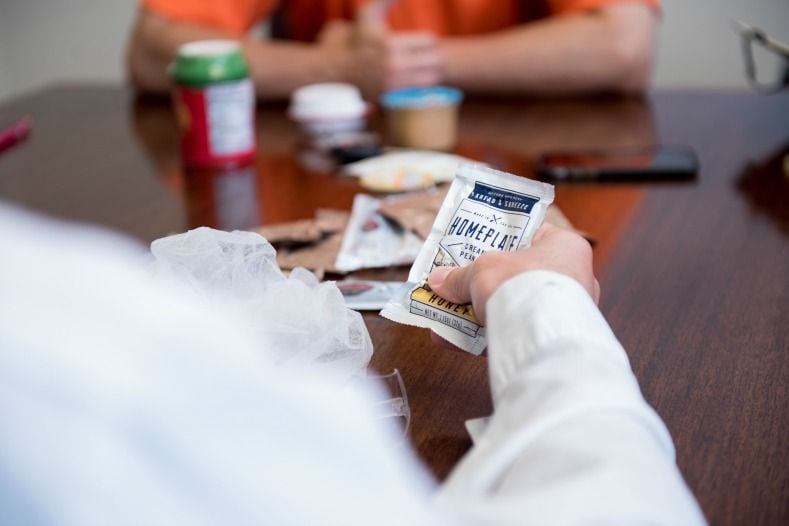 12:23 p.m. "The squeeze packs are primarily a sampling tool for us, but a lot of it comes down to the exact placement of words and images, where their hand covers it, etc. We found that when someone holds [the squeeze pack], their thumb covers part of it. If we add a coupon to it, where does it go? How will people notice it without missing the rest of the package? It's an easy, on-the-go snack, it's an easy way to sample without buying a whole jar—it's even TSA compliant. It's transportable. It's sackable in moms' purses or someone's gym bag."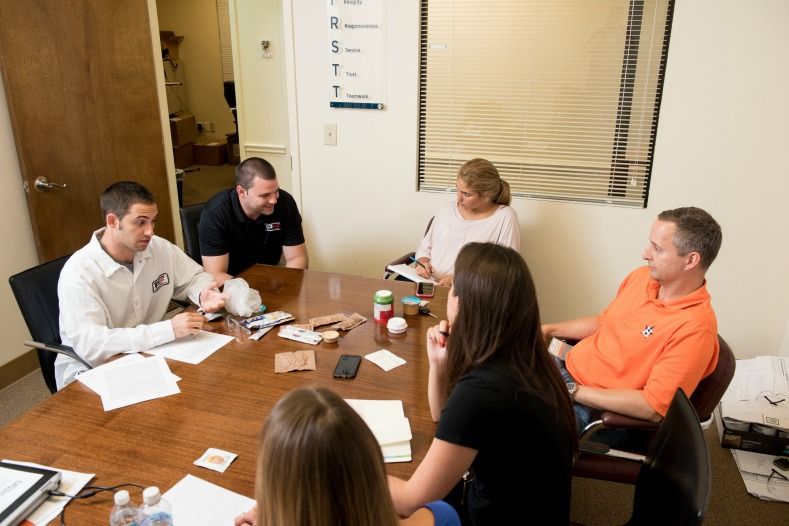 12:50 p.m. "This is Chris. He's an in-house FDA expert. Rather than us paying a consulting firm thousands of dollars for that information, we have access to him in-house. He briefed us on different food guidelines, packaging requirements and labeling issues we need to know about. The general progression from Marine to accountant to book publisher to peanut butter CEO is less than standard, so I'm willing to admit what I don't know. And when you ask for help, people are more than willing to give it, rather than getting in the room and telling everyone how smart you are."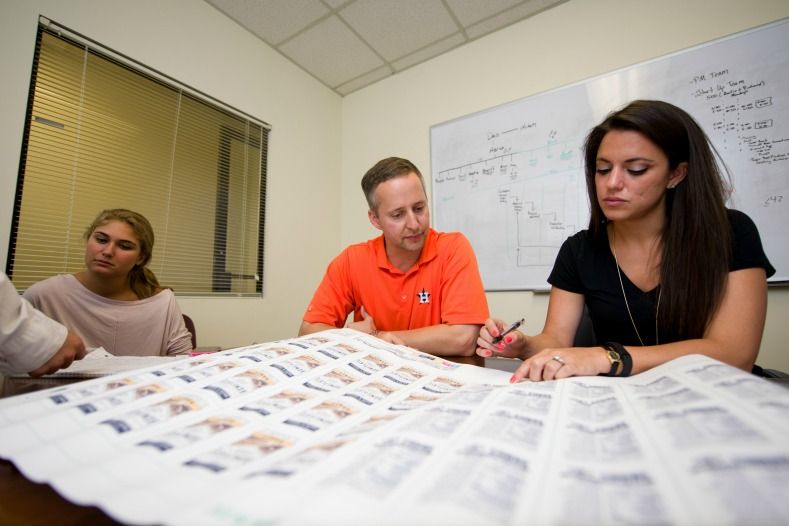 1:30 p.m. "This is a proof sheet—the way the squeeze pack film is made—which is 32 per sheet. It comes on a gigantic roll, so you make a large run. Caleigh is proofreading and checking the information on there. The minimum run of a squeeze pouch is about 100,000 at a time. So it's a big commitment when you're not quite sure what you're going to do with them. This was the second time we ran them. Slightly less frightening, but still important."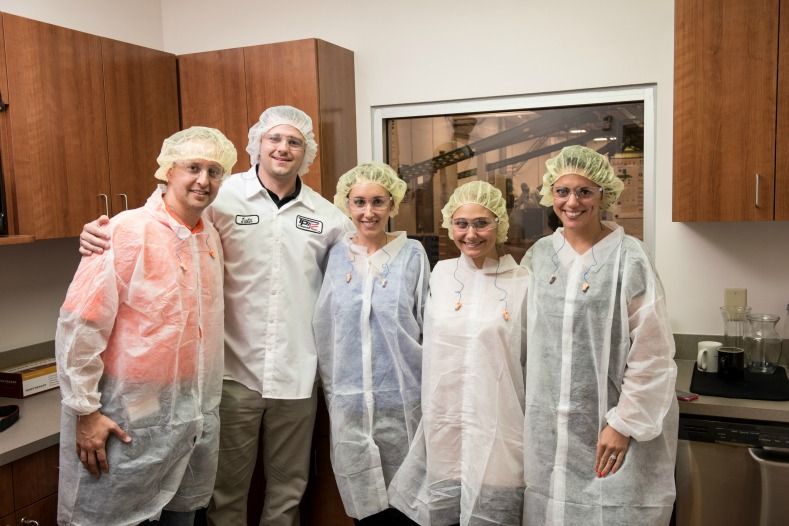 2:45 p.m. "This is us prepping to walk in the plant, which is unfortunately top secret. Food safety is obviously a big deal and one of the reasons you go on a trip like this is a backup check, to make sure they're taking your product as seriously as you do. This only works because every one of us was dressed like an idiot. You go through a second change in the other plant. You laugh about it. It's a strange uniform, but it's a team-building, bonding experience.
"Honestly, I never thought I would wind up as a peanut butter CEO. It wasn't exactly my 'lane.' But it's how you define the lane. You end up finding that your lane should be things that matter to you—and for me, it's the upside, intellectual curiosity and the excitement. If you have those things, I don't really care what the industry is."
Photos: Steve Glass