Today is undoubtedly an exciting time of transformation for the restaurant industry. With new technologies streamlining operations, new data-driven capabilities offering insight into our most loyal customers and new delivery platforms providing ways to reach wider audiences (Pizza delivered by drone, anyone?), restaurants are finding ways to embrace this era of innovation to improve and grow their businesses. And we, as customers, are reaping the benefits through greater access to more personalized, flexible and meaningful dining experiences.
But these bright days of new business frontiers are sometimes counterbalanced with the realities that running and sustaining a profitable restaurant is becoming more and more difficult. Rents are skyrocketing. Labor costs are increasing. And competition for kitchen staff is heating up as more restaurants open across the country. Even with all the new hospitality and delivery tools available to restaurants, it's becoming increasingly challenging to really qualify the gains when faced with rising operating costs.
But when the goings get tough, the tough get creative. In addition to new marketing and retail strategies, restaurants have begun to assess their physical assets, leveraging their current real estate and operating hours to create new selling opportunities and serve new customers.
As an operator, you have to try your best to mitigate risk. [...] Our cafe operation affords us two separate revenue streams and the breadth to serve customers all day long, seven days a week.
—Ryan McKenzie, owner, Patent Pending and Patent Coffee
Walk down the street today and you might see a sidewalk A-frame sign, advertising a restaurant converted by day into a creative co-working space. Companies like KettleSpace and Spacious are offering restaurants a platform to re-purpose their dining rooms during the day when they're not normally in service and provide workspace to entrepreneurs and freelancers. Similarly, Bagbnb, a Rome-based startup, allows restaurants the chance to market their cloak rooms as short-term luggage storage to tourists. Each of these companies create an opportunity for restaurants to not only generate incremental revenue, but a chance to capture a new customer who might decide to stay for a drink or return for a meal.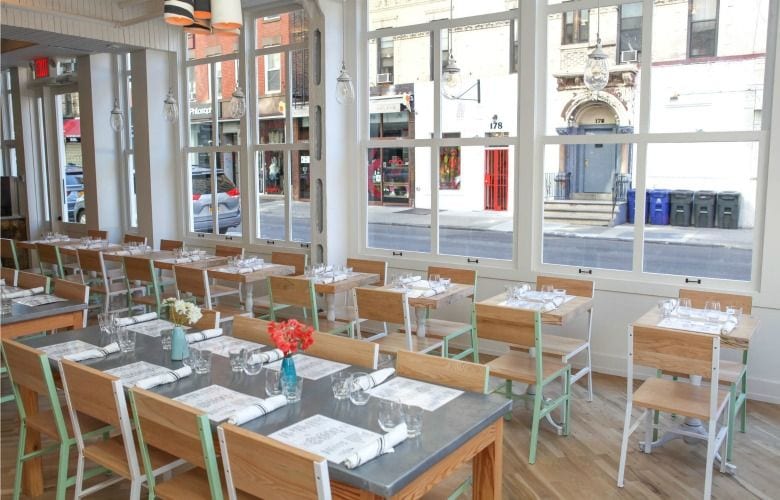 Seamore's
When Seamore's, a popular sustainable seafood restaurant with multiple locations in New York, first opened in the Nolita neighborhood in 2015, it launched with a to-go window that faced Mulberry Street. "We always wanted to have a takeout window, especially being on such a trafficked street," says Seamore's owner, Michael Chernow. With the window open the same hours as the restaurant, it offers a convenient alternative for customers who are just looking for something quick on the go. And for Seamore's, a creative new sales outlet, requiring minimal extra resources. "We sell a bunch of soft serve and poke, just as planned," says Chernow. (The takeout window offers the same menu as the restaurant, but the super-portable poke and soft serve are the most popular sellers.) With five locations and growing, "the window will be at every restaurant where we can make it work—it's fun for us and our guests."
Chernow is not the only restaurateur re-thinking how to diversify restaurant sales channels. From the onset, Ryan McKenzie, owner of bar/cafe duo Patent Pending and Patent Coffee, knew he wanted a convertible culinary concept, one which offered continual sales opportunities from day to night. As a founding partner of Simmer, a restaurant branding and design agency, McKenzie says, "I was familiar with the challenges our clients faced and knew when Simmer opened its first establishment, we would seek out a space that could accommodate two concepts in one, with the hopes of serving all dayparts [dining/sales occasions]." When McKenzie came across a unique, 1,200 square-foot subterranean space in New York's NoMad neighborhood, he knew it was the perfect venue to build out his vision: a daytime coffee shop in the front, Patent Coffee, and a speakeasy, with requisite hidden door and secret buzzer code, in the back, Patent Pending.
"As an operator, you have to try your best to mitigate risk," says McKenzie. "A cocktail bar, especially one as intimate as Patent Pending, might be too small to exist on its own. Our cafe operation affords us two separate revenue streams and the breadth to serve customers all day long, seven days a week."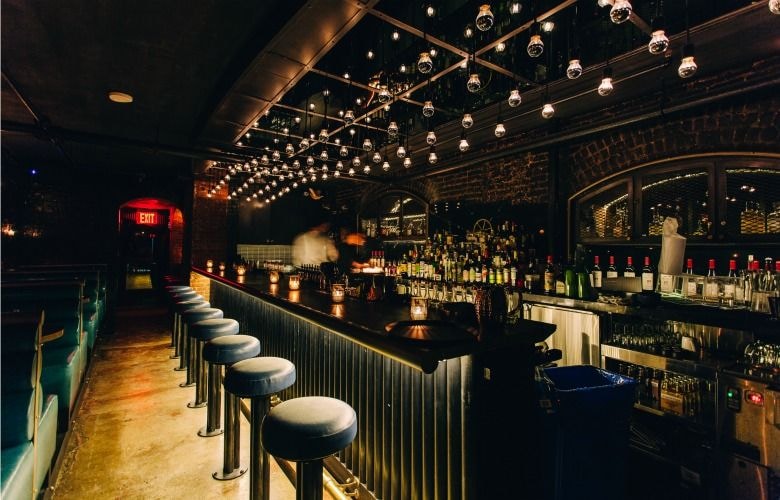 Patent Pending
The team behind Chinese fast-casual Junzi Kitchen, with locations in New Haven, Connecticut and New York, shares the same mindset. Serving Northern Chinese bings (Chinese-style wraps) and noodles by day, Junzi Kitchen co-founder Yong Zhao and chef and culinary director Lucas Sin had the idea that they could build off their uniquely situated real estate to create a new dining occasion. Both Junzi Kitchen locations are located by university campuses, Yale and Columbia, offering them access to a hungry and adventurous student community.
"In my colleges years at Peking University, eating street food after 10 p.m. was a ritual in friendship," remember Zhao. "You only hang out with real friends over barbecue chicken wings and sweet short ribs late night." Drawing on this universal college pastime, Junzi After Hours launched, serving a late-night-only menu of small plates, beer and colorful juicebox cocktails Fridays and Saturdays from 10:30 p.m. to 1:30 a.m.
"Positioned as a no-holds-barred, nighttime counterpart to Junzi Kitchen," says Sin, "After Hours has become a great platform to collaborate with like-minded people." Sin shares that about 40 percent of After Hours customers have never visited Junzi during regular business hours, opening up a whole new category of service and opportunity to draw a new audience.
And these restaurateurs show no sign of slowing down, continuing to experiment with their unique assets to drive sales. For Junzi Kitchen, Chef Sin says "that means continuing to expand and explore new Chinese late-night menus, adapting to new neighborhoods we're opening in and meeting new collaborators to see where our ideas take us." For Seamore's, it's lead to creative new initiatives such as Seamore's Fit Squad, onsite fitness classes, where customers are invited to the restaurant during off hours to enjoy a group yoga or strength training class followed by brunch. "For our launch in February," says Chernow, "we sold out the event in a few hours. We plan to host one a quarter."
Transformation can take many forms. It would benefit all restaurants to evaluate today's incredible hospitality innovations and platforms to determine best fit for their brands, their businesses and growth potential. But let's not forget to also look within, to our physical spaces that can be creatively activated to create new sales channels. Remember, when one door closes, there's always a window available to sell soft serve.
Photos from top: Getty Images, Alexander Stein / Courtesy of Seamore's, Courtesy of Patent Pending