Growing up, I watched a lot of Bob Vila. It always mesmerized me how he could transform run-down shacks into Robin Leach-worthy mansions (yes, lots of early 80s references here), and I remember wondering—could I do that?
According to Grace Bonney, I can.
As the Brooklyn, New York-based founder of the wildly popular blog Design*Sponge (75,000 daily readers), Bonney and her team of three full-timers and 20 freelancers write a host of daily articles about everything from how to create vintage-looking lamps to how to facilitate high-style patio renovations on a budget. On Sept. 6, she released her first book, Design*Sponge at Home, a tell-all guide to home makeovers, floral arranging and do-it-yourself ('DIY' for those in the know) projects.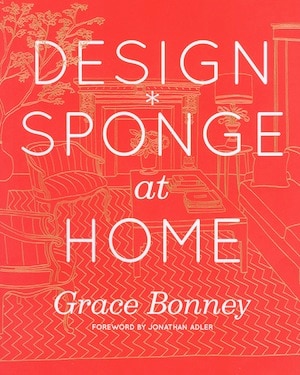 Bonney launched Design*Sponge in 2004 and is not only making a living by exercising her passion, but is also sharing the love. In 2007, she launched the annual Design*Sponge Scholarship and has since awarded more than $20,000 to art and design students. Today's she's considered an expert in her field and is a regular on programs such as Good Morning America, The Martha Stewart Show and The Nate Berkus Show.
How did she turn her blog it into a full-blown company? I had to know—so I called her up.
Q: How did you get started with Design* Sponge?
A: I graduated from the College of William and Mary in fine art in 2003, moved up to Brooklyn, and started working in the record industry. At the time, Williamsburg (a Brooklyn neighborhood) was a hotbed for edgy design, so I just carried my camera everywhere and took photos of garage art craft shows and put them up on my blog.
No one was talking about DIY at the time, so with Design*Sponge, I was fortunate to cover something that was missing from the market. I had a real passion for the community I was living in and kept my writing style enthusiastic and honest, which really translated to readers.
From 2004 to 2006 I worked for a small public relations firm while still working on the blog. Then, I started getting freelance offers from design magazines. I worked freelance for a while and decided that I would work on Design*Sponge as a way to get me in the door at magazines.
Unfortunately, in 2008 and early 2009, design magazines started folding left a right. I panicked, thinking there was no way I could live off the site alone. But, finally, in 2009, I decided to get serious about Design*Sponge. I developed a business plan, hired an accountant and got to work.
Q: What challenges did you face when going full-time?
A: Well, 2009 and 2010 were a tough couple of years. The design industry was hit hard by the recession, so funding was an issue. Thankfully, though, things have picked up nicely since then.
Q: How is Design*Sponge funded? 
A: It is funded primarily through advertisements. We are also looking at producing information products for our customers. We made a newspaper this summer and I recently did a consulting series about how to find your voice when writing a blog. I'm thinking about teaching blogging courses in the spring, too.
Q: Could you tell me about your book?   
A: I had the idea for a long time—it took about two years from start to finish. We wanted to make it perfect and include everything our design reader wanted to know. The book is a great resource on how to makeover your home, how to start and finish new projects, create floral arrangements, and get inspired by other homes. It is consists of 400 pages, 70 home tours and 50 DIY projects. I'm really proud of it.
Actually, I'm leaving soon for a 30-city book tour (click here for dates in cities near you).
Q: What are your future plans for Design*Sponge?
A: I really don't like to think more than six months in advance, but I will say that we are going in reverse in terms of publishing. A lot of magazines are now going online, but as an online blog, we feel the need to do the opposite and go back to print. We have no desire to do subscription print projects (i.e. monthly magazines), but we are looking into small-scale, special edition print projects specific to a region or singular theme.
Q: How can others turn blogs into successful businesses? 
A: First, create a voice that is different from others in your niche. Make sure your voice and taste are different from others in your category.
Second, speak from an authentic place and don't be afraid to be informal. A lot of blogs want to be super professional, but that really puts people off. People want someone to relate to.
Third, invest in a blog design that speaks to your style and the message you are sending. You will have to spend money up front, but if your site looks and feels like what you are talking about, people will latch on quickly.
Image credit: Jamie Beck