At this year's TechTable Summit in New York, power players and newcomers from both the technology and hospitality worlds came together to discuss core values, recent trends and realistic ways to improve client experience in their own business.
The TechTable Summit, sponsored in part by American Express, was founded by four experts whose backgrounds range from culinary to information technology: Union Square Hospitality Group's former director of business development Camilla Marcus, director of information technology Maureen Cushing, director of marketing Lauren Hobbs; and Jaci Badzin, former marketing events manager at Google.
Restaurateur Danny Meyer, CEO of Union Square Hospitality Group, and America Online and Revolution founder Steve Case, opened the summit with a conversation on their merging industries.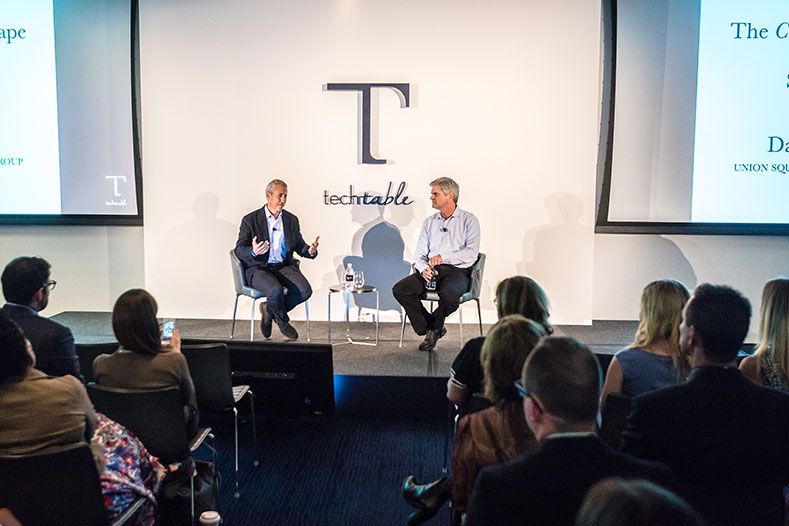 Danny Meyer (left), CEO, Union Square Hospitality Group with Steve Case, founder, Revolution
The hospitality and technology industries are similar in many different ways, said Meyer. "We're trying to bring people together." Case agreed that technology is meant to enhance, not replace, experiences. Since small businesses have the advantage of authentic, in-person relationships with their customers, it's important to use technology to help further engage that loyal fan base.
Throughout the TechTable Summit event, Meyer and other entrepreneurs spoke about the ways small businesses can use technology to drive smart decisions and enhance customer experience. Here are some key points to remember about how you can keep your business high-touch while growing with technology.
1. Get online to learn more about your customers
Meyer recalled one turning point he experienced when more and more of his clientele at Union Square Cafe and Gramercy Tavern began using the Internet: "When [your restaurant] got a complaint, technology meant the entire world had a soapbox." While some businesses may see online comments and reviews as terrifying, they can actually shed light on who your customers are and what they want. This qualitative data can be used to make informed decisions on exactly what you offer to customers, like entree options.
2. Not all technology works for every customer—or partner
But don't forget to also listen to voices of your customers in the moment. Steve Weitman, vice president of food and beverage at the Wynn Las Vegas, said to be aware of individual guests. Depending on age, some guests may prefer to flip through a paper wine list, while others prefer scrolling down a tablet version. Show your guests that you're a business that keeps with the times but keeps people as its priority.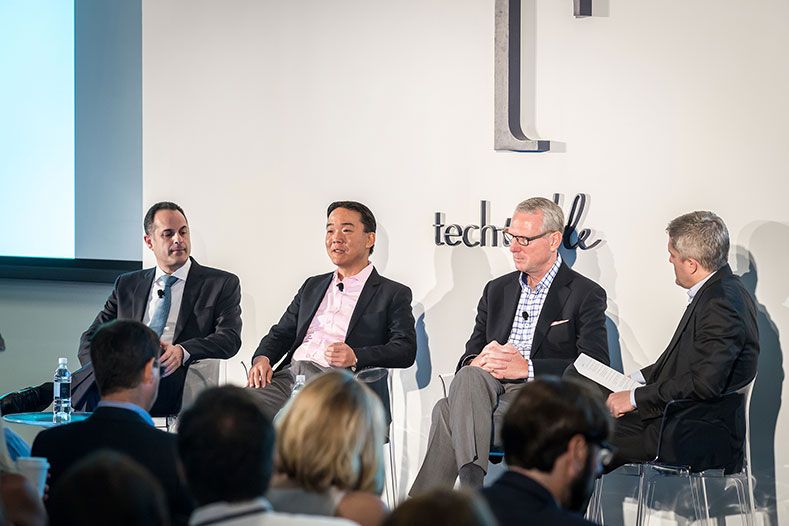 From left to right: Steve Weitman, Wynn Las Vegas; Albert Lee, OTG Management; Guy Rigby, Four Seasons; Michael Grillo, American Express
"We're not a tech business… We're a food company trying to connect people with real food," affirmed Nic Jammet, co-founder of locally-sourced salad chain sweetgreen. While farmers markets helped Jammet build strong relationships with his food sources in Washington, D.C., it wasn't until the company expanded to New York that he needed to find new farmers—and fast. Luckily, online marketplace FarmersWeb helped him connect to local farms and producers to quickly source ingredients for sweetgreen's new locations. It's important to not think that technology is the whole answer, since it will never replace that face-to-face interaction, said Jammet. But knowing how to communicate with people both online and in-person can play a major role in helping to build your business.
3. Use data to prepare for busy seasons
During the "Big Data" panel at the TechTable Summit, Albert Lee of OTG Management, a management group that focuses on airport dining and retail experiences, stressed the importance of solid data to help manage restaurant traffic. When your kitchen is crashing and overwhelmed with orders, Lee explained, it can be really busy. When there's not enough food prepped and the right people aren't working, it causes a cascade effect you can't stop. However, by capturing hard facts—the time of day, the ratio of guests to kitchen staff, the average cooking time for entrees—establishments can actually predict when a crash is likely to occur and be better prepared to fix a broken situation.
4. Set fun (and functional) goals for employees
Guy Rigby, vice president of food and beverage, Americas, for Four Seasons Hotels and Resorts, turned growing revenue of his locations into a game. Rigby used Avero Single Server Mentoring software to record data on each individual server's average check price. Then, staff members were pitted against each other to compete for the highest average check. The result was an increase in average check price by 5.7 percent in one month, in addition to a more streamlined guest experience across locations.
Whether your goal is to reinvent an industry or just improve daily processes, technology can help make running your business more organized—and even more fun. As the TechTable Summit proved, even small companies that keep face-to-face a priority can benefit from high-tech products and software. "There's value in transparency," said sweetgreen's Nic Jammet. And technology is the platform to enhance—not replace—the human element in hospitality.
For more on this year's TechTable Summit, visit techtablesummit.com and follow the hashtag #hitechforhitouch.
Photos: Noah Fecks