For some business owners, a feeling that things are going from bad to worse is actually cause for optimism. Dystopian visions of future civilizations oppressed by totalitarian governments, environmental catastrophes and zombie plagues are all proving irresistible to consumers these days, as evidenced most recently by Divergent, the sci-fi action flick that pulled in more than $50 million in box office receipts the weekend of its March 21 release. Before that, the two movies based on the books, The Hunger Games and Catching Fire, which both offer a similarly bleak portrayal of the future, pulled in a combined $1.5 billion.
But you don't have to be a moviemaker to profit from the public's taste for grim prospects. Sophisticated marketers are launching dystopian-themed advertising campaigns for a range of products and services. Financial services companies see significant untapped opportunity in catering to a whole generation of investors whose expectations are as drab as any since the Great Depression. And businesses that sell supplies and services to people popularly known as "doomsday preppers" are also reporting robust sales.
Sales at Doomsday Prep, for instance, jump with the start of each new season of The Walking Dead, AMC's zombie-themed post-apocalypse series, says David Sanders, owner of the Atlanta-based e-commerce business. In addition to people prepping for a zombie outbreak, customers are concerned about conventional disasters like hurricanes. "People who survived Katrina tend to prep more for weather catastrophes," he says.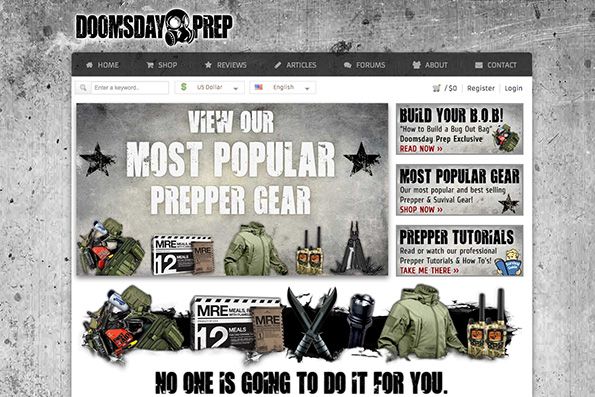 But whatever the precise color of a prepper's view of the future, Sanders says things like basic medical kits, survival tutorials, multitools, folding saws and electric generators are broadly popular among customers. Business is good enough that Sanders shifted the focus of his original business from providing Web development for others to supporting Doomsdayprep.com.
"We've been on a steady increase ever since we opened," Sanders says. "Every month, we've done more in sales. The sky's the limit as far as we see it."
Marketing for a Grim Future
Businesses that don't stock survival items like gas masks imported from Israel can also profit from dystopian enthusiasm. For instance, The Scarecrow, a video depicting a fantasy world where a sinister industrial concern controls all food production, was rolled out in late 2013 to considerable acclaim to promote Chipotle Mexican Grill.
Gerald Celente, publisher of The Trends Journal, says Chipotle is far from the only marketer keying in on dystopia. Similar themes, such as soldiers going off to war, have popped up in a wide spectrum of advertising in recent years. But, Celente adds, dispiriting visions of the future are nothing new, dating back at least to 1949 when George Orwell's Nineteen Eighty-Four was published, and continuing through post-apocalyptic films like Mad Max in 1979. "The only thing new about it," Celente says, "is that it's appealing to a new generation."
Much of today's unease about society's outlook relates to the lingering effects of the last recession, like a lackluster economy and weak job growth, Celente says. For younger people, the prospects for coping with piles of student loans color their visions, he adds. A lack of significant job prospects for recent college graduates only adds to the pessimism people feel about the future.
But, in Celente's view, marketers are missing the boat by catering to negative prophecies. He notes that during the Great Depression, the Hollywood movie studios prospered by serving up rose-tinted fantasies rather than realistic portrayals of economic hardship. He thinks the same could work today. "If I were to build a marketing campaign for any company," Celente explains, "it would be to accentuate the positive and eliminate the negative."
The Changing Face of Consumers
Still, evidence shows that pessimism today runs deep, especially among younger millennial consumers, age 21 to 36. As investors, this generation is more conservative than any since the Great Depression, surveys indicate. Compared to others, they keep more of their assets in cash, have less faith in long-term investing and tend to equate down markets with permanent loss rather than temporary setbacks.
Financial advisors may have to contemplate significant changes to try to relate to investors unwilling to look past investments that, along with low risk of loss, have limited possibility for gaining enough to keep up with even moderate inflation. One adjustment investment companies are having to accept is that millennials simply require more security, in the form of cash in the bank, before they're willing to take risks with the rest of their assets.
So is this all really new? And is it a permanent change? Doomsday Preppers, the National Geographic Society's reality series about people readying for possible Armageddons, is probably not like anything that's come before.
But businesses that have profited from this grim view of the future aren't really new. Past episodes of the reality series have focused on businesses that have successfully catered to insecurity about civilization. For instance, the Whole Earth Catalog was a publication first produced in 1968 that offered counterculture types such items as wood-burning stoves and plans for geodesic domes. The Whole Earth Catalog enjoyed significant success for several years, but the back-to-the-land movement eventually lost traction and gave way to the thoroughly urbanized 1980s.
So the current passion for apocalypse may well be a passing trend—unless, of course, apocalypse really does come to pass. The possibility of that is enough to keep people ordering water filtration kits, how-to survival handbooks and other calamity copers from places like Doomsdayprep.com. And that possibility, if not a reality yet, is what sustains this business trend.
"Doomsday may or may not be looming ahead," Sanders says, "but it's never been disadvantageous to be prepared."
Read more articles on startups.
Photos: iStockphoto, Doomsday Prep