Facebook hasn't been winning many new friends in the business community with news that it plans to cut business's organic, unpaid reach down to 1 to 2 percent. But one small business decided to end its relationship with the social media network in a "breakup letter" that quickly went viral.
Eat24, a food delivery company that services 28 cities, took Facebook to task in a blog post in late March, calling the site out for its recent News Feed algorithm change. (Facebook has stated these changes are an effort to "better highlight high quality content" to users' news feeds.)
All we do is give, and all you do is take. We give you text posts, delicious food photos, coupons, restaurant recommendations… and what do you do in return? You take them and you hide them from all our friends.
Fed up with Facebook's "mind games," Eat24 said it planned on deleting its Facebook page on Monday at 11:59 p.m., and made good on its word: As of press time, visiting its former Facebook URL brings you to your own News Feed filled with its usual mix of baby pictures, Internet memes and sponsored ads. Eat24 declined to comment on the breakup.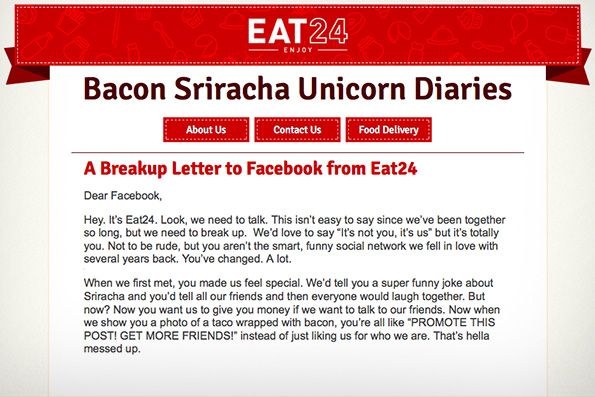 While the post was filled with silly GIFs and pop culture references that align with the brand's millennial voice, the deeper message was all business. Companies are frustrated with the changes that keep their posts from reaching fans, Business Insider reported. In another breakup letter of sorts, Nate Elliot, the vice president of Forrester Research, took Facebook to task for raking in $4 billion in advertising revenue in 2012, but keeping what marketers were paying for—engaged customers—behind a paywall.
"Your sales materials tease marketers with the promise that you'll help them create such connections. But in reality, you rarely do," Elliot wrote in 2013. "Everyone who clicks the like button on a brand's Facebook page volunteers to receive that brand's messages—but on average, you only show each brand's posts to 16 percent of its fans." Eliot ended his post by predicting marketers would devote less of their ad budgets to Facebook.
It's a strategy that may bear out, at least in the case of Eat24. The company said it would be taking its "cheese puns" and sushi pics to other social media channels: "Not to hit below the belt, but we have a lot more fun when we hang out with Twitter and Instagram. They don't have weird algorithms, which means all of our besties get to see everything we post."
Read more articles on online marketing.
Photos: Cassandra Hubbart, Eat24