When Denise Barreto ran for a local government office in a Chicago suburb in 2009, she hoped to make a difference in her local community. After being elected, she discovered she'd stumbled onto something else: a career path that would change her life. "I realized how poorly run local government is, and thought, 'That's a business opportunity, big time,'" she says. Today, through her consulting company, Relationships Matter Now, she's working to help local government run more efficiently.
When she was elected trustee (twice), Barreto had spent nearly two decades as a corporate strategist, helping airline, home improvement and retail brands tell their stories. So it didn't take long after being elected to see that government struggled to tell its own brand story. "While I was serving on that board, I realized really quickly how poorly run local government agencies are," says Barreto. "And it's not because they're bad people. There's just a lot of red tape and bureaucracy and ignorance."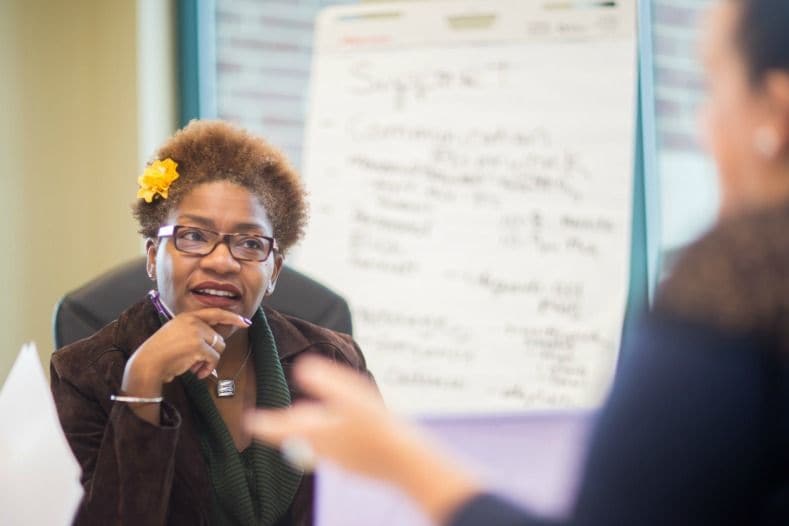 Denise Barreto, founder of Relationships Matter Now
For example, she says that the local government hadn't had a strategic plan for more than a decade. Creating one became her focus. At the same time, she began traveling to local conferences and meeting people from other governmental agencies, discussing the challenges within government. That's when a person from a local park district asked if she ever did any consulting. She never had, but she said yes and signed on to help them devise a customer service program. Word spread and by the end of 2011, Barreto had 12 clients, all in local government. She decided to quit her day job in retail marketing and focus on her own business, advising clients on strategic planning, organization development and leader development (she now also works with corporate and nonprofit clients).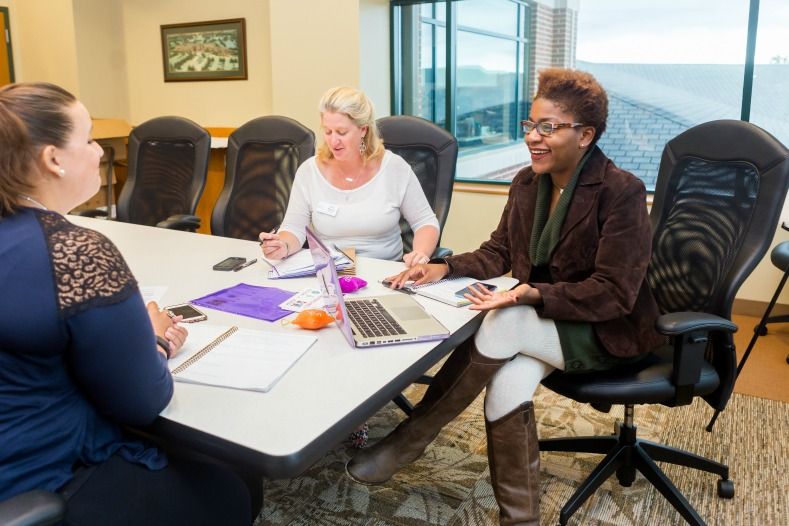 Barreto meets with clients at a local park district.
Relationships, says Barreto, are key in any work environment (hence the name Relationships Matter Now), and the first thing she does is set up meetings with staff throughout the organization. She'll hold town halls, conduct focus groups and do anything she can to get insights about what's working and what's not working. She tells supervisors to do the same. "Ask them about themselves. Ask them about their work. Be vulnerable with your employees," she says. "People work for people they like. People will do anything for people that they believe in or that believe in them. The only way you know those things is by asking questions."
People work for people they like. People will do anything for people that they believe in or that believe in them.
—Denise Barreto, founder, Relationships Matter Now
On a recent fall day, she's sitting in a beige conference room in suburban park district building, where she's just wrapped up a meeting discussing lifeguard retention and split shifts and concession stands and uniforms and pay structure. To an outside observer, the discussion was filled with day-to-day discussions, but for Barreto, it's vital talk to help this local governmental agency attract and keep good employees. Her company's brand promise is to "engage, collaborate and lead," and that means tapping into every level to improve communication and employee relationships. As an outside observer with government expertise, she's able to bring a neutral perspective and a shared language to the meeting, as she works with the staff to brainstorm ways to improve summer pool processes for next year.
Whether she's talking about staff uniforms at a park district or discussing diversity programming and unbiased leadership in government, Barreto is always ready to ask the tough questions. "I do messy. I do difficult. I'm brave and courageous and I can have conversations that most people won't have," she says. Word-of-mouth and hobnobbing at conferences has helped fuel the growth of her business, which she says has grown 150 percent through the third quarter of this year over last year. Barreto has the conference networking down to a science: She knows if she can get five to seven leads, that will turn into one to two clients and ongoing work. She says two years ago, she paid $1,100 to attend a conference and a client she met there has yielded more than $70,000 in work.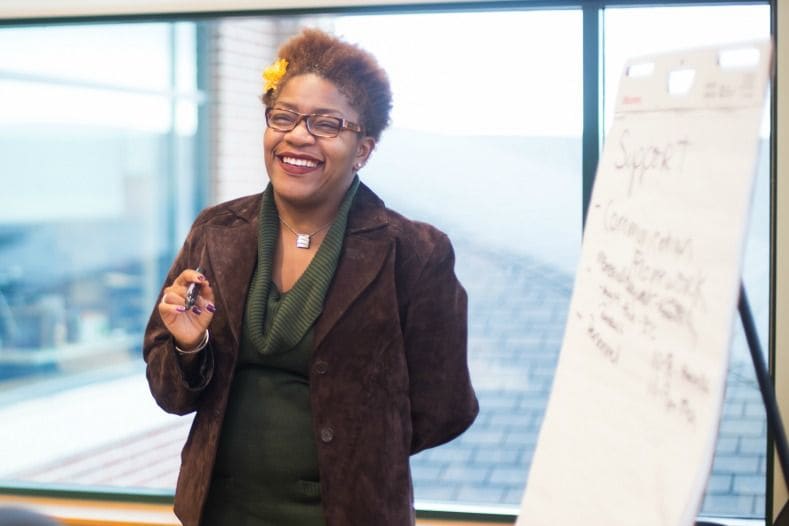 Barreto has grown her business through word-of-mouth recommendations and networking at conferences.
To support her growth, she has help at the ready. "I'm the queen of activating my network," she says. She works with 10 contractors—many of whom she found on LinkedIn and through her social media network—who can share their expertise in areas where she, herself, is not an expert, like human resource topics such as compensation models. "If I don't have it but my clients need it then I go and get a team member to do it," she says. She has three part-time employees who handle administration duties, copywriting, and design and digital work, and last year she hired a full-time consultant (whom she worked with at a previous job) who specializes in organizational development. In anticipation of more growth, she says she has a third consultant she's ready to hire as soon as she has the business to support the salary.
At the same time, Barreto says she's been focusing on ways to diversify her offerings. Because she's a service-based business, it's challenging to scale her consulting. So she recently helped create her first training video, which she plans to sell to clients. That way, she hopes that her message can reach more people and she can make a broader impact.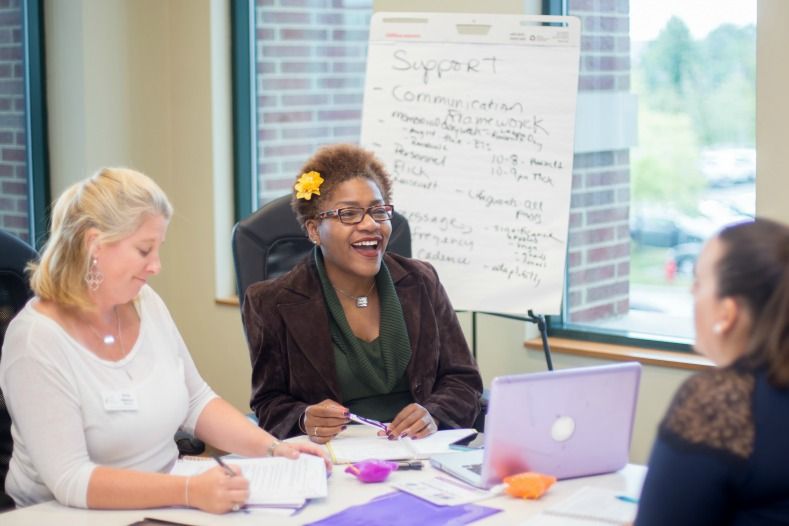 Besides government clients, Relationships Matter Now also works with corporations and nonprofits.
It took working for the government for Barreto to see a business opportunity. And now, through her business, she's trying to create more opportunities for government. "I want people to have faith in government again," she says. And she can help make that happen, one relationship at a time.
Photos: Chris Padgett