"Customers come here because it's a haven, an escape," says Mariana Stanciu, co-owner of Enamel Diction, a nail studio in Los Angeles. "Our space is calm—white walls, a living skylight, no TVs. In the beginning, we offered iPads, but our customers said, 'No, thank you.' They want to shut down."
Enamel Diction isn't your average nail studio, nor is Stanciu your typical salon proprietor. When she's not booking mani-pedi appointments, Stanciu runs an entertainment marketing company that counts Fortune 500 firms among its clients.
"I align brands to event platforms, producing everything from award ceremony programs to film festivals and fashion shows," Stanciu explains. "Companies come to us for assistance getting products into the hands of celebrities, influencers and VIPs."
But it was Stanciu herself who became smitten with a product in 2010, when the Australia-based design duo Tamara Sheeran and Sean Morrison tapped her talents to produce a launch event for their art book Enamel Diction. The book, a playful pop study of the link between nail color and personality, had unusual resonance for Stanciu.
"It was so funny and witty, with genius graphic design," she says. "I immediately fell in love with the whole concept, the whole look and feel. I could immediately see the brand potential."
Following the book's October 2010 launch, during New York Fashion Week, Stanciu, Sheeran and Morrison brainstormed ways to bring the brand to life. One idea was to team up on a brick-and-mortar nail studio of the same name, where customers could enjoy one-on-one color consultations and get the bold looks beginning to pop up on runways.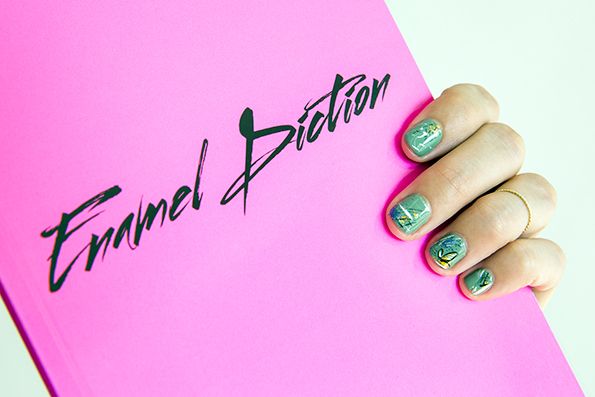 "At that point, the nail industry was just at the cusp of making a comeback," Stanciu recalls. "Nail art was getting big in Japan and Korea and other Asian markets, and I could see it trickling over to the U.S. and having an impact."
Still, more than three years elapsed before the team was able to move forward on the plan. "We all got caught up in different projects, so we got a little sidetracked and couldn't execute right then and there," Stanciu says. "The idea was always in the back of my head."
The concept finally found its legs this spring, when Stanciu scored a break between projects. "I basically woke up one morning and said to myself, It's time. Before I sign on for anything else that's going to occupy the next six months of my life, I have to do this."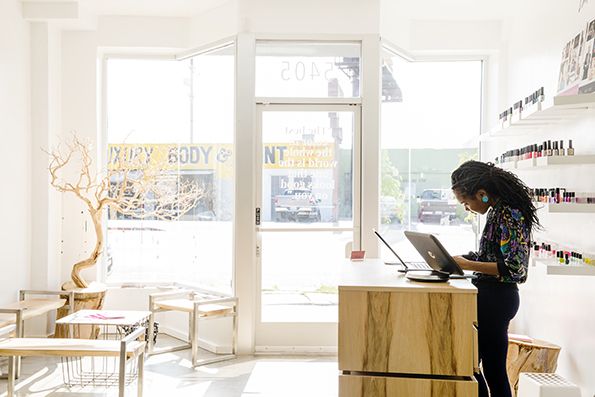 Stanciu stuck to her home neighborhood of Wilshire Vista Heights in searching for a site. "I found a place and basically signed the lease overnight," she laughs. "It was very aggressive of me."
With Morrison and Sheeran providing design input from Sydney, Stanciu oversaw a total overhaul of the space. "I was able to leverage a lot of knowledge I had from event production," she says. "Dealing with construction and carpenters and all that—I used my contacts."
The Enamel Diction studio opened its doors three months later, in July, with Danish-modern design touches and a commitment to highly personalized customer service.
"We spend a good amount of time getting to know each person and helping her find a look she's going to love," Stanciu says. "You don't really get that sense of discovery at a typical nail salon. At other places, you walk in and it's like, 'Pick a color, pick a color.' Customers are used to just choosing what they know."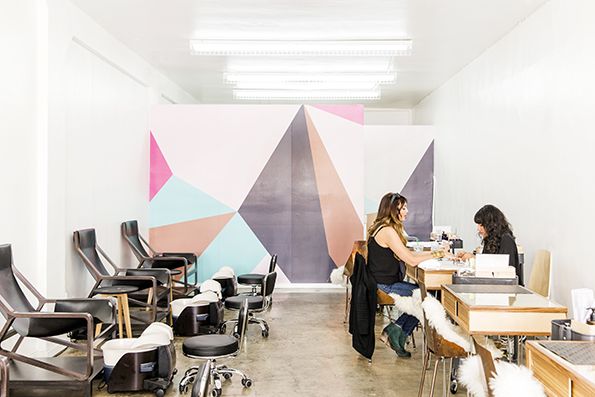 This month, Enamel Diction took its bespoke approach a step further by bringing aboard a resident color astrologer, Rose Theodora. She counsels clients in 15- to 90-minute sessions that cover not just the best nail shades for their birth signs, but their broader astrological forecasts.
"Our customers are eager and inquisitive," Theodora says. "They're thirsty for self-knowledge, and color astrology is a great avenue for that."
"This is a huge differentiation point for us," Stanciu says.
Indeed, the zodiac theme will carry over to Enamel Diction's first collection of nail colors, slated to launch in January. "We explored strategic partnerships with other brands, then realized there's so much potential in creating our own product line," Stanciu says.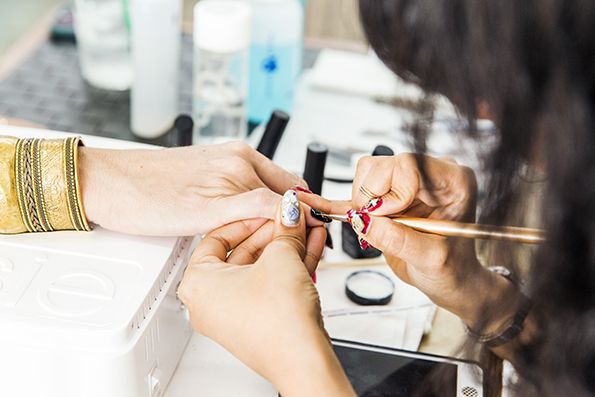 With some industry analysts predicting a five-year period of growth for the U.S. nail-salon industry, Stanciu says she'll be meeting with prospective investors to map out expansion plans. Possibilities include opening new studios in a handful of major markets—New York, Miami, Chicago—or turning Enamel Diction into a franchise operation.
"We're excited about engaging with nail artists in new places, giving them an inspiring, creative platform to do amazing work," Stanciu says. "We're all about giving our customers an enhanced experience, a vision of what a modern salon should be."
Read more articles on branding.
Photos: Julia Stotz for OPEN Forum