Ever look at the largest and most famous businesses and think, "I could never build something like that?" It's easy to get discouraged…until you realize that it took these companies decades to grow.
They didn't start by trying to become the world's greatest. Every company starts small. But it's not where you start. It's where you end. The following advice will help you become not only as a profitable company…but a probably a famous one as well.
Sell something people can afford
It's crucial to build a product that people want and can afford in order to have long-term business success. The Segway was a visionary product that it seemed like people would want. But the price put it out of reach for the average person's finances. It's a failed product.
This chart shows the price of Apple products during Steve Jobs' first stint as CEO.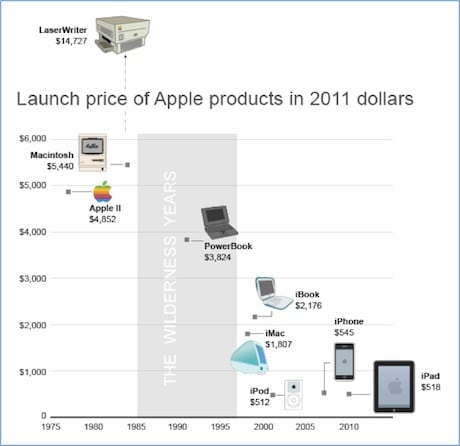 He created products out of the reach of most customers.
I once sold high-end vacuums. I enjoyed the challenge of taking this product to someone's home, demonstrating what it could do and then closing.
Unfortunately, no one could afford the vacuum. It was very expensive, around $1,600, and even though I'd shampoo and clean their carpets for free, people didn't buy. It was a good lesson that I learned at a young age: You must build a product that people can afford.
Market your product to succeed
Early in my career I built a company based on Monster's business model. I was fascinated by the amount of money the company made and built a competing model, which I called Advice Monkey. I spent more than $5,000 building it, only to watch it go nowhere. I realized that I needed to market the product or it would die.
I marketed Advice Monkey myself, and getting it to a pretty good size. But because I couldn't do credit card transaction, I didn't make the kind of money I hoped.
If people don't know about your great product, then they can't buy it. It's that simple. And keep in mind, free advertising can be your best promotional tool.
Solve problems customers are facing
Customers are essential to your success. If you're not solving problems that they care about, then you will not succeed.
In 1979, Tony Maglica created and sold heavy-duty, precision flashlights that are now standard issue for all police officers. The product—bright, reliable and tough flashlights—solves a problem simply. Maglite is profitable and world famous because of its simple product, a problem solver.
And if you think about it, it's easy to close sales when you can show potential customers the problem they have, and how you can easily solve it.
Your product must be simple
You don't need a degree in rocket science to understand how to use Google, Amazon or an iPad. It's pretty simple to see how they can help you.
I've seen many products and ideas fail because they were too hard to understand. In fact, a study shows 94 percent of people abandon complicated products because they find them too hard to use.
Even if you think your product is complex, try to compare it to something that is simple to understand. For example, VeriSign struggled to tell customers what they did until they created the message "The driver's license for the Internet." People understood that VeriSign has helped their businesses' website become trustworthy.
Take advantage of being the small guy
Just because you're small doesn't mean you can't fight with the Goliaths of the business world, right? In fact, you can have fun taking on the fat cat businesses. The nice thing about these businesses is they are usually slow and complacent. That means you have an advantage.
For instance, look at the graph below: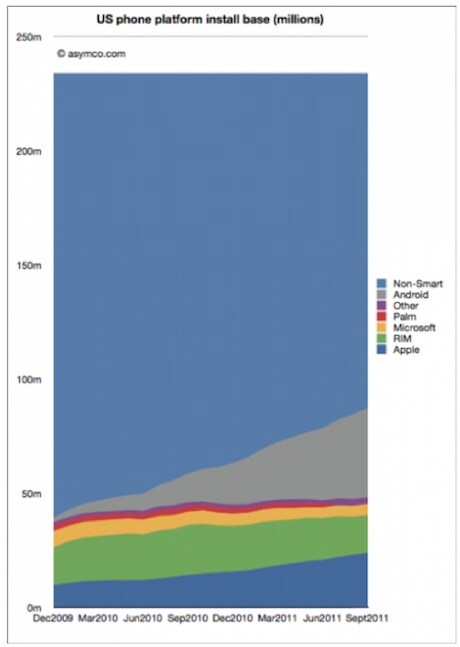 Notice all that blue? That's the number of people who don't have or use smart phones. So it doesn't matter who is the big guy in the smart phone game, because there is plenty of opportunity for newcomers, large or small.
You can also go after the percentage of customers who complain and abandon a company. These customers are ripe for you to win over.
How can you find these disgruntled customers? It's easier now than ever to see what people are complaining about. Go to the Web. Pay attention to social networks or visit sites like The Consumerist. You can even spy on keyword campaigns by using tools like SpyFu or PPC Web Spy.
Learn, learn and learn some more
You don't have to be the smartest guy in the class to be an entrepreneur. I have a cousin who was a lazy goofball in high school, but now commands six figure fees for his SEO work. How did he do it? He never stopped learning.
He didn't go to school to learn SEO. He did it on his own time, working hard, making mistakes and correcting those mistakes so he could improve.
It's also important to have a learning mindset so you can handle change effectively. We usually perceive change as a threat that could end your business. But it's also an opportunity to grow.
In 1982, Richard Branson saw that the music industry was going to go away unless something changed. That change arrived as the CD, which Branson embraced immediately. His competitors didn't embrace the CD, and they eventually failed.
Put in the hours
Having a profitable and famous company takes years to build. It takes endless commitment, stamina and drive. But the rewards are huge if you are willing to put in the hours it takes.
Can you think of other ways to make a company profitable and famous?