Ethan Brown is an entrepreneur with a strong vision: to change how people eat, one meal at a time. Brown is the founder of Beyond Meat, a company that creates meat substitutes that consist entirely of plant-based proteins. His product is rooted in science and backed by some of the biggest investors in the world, including Bill Gates and Twitter co-founders Biz Stone and Evan Williams.
"We're trying to decouple meat from animals," Brown says, adding that his product is unlike anything on the market today—it has no seitan or other traditional veggie substitutes. "We're making the case that there's a better way to eat meat."  
Brown grew up near Washington, DC, but he spent a lot of his time at his family-owned farm in Western Maryland, where he made friends with barn animals, read James Herriot's All Creatures Great and Small and committed himself to becoming a vet one day. That dream changed, however, when his parents presented him with a life-altering question.
"They asked me, 'What problem do you want to solve in this world?'" remembers Brown, now 42 years old. "I was thinking a lot about climate change, so I went into a career in alternative energy."
He worked at a fuel cell company for 10 years after college, all the while contemplating how he could build a business that incorporated his love of animals. He considered opening a vegan competitor to McDonald's, but he didn't have any restaurant experience, so he invested in vegetarian eateries instead. Slowly, Brown became more devoted to the idea of creating meat substitutes entirely out of plants.
"I've always had an interest in animals at home and on the farm," Brown says. "It never made sense that we viewed the two groups so differently."
In early 2009, he partnered with Dr. Fu-hung Hsieh and Harold Huff, two University of Missouri professors who were working on a new food concept. The trio worked together for nearly two years before creating Beyond Meat in late 2010. Funding came through in April 2011, and today, the Los Angeles-based company has a factory in Columbia, Missouri, that manufactures meat-substitute products that can be found in major grocery retailers nationwide.
OPEN Forum recently discussed with Brown why entrepreneurs should remove their safety nets and what it was like to meet Bill Gates.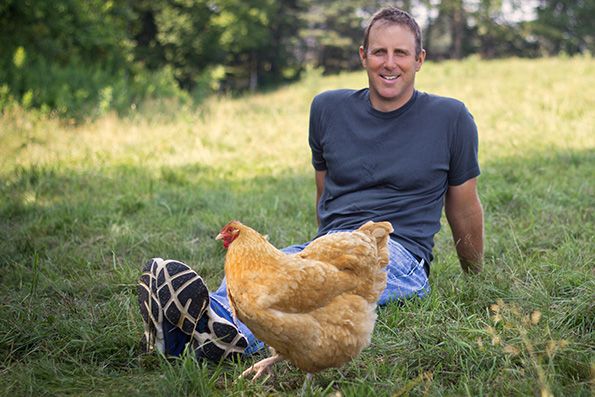 Your goal of decreasing the world's meat consumption is admirable, but it seems somewhat lofty. How are you planning to attract non-hippy types to meat substitutes?
Changing the culture of eating meat is one of our biggest challenges—there's an ingrained affinity people have for meat. I think our competitors have done it all wrong; They advertise their meat substitutes with flowers and gardens, but in reality, there's a masculinity that goes along with meat. We want to keep every tradition that goes along with meat intact but just switch out the source. We want to present a better way to eat meat so that maybe 50 years from now, people won't necessarily think about killing an animal to get the same satisfaction out of the meat-eating experience.
That still seems like a pretty difficult task.
I see your point, but do you remember the Got Milk campaign? That proved to be massively successful in encouraging people to drink more milk when many people had stopped drinking it. I think we can do the same thing. We're in talks with celebrities to be spokespeople to help us reach across the mainstream. I have high hopes.
How did you get hooked up with Bill Gates, and what was it like to meet him?
I still have to pinch myself that that even happened. We connected with him through a contact at Kleiner Perkins [a venture capital investor in Beyond Meat]. They had us so nervous to meet him—they told us he'd find the smallest calculation in one of our spreadsheets and make us do the math on the spot.
He ended up being the nicest guy in the world. He talked to us about his kids and kept asking us if there was meat in our product. He thought it might be part meat, part plant. We explained that our product was entirely made of plants, and he loved it. Oh, and he didn't make us do math.
What challenges are you guys facing right now?
Outside of the cultural challenges, we're still perfecting the science side of the product. If you put our chicken breast next to a freshly cut chicken breast, right now, you could tell the difference—it isn't perfect yet. But if you put our chicken into a taco or pot pie, you could never tell the difference. It tastes, smells and feels exactly the same. We have a clear true north: perfect replication.
What does the future hold for Beyond Meat?
We're really excited to launch our beef product on February 1, 2014. We think more people will be willing to give up beef for health reasons, so we're hoping this one will be wildly successful.
What advice can you offer entrepreneurs just starting out?
You have to remove your safety net at some point—you can't have something to fall back on, or you will. I did that, and it made me more focused.
It's incredible what you will do—good and bad—just to keep your business going. When I was starting out, visiting Dr. Hsieh and Harold, I would stay in places where the front door of the hotel had a sign that read "No Firearms Allowed." You end up doing things you wouldn't normally do. I had family members wire me money. In the end, you believe that even if your idea fails, at least you gave it your all.
Also, if you have a general itch to be an entrepreneur, look at what's happening on college campuses. My view is that while big companies have research and development divisions, entrepreneurs have universities. So much stuff is happening on university campuses, and no one is paying attention. These are the people who are most likely working to solve some of the coolest problems on the planet.
Meet more inspiring entrepreneurs in our "Building an Empire" series.
Photos: Beyond Meat