In 2012, Zumba became the largest fitness brand in the world. But that wasn't always the case. 
About a decade ago, Alberto Perlman came up with the idea for Zumba during a typical visit to his mom's house for dinner. She told him about a dance class she was taking that "didn't feel like exercise," but rather a "Saturday night dance party."
After Perlman and his friend Alberto Aghion checked out the class of 120 students, they knew they wanted to share the concept with more people—and to do so, they would have to make VHS tapes and sell them on infomercials.
"We thought that maybe we'd start a company that does infomercials and Zumba could be our first project," Perlman says. "We never thought it was going to become what it did."
Shortly after the tapes were sold, the founders began to receive calls from people all over the country saying they wanted to be involved in Zumba. So Perlman and Aghion created a Zumba instructor network that would allow people to have careers teaching Zumba classes.
Since then, the Zumba following has grown to 14 million participants in more than 150 countries and Perlman tells us he wants the business to grow to 25 million students within the next few years.

"We believe it's doing a lot of good in the world," he says.
Here are four lessons Perlman learned since those early days:
1. Don't give up. There are lots of good ideas, but Perlman says you need to keep trying until you find something that can scale. Before launching Zumba, Perlman was involved in 19 other businesses. 
2. Find a product that's unique. "Most people taking Zumba are not taking it for the fitness benefits," Perlman says. "They're taking it for happiness. They feel joy when they're doing it, and fitness is just a result of this."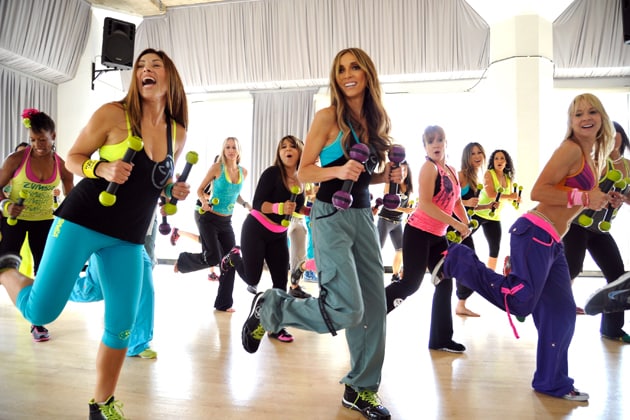 Giuliana Rancic taking a Zumba class. (Photo: WireImage/Getty Images) 
Perlman says Zumba has become such a big hit because it's different from yoga. "Everyone is wearing black yoga pants and then you see the Zumba people wearing the colorful cool cargo pants," he says. "It makes a statement that says, 'I don't have to hide like everyone else. I can show a little bit of brightness."  
3. Try different business models for your product. In the beginning, Perlman went to large gyms to convince them that they needed to teach Zumba classes, but he says most of these gyms turned down his proposal.
"They wouldn't hire our instructors for many years," he says.
So Perlman decided to go to dance studios and smaller, independent gyms, where Zumba was a hit. "Three years later, the big gym chains that had told us 'no' so many times came to us," he says.
4. If you know your product is good and consumers like your product, it doesn't matter what anyone else says. "Don't listen to corporate or the big business people," Perlman advises. "Listen to the consumers."

Want to hear more from entrepreneurs? Check out these interviews. 

Photo: iStockphoto