Here at Facebook, we are always looking for new ways to help small business owners like you reach and connect with your customers.  Our marketing platform leverages Facebook's network of over 500 million users to help you identify, target and engage consumers.  We are constantly discovering exciting and innovative ways that businesses have used the social connections on Facebook to create inspiring campaigns and achieve business goals.  As we continue to learn more about the marketing needs of small business owners, we wanted to highlight a few key tips that will help you get the most out of Facebook Ads.
Whether you're new to Facebook Ads or a seasoned advertiser on our platform, it's helpful to take a few minutes to familiarize yourself with the targeting and reporting tools available.
Targeting

Once you've created a Facebook Ad (visit facebook.com/ads for more details), you can target it using a variety of factors including demographics – such as age and location – and with keywords associated with users' likes and interests.  We've included a few suggestions below to help with targeting potential customers more effectively.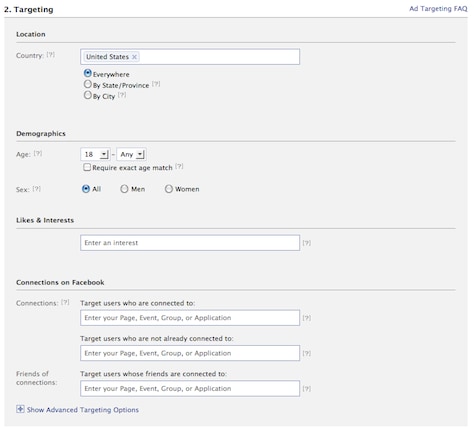 Put yourself in your customer's shoes - when selecting 'likes and interests' to target for, think about what words best describe your customer's interests, rather than what words describe your product or service.  

 
 

Ex. If you sell bicycle parts, you may want to target by keywords such as Tour de France, cycling or Trek, rather than by gears, wheels or helmets.

Segment your target audience - separate your target audience into distinct segments based on demographics or interests.  Analyze the performance of each segment to see which populations are most responsive to your campaigns, so you can allocate your budget towards them more effectively.

 
 

Ex. If you sell bicycle parts, you may want to pick a demographic, such as location, by which to segment your target customers.  This will allow you to view the response rates of each user's location separately, and discover useful insights such as a higher receptiveness from users in urban areas.  You can then use this data to shift resources towards users in urban areas to further increase the performance of your ads.
Tap into the power of social connections - use the 'connections on Facebook' option to reach people who have friends that are connected to your business.  When your ad is shown to these people, the names of their friends who have liked your business will be displayed below the ad, which can greatly enhance their effectiveness.

Reporting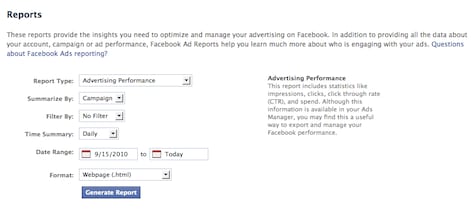 While Facebook Ads are simple and quick to set up, they do require some ongoing management to optimize their performance.  One of the most useful tools available to Facebook advertisers is the Report tool found within the main Facebook Ads dashboard (also known as the Ads Manager).  I've included below some brief descriptions of our most popular reports, and how to best use them to improve campaign performance. 
Advertising Performance Report - highlights general ad performance such as impressions and clicks.  Keep in mind that while this report is a good starting point for analyzing your ad performance, be sure to dig deeper.  The reports below have valuable data on your target audience for improving how you select your targeting criteria.

Responder Demographics Report - provides anonymized and aggregated demographic information about users who have seen and clicked on your ad.  Use this report to identify which segments to focus on for the best response.

 
Responder Profiles Report - similar to the report above, this report focuses on users who have seen and clicked on your ad, but provides anonymized and aggregated info about the likes and interests of these users rather than their demographic data.  This report is useful in identifying new things that potential customers may be listing in the likes and interests section of their Facebook Profiles.

For additional details on how to read these reports, visit the
Reports section of our Guide to Facebook Ads before diving in.

While these are just a few tips on targeting and reporting, I hope they will help you to further campaign performance, especially when you follow some of our other best practices.  For example, creating multiple versions of an ad and updating the bid price are very important in ensuring that a campaign's ads stay fresh and are being shown to their entire target audience.  To better illustrate how all of these tools can be used to help a business achieve their marketing goals, I wanted to briefly share VisitBritain's™ story on Facebook. 
Case Study
VisitBritain™, Britain's national tourism agency, took advantage of Facebook's robust targeting criteria to launch a new campaign aimed at English-speaking users in countries with strong connections to the United Kingdom.  Using Facebook's refined targeting criteria, the agency was able to further hone its reach to include users who were over 21 years old, had graduated college, and had listed 'London', 'travel, 'heritage', and 'royalty' in the likes and interests section of their Facebook Profiles.  The fact that VisitBritain™ was able to use such specific targeting resulted in more than 25,000 people connecting to its Facebook Page after only four months, an increase of 1,000 percent.  In addition, the organization was able to generate Reports that provided it with valuable market research such as the gender balance, age demographic, and relative activity across geographic markets of their audience.
For additional case studies and best practices, please visit the
Guide to Facebook Ads or Like our Facebook Ads page.  If you haven't created a Facebook Ad yet and would like to learn more about the process, click here. I am excited to see how your business will use Facebook Ads to connect with customers and reach your goals!