Dave Carroll might be best known as the unhappiest customer in America.
Carroll was flying with United Airlines (UA) in March of 2008 when baggage handlers mishandled his guitar at Chicago's O'Hare airport. The guitar was damaged, and Carroll began a nine-month odyssey to secure compensation from UA. "I was told that nothing was owed and that the matter was closed," he says.
In response, Carroll created three YouTube songs entitled "United Breaks Guitars," which went viral and reached a whopping 150 million people. "It was reported that my videos impacted UA stock price by 10 percent and in the eyes of some, the UA brand will be forever associated with those songs," he says.
UA eventually re-contacted Carroll in an attempt to take responsibility, but it was too little, too late. "It's too bad that it took a viral video series to get them to resolve the issue," says Carroll. "And by that time, I was receiving thousands of e-mails from people all over thanking me for helping improve customer service around the world."
UA did not turn Carroll into a fan, but you can bet the company now wishes it had. Fortunately, it seems that most small businesses handle customer complaints with a bit more aplomb. These three small businesses, FoundingMoms.com, Vizify, and Distrikt Hotels, have leveraged their excellent interpersonal and conflict resolution skills to transform initially irate customers into passionate and loyal ones.
Above All Else, Listen
Since his experience, Carroll teaches companies what they can do to improve their customer service, and not surprisingly, listening is the holy grail. "Turning an angry customer into a fan is about listening, making it right, and then eliminating the problem for good," he says. "Find out what they want as a resolution and do your best to accommodate them. It's worth noting that if you address grievances immediately, the customer may accept a less costly resolution."
Courtesy of David Carroll 

Be Real
When an upset customer calls your company, the last thing he wants to hear is one of those automated voices that asks him to repeat his information five different ways and has the personal touch of a form letter. Jill Salzman, a serial entrepreneur whose latest venture is FoundingMoms.com, learned that the same is true of e-mail.
In a former life, Salzman ran the Bumble Brand, a baby jewelry business in which she sold audible ankle wear for babies and toddlers. "In running things, I always wanted to look very corporate so that people would take me more seriously," she says. "I thought that looking corporate was a good thing. So each customer service e-mail ended with a simple 'Thank you, The Bumble Brand.'"
A customer e-mailed Salzman, fuming that one of the anklets had made her child uncomfortable. In a back-and-forth conversation, Salzman kept signing "The Bumble Brand" and each response from the customer was nastier than the last. "Finally, I thought it might help to mention that I was the company president and sign my message 'Jill,'" she says. "And the world was a different place after that. She calmed down and actually expressed that she was excited to hear from a woman-owned, small business—essentially cheering me on in the end."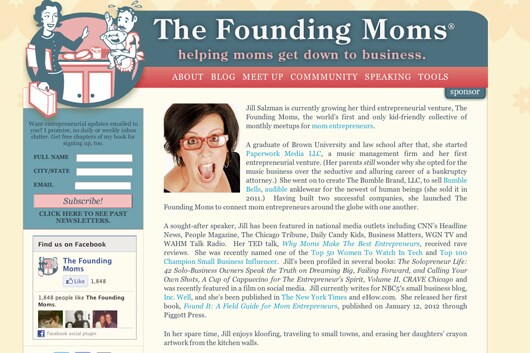 FoundingMoms.com
Since that experience, Salzman has never run a company using anything but her name. The message? Think twice before you automate your processes, especially if you don't intend to have a human being respond to grievances within 24 hours.
It's Always Your Job
Stephen W. Brown, who runs the Center for Services Leadership at Arizona State University's W. P. Carey School of Business, suggests that passing the buck is the worst thing one can do when faced with an aggressive customer. "The person who receives the complaint must own the complaint," he says.
Arwa Jumkawala, director of marketing at online branding company Vizify.com, did exactly that during her site's beta launch last summer. When a site tester sent a furious e-mail to the general inbox, Jumkawala took it upon herself to resolve the issue. "The customer said he felt tricked because he had to request an invite code to access Vizify," she says. "I first responded with a personal message in which I apologized and acknowledged his point of view."
Jumkawala also explained why the invite system was necessary, and said she hoped the user wasn't soured on Vizify. She provided the customer with her own friends and family invite code. Not only did the customer use it, but he also e-mailed Jumkawala to thank her for the classy response and offered to share the new site with his friends.
Don't Waste Time
"When you fail a customer, it's a big deal to them," Brown says. "Recovering quickly is very important." Indeed, New York City boutique hotel Distrikt Hotel uses an online tool called Revinate to monitor and manage online review sites and social media mentions. The site gives the staff the benefit of responding to unhappy customers in real time.



 Revinate.com
Grant Schilling, directing of sales and marketing, once noticed that a soon-to-be guest commented enthusiastically about his upcoming stay on Facebook. He then received an e-mail message from that same guest, who was unfortunately encountering some problems at the hotel. Schilling immediately responded to the guest, addressing and correcting each issue individually.  
Distrikt offered the customer a one-night refund as well as a future stay incentive. The guest was so pleased with the prompt response and re-compensation that he e-mailed: "You've certainly changed my opinion from 'never again' to 'give it another chance.'" This guest now routinely stays with Distrikt.
Some organizations still adhere to the belief that one disappointed or frustrated customer is nothing to worry about, and Carroll cautions us against this. "I advocate trying to satisfy 100 percent of your customers, because in this age of social media there are no customers who are statistically insignificant," he says. "Mistakes always occur, but the company that shoots for 100 percent satisfaction will respond differently than the one that aims for acceptable margins. This difference is palpable to the customer."

Read more OPEN features.
Alexandra Levit is a former nationally-syndicated business and workplace columnist for The Wall Street Journal and the author of Blind Spots: The 10 Business Myths You Can't Afford to Believe on Your New Path to Success. Money Magazine's Online Career Expert of the Year, she regularly speaks at organizations and conferences on issues facing modern employees.