As a high school and college softball player, Jill Bigelow received top care to keep her body in top shape. Delivering her three children was the hardest events she has ever put her body through—and yet, she found that support for recovering moms, whose bodies suffer major trauma at birth, had very little post-birth support. Bigelow received more care as an athlete then as a new mom. That realization spawned a business, PELV-ICE, and a device, Mama Strut, aimed at supporting, in a physical sense, the bodies of moms who just gave birth. The Mama Strut is a soft brace for a woman's midsection and pelvic area that can also accomodate hot or cold packs. 
1. Why did you start your business?
I started PELV-ICE, like many entrepreneurs do, after experiencing a problem that did not have a solution that I thought was acceptable or effective. I was an athlete and have experienced many skeletal and soft tissue injuries and always got great orthopedic sports medicine care, including supportive braces, ice and heat therapy and physical therapy to aid my recovery. But after experiencing the most significant injury of my life—childbirth—I was given nothing that resembled a modern solution. At the time the only thing available were home remedies like a frozen diaper, ice in a glove, mesh underwear and belly wraps—all which can offer some relief but none are neat, easy, discrete or really address the seriousness of the injury to the pelvic floor that all new mamas experience to differing degrees.
My frustration led me to research and then invent an effective solution for pelvic trauma recovery and Mama Strut by PELV-ICE was born. I named our first product line Mama Strut because a strut is an engineering device that resists pressure. It also means to walk with a proud gait.
You must stay focused, sometimes in a large crowd of noise. Vision and a guiding principal are essential.
2. How has your business grown?
Since launching about a year and a half ago we have sold thousands of Mama Struts with less than a 1 percent return rate on five continents. We sell mainly directly to the consumer, but we are excited to be launching new partnerships that will allow us to bill Medicaid and private insurance directly for patients. This will exponentially propel growth. We are also starting to raise capital to expand our team and build out our B2B business. PELV-ICE's goal is to change the standard of care for all people suffering with acute and chronic pelvic pain. We want to be in every hospital and surgery center in the world, not just for new mamas but for people after urological, gynecological, orthopedic and other pelvic surgeries.
3. What sets your business apart?
Although PELV-ICE aspires to help men and women with acute and chronic pelvic issues, we are laser focused right now on changing the conversation around postpartum. New mamas need less pressure to look good and more encouragement to heal and feel good. We reject the negative images and messages around women focusing on getting skinny, bouncing back because birth is not a big deal, and focusing only on baby postpartum. We believe, and cite the studies that show, that pregnancy and birth are a huge deal. A new mama not only deserves, but should demand, that her care is to the same standard of any other skeletal or soft tissue injury, like an athlete would. Our society is not just letting mama down by ignoring her medical needs, but the entire family. We are changing the mindset behind this problem with controversial and empowering messages.
4. What would you want other business owners to know about running a business?
The public, potential investors, consultants and so on will all have an opinion about what you do, what you have or don't have, and your likelihood for success. You must be able to listen, process and filter out the nonsense while learning from the rest. This is where the deep belief in yourself and your product or service and mission is key. You must stay focused, sometimes in a large crowd of noise. Vision and a guiding principal are essential.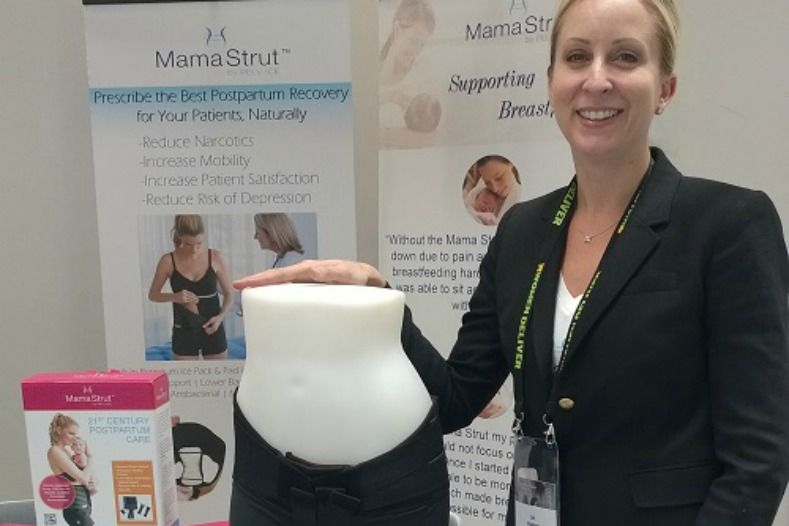 Jill Bigelow, founder of PELV-ICE, with her Mama Strut device.
5. Do you see the conversation about postpartum health in the U.S. shifting?
There are rumblings out there like the great work that some very forward thinking academic institutions are doing in regards to looking at mamas like recovering athletes under MRI and studying the connection between pain and depression and the ability to connect. But, there is a long way to go. We spend five times more than any other country on pregnancy and birth but rank 49 in global maternity mortality.
There is also a lot of minimizing language out there around the severity of physical damage and hormonal change postpartum that has to be addressed. Terms like "baby blues," which many sources minimize by saying it will go away within a few weeks, downplays and minimizes real stress, angst and sadness that some women experience, yet in some cultures it is non-existent. I believe this is because of the high-pressure, low-support culture new mamas live in.
Photos: iStock, Courtesy of PELV-ICE