Barnard is one of those picturesque towns you associate with Vermont. Tucked up in the middle of the state beside the sparkling waters of Silver Lake, Barnard is a small town—there are just 1,000 full-time residents—but it's a vibrant one all the same. The town has even become increasingly popular with younger folks who've moved to the area.
And, for the past 180 years, the Barnard General Store has served as the physical and spiritual center of the community. Housed in a striking two-story white-washed building, the store has long served as a central gathering point for residents looking to grab a cup of coffee or a jug of milk, along with some news and gossip.
"The store is the heart of the community," says Tom Platner, a retired woodworker who moved to the town in 1982. "I certainly spend a lot of time there."
So it's easy to imagine the shock waves that went through Barnard in 2012 when the store owners announced that they couldn't make ends meet and had decided to close the business. That's when community members like Platner sprang into action. Residents formed the Barnard Community Trust with the intent to raise enough money to buy the store from its owners and help reopen it.
The rub? They needed some $500,000—a figure that Platner, who serves as secretary of the Barnard Community Trust, admits seemed daunting.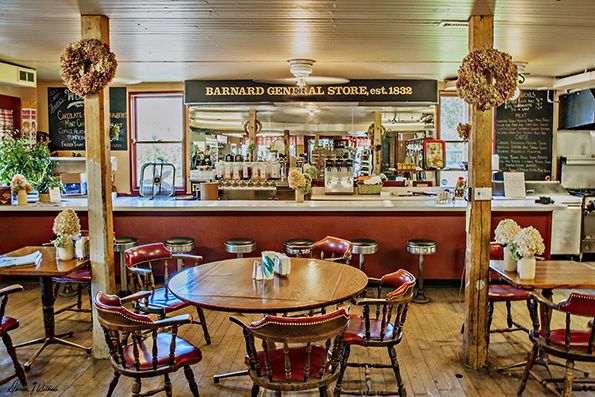 But as word got out about the campaign to "Restore the Store," the money started pouring in. "We got a few $50,000 and $100,000 donations," Platner says, "mostly from people who live here or own a home here. We even had a kid up the road who had a lemonade stand give us $1.95 because it was so important to him to have that store opened again."
While the campaign continued to gain steam, Platner and other volunteers staffed the store for a few hours each day, serving coffee and pastries (the Vermont Coffee Co. from nearby Middlebury donated six months' worth of coffee to support the effort) as a way to keep the issue front and center with those who passed by the store—something that led to unexpected benefits. For instance, Platner says he poured coffee for a tourist from Texas one day who, after hearing the story about the campaign to save the store, wrote out a check for $1,000 for the cause.
"She thought it was just a great story," says Platner, who notes that the community trust eventually received its 501(c)(3) designation as a not-for-profit organization from the IRS.
By the spring of 2013, it was clear the story was going to have a happy ending: Not only had the community raised the money they needed to buy the building, but they'd found a young couple, Joseph Minerva, 28, and Jillian Bradley, 25, who were willing to lease out the 2,500-square-foot retail space and reopen the store full time.
"One of the reasons we bought the building through a trust was to make it possible to run a successful business in that building," Platner says, adding that the community trust extended favorable terms to the store's new owners to help them get off to a strong start. "We realized that to keep your community cohesive, you need to provide alternatives to the big box stores. Our general store is what holds us together."
Community Support
As a business owner, you can sometimes feel as if it's you against the world. You end up spending countless sleepless nights wondering how you'll secure that next sale or whether, when you open your doors in the morning,  anyone will show up.
That's why it can come as a surprise when your customers step up to support you, often when you're facing your biggest challenges. But if you've done the hard work to build up trust with your customers—investing in building relationships with them rather than seeing them merely as profitable transactions—you're likely assembling an army of supporters who can't imagine what life would be like if you weren't in business.
And that's a powerful emotional connection to have with your customers, a lot of which ties back to the notion of community. While it might seem obvious or simply common sense, when businesses embrace a leadership role in their community—supporting everything from sports teams to local charities—they weave themselves deeper and deeper into the fabric of the community. That's why, when something goes wrong, it's often the community, your customers, who get emotional enough to step up and support you.
The importance of planting deep roots in your community is a lesson Nick Sarillo, founder and CEO of Nick's Pizza & Pub, learned in a big way.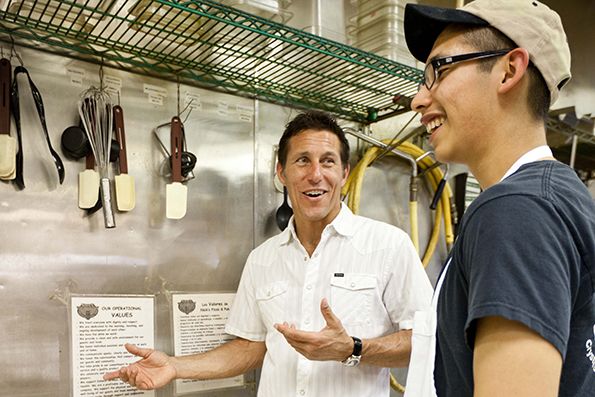 Sarillo, who started off working in the construction business, eventually followed in the footsteps of his father, who had once owned a pizza restaurant. Sarillo opened his first pizza place in Crystal Lake, Illinois, in 1995, because there wasn't a restaurant in the area where he could take his family out to eat. "I built the restaurant as a place where the community could come together and celebrate with a feeling of being at home," Sarillo says.
Using his dad's recipes, Sarillo's pizza was an instant hit and his restaurant packed in fans on a daily basis. But Sarillo wasn't running your typical pizza palace. Not only was employee turnover far below the industry norm, but profits were nearly 15 percent, compared to about 6 percent for most other U.S. pizza shops. In short, Sarillo had built one of the busiest and most profitable pizza restaurants in the country.
Growing Pains
In 2005, Sarillo decided to double down on that success by opening a second location, this time in an up-and-coming area of Elgin, Illinois. He admits he did things a little differently the second time: He spent more money on the land for the restaurant, taking on a lot more debt than he was used to. "I'd always paid attention to my nickels and dimes," Sarillo says, "but this time, I overspent."
When the recession hit in late 2008, Sarillo's business, like almost everyone else's, felt the sting. But the debt he'd taken on became an even deeper concern in 2011, when development began on a new retail center across the street from the Elgin restaurant. At first, Sarillo was pleased, thinking it would lead to more customers flocking into his establishment.
But his dream soon turned into a nightmare when the county began construction to expand the road between the restaurant and the retail center. "They tore up everything," Sarillo says, "including the driveway in front of our restaurant, which they moved into a residential subdivision because they said it was too close to the highway."
All of a sudden, Sarillo's customers had a hard time getting to his restaurant—if they could even find it. "[Moving the driveway] caused a lot of confusion, and our sales dropped a ton," he says.
Never one to shy away from a challenge, Sarillo tried to compensate by sponsoring events and running promotions to attract customers. And while those efforts would lead to a short-term bump, overall sales continued to drop. While profits from the original Crystal Lake location kept the company afloat, Sarillo began to seriously consider shutting down the Elgin location or face losing the business altogether.
Sharing the Burden
That's when Sarillo decided to open up about his problems to the people who just might be able to save the restaurant: his customers. After serving pizza and creating happy memories for families and friends for more than 15 years, Sarillo had some 16,000 people enrolled in his frequent dining email program. So he sent them a letter to let them know what he was up against and asked for their help. He knew if he could somehow create enough cash flow to get through the next four weeks, he might have a chance at saving the business.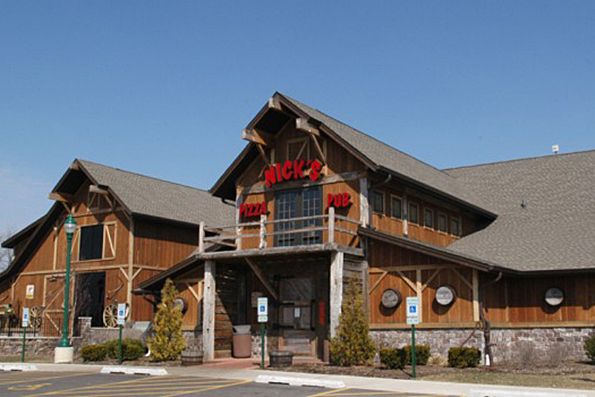 "It was a moment of despair for me," says Sarillo, who admits he shed some tears as he typed away. "[But] I never understood why businesses shut their doors without first telling people they were in trouble. I wrote the letter because I thought it was the right thing to do."
Sarillo says he also wrote the letter, in which he shouldered the blame for making bad decisions regarding his expansion, against the advice of his PR person and his banker, who worried that his vendors would mutiny against him. "I did it anyway," he says, "because I wasn't able to sleep anymore. I wanted to give people a chance to come help us or come say goodbye."
But what happened next, Sarillo says, was amazing. Within 20 minutes of sending out his email, his message had gone viral on Facebook and social media. Fans like Lindsey Lorentz posted comments like, "We LOVE Nick's. It is a great restaurant that hires local people, gave to their customers when the economy went belly up with the half price pizza nights, and the company donates to many causes. If you want to order pizza, please, please try Nick's. It's not only really good pizza but the company also helps the community." Michelle Vitale Lee wrote, "All these posts from people thanking Nick for helping with their cause ... now it's time for ALL OF US to help Nick out! Order carry out, eat in, Nick needs our help now!!!!"
The news that the restaurant had turned to its fans for help even made the local TV news. Customers then flocked to both locations in droves. Sales spiked nearly 110 percent over the next four weeks. Even former employees began showing up offering to work shifts for free to help out.
"Our guests sent a clear message that they valued our business as part of the community," says Sarillo, who has long supported everyone from Little League teams to area charities through his restaurants' many fundraising programs. "They came out in a big way to show their support. It was such a moving experience and helped me realize that we didn't need to change what we were serving—we only needed to do more to connect with our guests."
Thanks to the support of his customers, Sarillo says his business, which now employs 198 workers, is back on track. While the road changes at the Elgin location continue to baffle some of his customers and basically killed off his carry-out business there, the dining room continues to do well. "We have better cash flow than we've had in years, and net sales are up 4 percent," he says, despite the horrific winter the Chicago area suffered in 2013.
The business has improved so much, in fact, that Sarillo has started planning for future expansion, perhaps as early as next year. And you can be sure his guests and the community will be a big part of any decision he makes. "Our business was able to survive because we worked hard over the years to build up trust with the community," Sarillo says. "When we hit tough times, they trusted us and came out to support us. It makes you realize you can't really put a value on having the trust of your community."
Investing in What They Love
Jerry Harrington opened his first movie theater, Tivoli Cinemas, in Kansas City back in 1983. In 1992, he moved to the larger, three-screen theater across the street, at which time his was essentially the only theater in the area showing independent and foreign movies. "If you wanted to see a movie like The Crying Game," Harrington says, "you had to come to the Tivoli."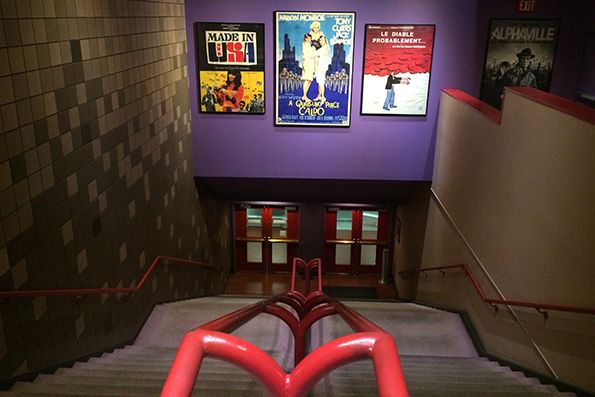 In the years since, Tivoli has continued to draw crowds for its non-blockbuster films. But the movie industry itself was changing—especially when it came to technology. While Harrington had long shown 35mm films, the industry was going digital. That meant that if Harrington wanted Tivoli to be able to show the latest and greatest films, he needed to modernize as well.
"It became cost prohibitive for a theater to not be digital anymore," says Harrington, adding that about 95 percent of theaters are fully digital these days, "and we dragged our feet as long as we could."
The problem was the cost: Converting to digital cost about $70,000 per screen, and Harrington had three of them. While he was able to take out a loan against his home to tackle one of the conversions, he knew he couldn't afford to buy the projectors for the other two. "It would have just added more debt to the debt I already had," he says. "I just couldn't do it."
That's when Harrington says he learned that dozens of other theaters across the country had turned to their customers for help through crowdfunding campaigns, where supporters could pledge money to help those theaters go digital in exchange for gifts or experiences.
After doing some research, Harrington decided to reach out to his supporters by starting a Kickstarter campaign to raise the $130,000 he needed to fully digitize his theater. He chose Kickstarter specifically because it was important to him that, if he didn't raise the full amount he was asking for, then he didn't want anything—something that would also mean the closing curtain for the theater. "It was do or die," he says, because as the opening lines of his Kickstarter campaign page put it: "By the end of this year, movies will no longer be made on 35mm film. That means that any theater that has not converted to the new, industry-mandated digital projection system will be out of business."  
Harrington says he and his 20 employees worked together to prepare for the campaign, which they planned would last 40 days, kicking off on Halloween 2013. As it turned out, they only needed two weeks to raise a touch more than the full amount—$136,393—from some 1,386 contributors. "We knew we had a strong base of supporters," Harrington says, adding that the local news and blogosphere also exploded in support of his campaign. "But we didn't know how strongly they felt. People had very fond feelings for the theater and what we represented to the city."
In the wake of the successful campaign, Harrington says he was blown away by how supporters would continuously come up to him and thank him for letting them help, and how they would share stories with him about how they met their wife at the theater or brought their kids there every weekend. "It was the most emotionally moving experience of my life," he says.
The funny thing was, even though the campaign had raised the money in record time, Harrington still had to wait another 20 days before he could actually collect it. Fortunately, another supporter agreed to make a down payment on the digital equipment as a kind of short-term loan. "We had everything installed and ready to go just a week later," Harrington says.
Today, Tivoli Cinemas is 100 percent digital and thriving—something Harrington completely credits his supporters in the community for. As he explains, "They knew us and trusted us, which is why they stepped up to help us."
Playing the Long Game
It's been about a year since the Barnard General Store reopened, and it's re-emerged as the hub of the community. But Platner admits it took some time for everyone in town to get back in the habit of shopping at the store.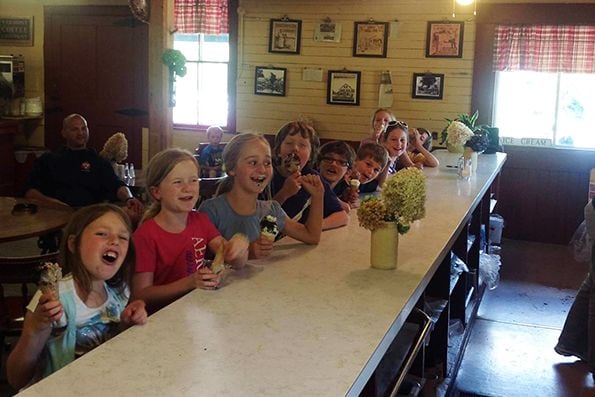 "A lot of people are making a concerted effort to buy as much as they can from the store," he says. "It's really opened people's eyes to realize that it doesn't make much sense to drive 16 miles to save a $1 on a gallon of milk."
Meanwhile, Platner is thrilled with the job that the store's new owners are doing. "They're real imaginative and know what they're doing as businesspeople," he says, adding that you can get just about anything you need at the store, including locally sourced milk, eggs and maple syrup. "We were lucky to get them, and we're thrilled they want to become part of our community for the long term."
Read more articles on customer engagement.
Photos: Barnard General Store (2), Donna J Burke Wilkins, Nick's Pizza & Pub (2), Tivoli Cinemas