No one would blame you for confusing San Francisco's Ferry Building Marketplace, located on the city's waterfront, for an old-world European market. Ferry boats can be seen in the distance and sunshine streams in from the canopy of skylines overhead, as people go along from vendor to vendor, taking in everything from artisanal olive oils to fresh honey.
But the beloved Ferry Building is just more proof that America's foodie cities are falling in love with marketplaces. While there's still a place for farmers' markets of old—where local farmers can sell their farm-fresh fruits and produce to conscientious eaters—today's marketplaces are a mix of artisinal, high-end and on-trend. Modern marketplaces like the Ferry Building or the Oxbo Public Market in Napa, California, offer consumers a big way to shop small, putting like-minded vendors all in one spot.
"People want to get to know small food producers and artisans," says Jane Connors, senior property manager with Equity Office, the company that manages the Ferry Building. "Marketplaces like these allow people to do that."
And the idea has spread beyond the West Coast. "I just met with a group from Maryland who are looking at starting a public marketplace," Connors says. "The New York City [South Street] Seaport is also in the process of restoring areas damaged by Hurricane Sandy and may be considering something like this. Also, in New York [and Chicago], Eataly is a great example of a marketplace borrowing from the best Italian market traditions."
If You Build It, They Will Come 
Before it became what tourists and locals know today, the Ferry Building was just a "thriving ferry terminal," shuttling travelers to and from San Francisco from its opening in 1898 "until the 1930 when the [Golden Gate and Oakland Bay] bridges were built," says Connors. 
With an increase in vehicle ownership, ferry service ceased between the late '50s and the early '70s, forcing the San Francisco Port Department to find another way to support the building. The interior was chopped into office space. That is, until the 1989 Loma Preita earthquake, which caused portions of the Bay Bridge to collapse, forcing city officials to reconsider the safety of such freeway designs. The highway in front of the Ferry Building was torn down within months. 
"That was a pivotal point and it started a 10-year dialogue about what to do with the great building, which looked a little disheveled at the time," Connors says. 
By the late '90s, it had been decided that the Ferry Building's interior would undergo a heavy renovation: Offices would be taken out to reveal the original skylights, and food vendors would be asked to come in and create a marketplace for the public. 
"We only had two shops inside when we opened in March 2003," Connors says. "But a month later, when the farmers' market moved there and 26,000 people showed up to see what was going on inside … well, that next Monday, all of our spaces had letters of intent."
The Vendors of Ferry Building
Far West Fungi
One early vendor to sign on was Far West Fungi, a family-owned mushroom farm based in Moss Landing, just south of San Francisco. The company had been selling mushrooms since the late '80s, but until 2004 had never had a brick-and-mortar space.
"The idea of having a mushroom store had always been a dream of ours, but we wondered if it could work, so there was a little hesitation," says manager Ian Garrone. His parents, John and Toby Garrone, were the ones who made the decision to try out the new space. Today, Far West Fungi, which also sells truffle oils, books and gifts, is a staple in the building. "We love being here," Ian says. "It is great to have a place like this where customers can get to know growers. You miss that in regular grocery shopping." 
Biscuit Bender
Just down the hall is Biscuit Bender, a homemade biscuit shop. Founder Van Dao, who makes every biscuit himself, started selling his baked goods in September 2012 after hosting a pop-up shop at Far West Fungi. The event allowed the Ferry Building's management to see his work. "A litmus test of sorts," Dao says. (Now fans who can't get enough of his top-selling cinnamon bun and bacon maple buttermilk biscuits can go directly to him.)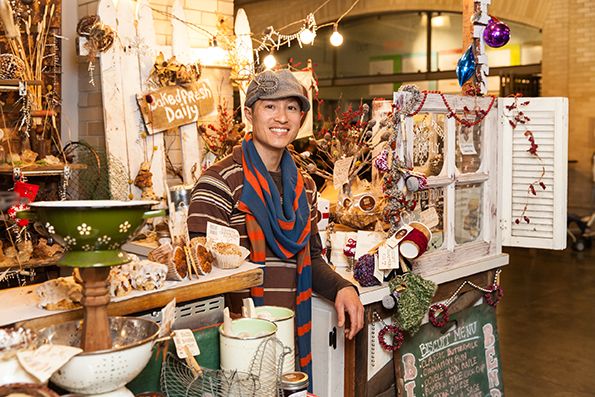 Dao arrived at a baking career after working as a veterinary inspector for the USDA. He'd always wanted to be a chef, so he went to culinary school in Canada and then settled in San Francisco about a decade ago, working for multiple restaurants, notably Brenda's French Soul Food. Dao loved making biscuits at Brenda's and decided to go out on his own. "I'm so fortunate that things fell into place for me," he says. "I love being at the Ferry Building."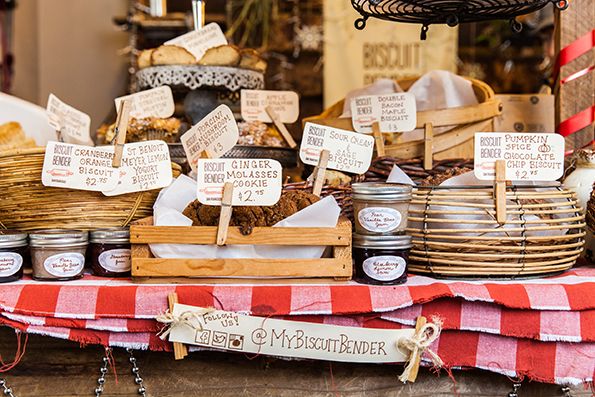 beekind
Founded in 2004 by married couple Katia and Doug Vincent, beekind, a company specializing in bee-based products, sells various types of honey as well as candles and body-care products from its kiosk at the Ferry Building.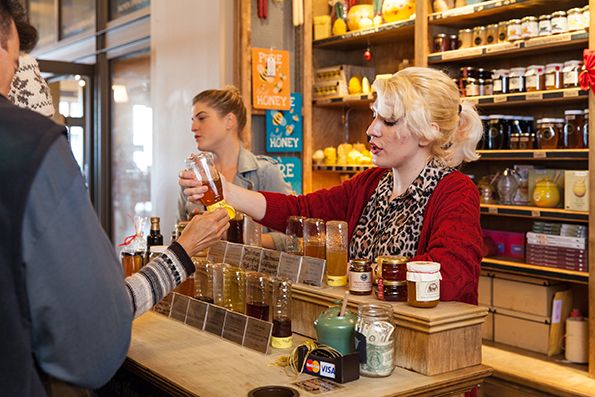 "Back in the late '90s, we had a garden that wasn't producing, so we decided to use bees" to help pollinate, says Katia. "The following year, our garden exploded. We started keeping bees and opened a store in Sebastopol [north of San Francisco in Sonoma County] in 2004. A few years later, we were approached to come to the Ferry Building."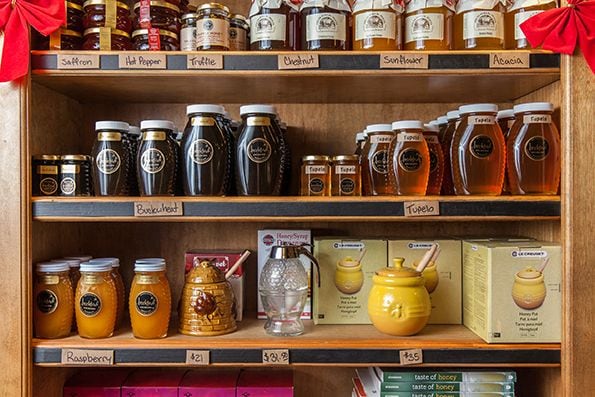 Along with running her business there, Katia enjoys coming to the Ferry Building Marketplace to shop because of the camaraderie. "It feels like the people who own the shops look out for each other," she says. "It is an amazing community."
McEcoy Ranch
Perhaps the vendor with the most historic ties to San Francisco is McEvoy Ranch, an olive oil and wine company founded in 1991 by Nan Tucker McEvoy, the granddaughter of San Francisco Chronicle founder Michael de Young.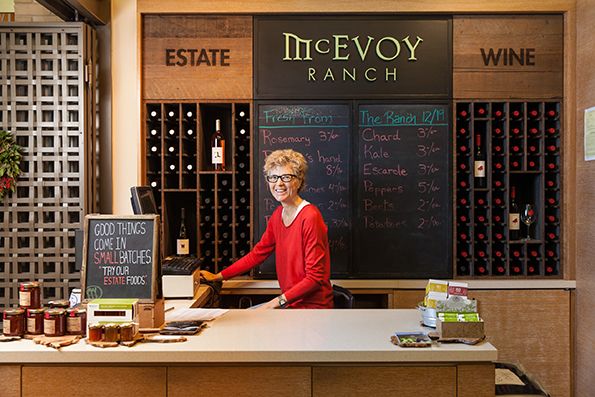 "Back in the early '90s, my mom was looking for a place for our kids to stay on the weekends—a country house—and she decided on Marin County," says Nion McEvoy, Nan's son, who now runs the business (Nan is 95 years old). "But Marin has strict zoning regulations designed to preserve farmland; she had to have an agricultural purpose if she was going to buy up there. So she decided to grow olives."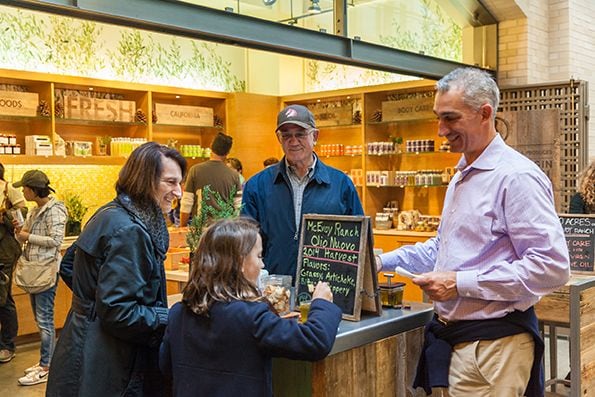 The family started by making olive oil and then expanded to wine and body products. In addition to the Ferry Building Marketplace, McEvoy Ranch has a shop in San Francisco's airport. But, Nion says, "the location at the Ferry Building has been great for making the brand known to people. We see people like [renowned chef] Alice Waters regularly; she will tell us that she loves to see what is fresh here. It has helped us establish our business in the community."
Read more articles on food trends.
Photos: Alanna Hale for OPEN Forum