Before starting women's fashion line Leota, founder and CEO Sarah Carson spent her days crunching numbers at an investment bank.
"I wanted to figure out how business works," she says. "And I did learn so much—but there was something missing." To satisfy her creative urges, she stayed up all night sewing dresses, watching the sunrise before heading back to the office in splashy creations of her own design. Friends noticed—and began asking where they could buy the dresses.
So, in 2010, Carson founded Leota (named after her great-grandmother) and quickly stitched up five sample designs. By the end of her first year, she had commitments from 50 retailers. "When I started, I did everything myself," Carson says. "It was all about the hustle—and I've been hustling every day since." These days, with the shout-outs naming Leota as one of America's fastest growing companies piling up, Carson and her boldly-printed, wrinkle-free, made-in-New York dresses are on a tilt-a-whirl ride that's plenty exhilarating—and a little scary.
Leota founder Sarah Carson
Her staff has grown to more than 15 employees (including one designer) and the dresses are sold everywhere, from legacy department stores and independent boutiques to new distribution channels like subscription and rental e-tailers. There are so many options, in fact, that Leota has begun offering exclusive designs to each one, while retaining its own website for its core collection.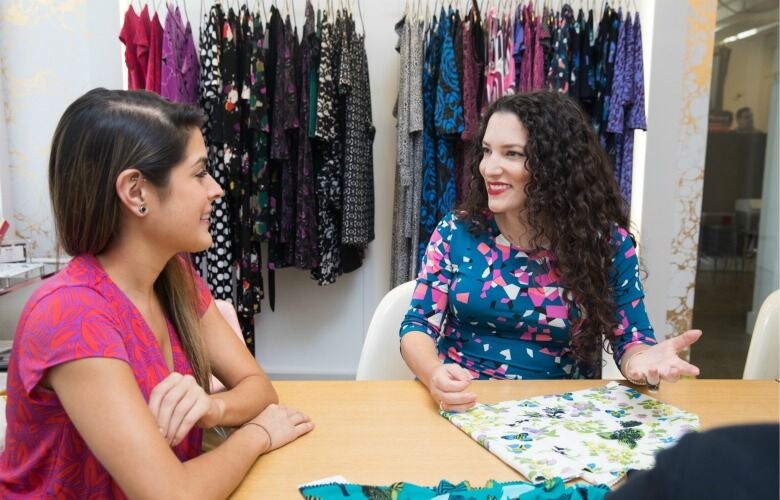 The company now has more than 15 employees.
It's a complicated mix that has in turn impacted Carson's hiring priorities. "I'm really open to all kinds of people," she says. "What was relevant in terms of fashion experience ten years ago almost doesn't matter today." Being data-centric is the wave of the future, Carson points out, before adding that even more important is the working relationship and trust she can build with key employees.
"This business is not an ego game, it's 'Do we succeed or do we fail?'" she says. "I rely on my team to say we're not ready for that when I come to them with an idea or, conversely, to push me to try something really funky or different. I may get nervous about going out on a limb, but then I'll say, 'If you really believe in it, let's do it.'"
I rely on my team to say we're not ready for that when I come to them with an idea or, conversely, to push me to try something really funky or different.
—Sarah Carson, founder, Leota
With Leota introducing new product just about every week, business decisions are as important as design ones. "It takes a lot of money and resources and time to get a product to market," Carson says. "Managing inventory is an important part of the fashion business right now." She learned that the hard way a few years ago after doubling her orders for spring dresses based on past sales but neglecting to factor in the lag time between manufacturing the units and actually moving stock. Thanks to her great credit record, her vendors were willing to be patient as she worked herself out of the jam.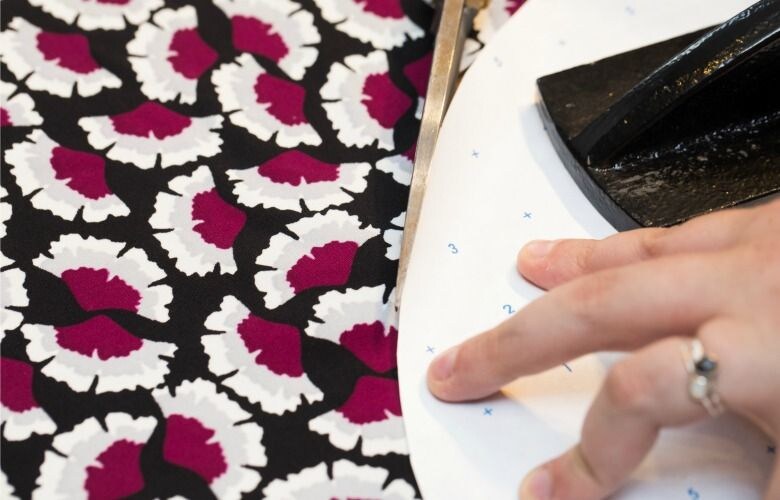 Leota's dresses are made in New York.
Today, Leota orders plenty of a certain fabric, but requests actual sewn dresses in small batches. Still, Carson says her biggest challenge remains ramping up for growth. "We've become very savvy about using data to predict how a dress will sell," she says, "but keeping up with demand is a big part of what we do here. When I read about how something has 900 people on its wait list, to me that is a huge fail: You have to figure out how to get product to your customers. There's an art and a science to this that keeps me up at night."
As the company primes for growth, expansion is another consideration. "We're constantly developing cool ideas," Carson says, "but maybe ten percent makes it into production. So while our intention is to grow into a global lifestyle brand—we'd love to be doing housewares like wallpaper or decorative pillows—it's important to be disciplined and to stay true to what our offering is."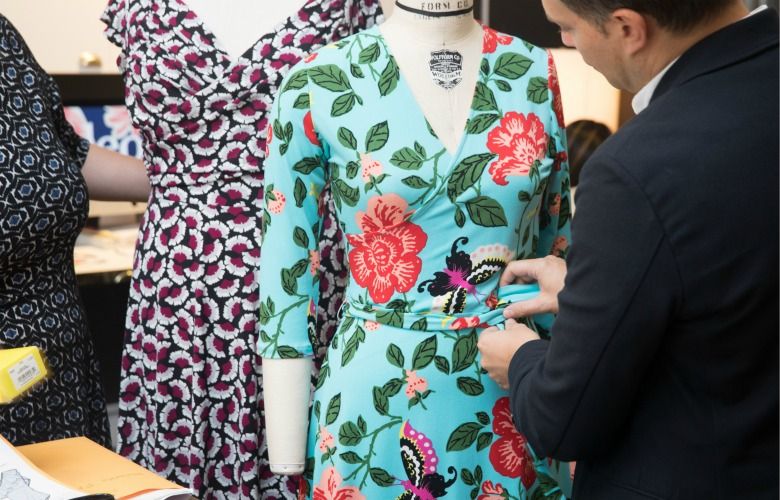 Leota's dresses, known for their bold colors and prints, are sold everywhere from department stores to independent boutiques, as well as online.
That central mission, she continues, will always be to "surprise and delight" customers with fresh new prints and silhouettes (not to mention the surprise extras like paper fans and compact mirrors that arrive with orders from leota.com). For web customers, in particular, there's more good news: a forthcoming "shoppable showroom," where women can browse and try on merchandise in the firm's atelier, which is located in New York's Fashion District and stylishly decked out in gold-spattered wallpaper and classic mid-century furniture.
The effort is a toe-in-the-water dip towards eventual Leota stores. "We're bootstrap," Carson says, explaining that she started the business with her own financing and still maintains 100 percent ownership. "I've always believed in investing in things that are going to grow the business," she continues. "Putting money into public relations or fashion shows wasn't for me. I've always focused on selling the dresses."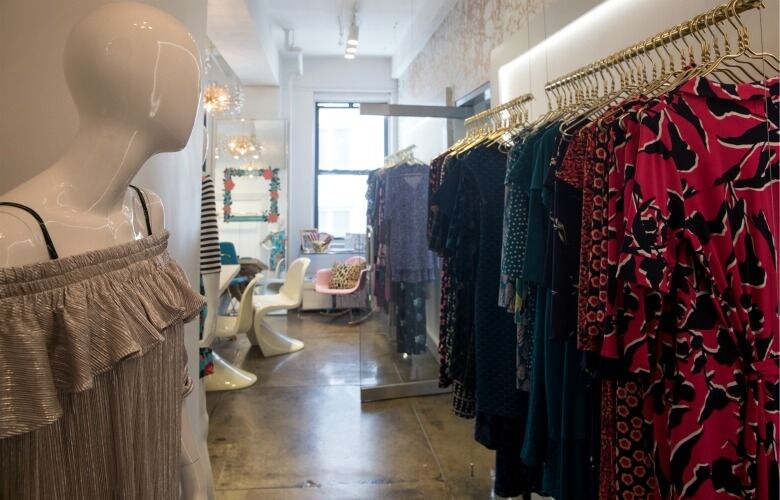 With a showroom located in New York City's fashion district, the company hopes to eventually expand to brick-and-mortar stores.
That laser-focused commitment to growth is "scary," she admits. "But if I'm not a little bit scared, then I'm probably not trying hard enough."
Photos: Christopher Lane