Most of us walk around all day with our phones by our side. They offer us access to our email, connect us with the Internet and even let us play a few games to pass the time. So when we see an image worth remembering, why not capture the moment with the best camera we have: our phones?
Today's smartphones are equipped with some of the best camera features on the market, in terms of megapixels, panorama views and sharing capabilities. Add to that the hundreds, possibly thousands, of camera apps available, and the possibilities are endless.
Photos captured by smartphone are more authentic than stock photos and are more immediate—just a few reasons why they can be a huge asset to your small business.
Timing is Everything

No offense to professional photographers, but hiring a pro every time you need a photo taken for your business can become very expensive very quickly. And not every photo requires expert attention. Just ask LaTanya White, founder of Vibrant Cities Project, a community action agency that focuses on creating excitement and engagement for residents of the North Florida area. She decided to start using their own photos as a way to save money and connect with her community at the same time. "We're a grassroots effort, completely self-funded by the board," White says. "Given that, we have to make to decisions on where we spend our dollars. So we decided to take our own photos and use that money in other places."

Even when you have a photography budget, there are moments when you want a particular photo now, not next week or next month. It could mean the difference between a sale today and a sale next month. Terra Andersen, director of Internet marketing at Los Angeles-based NMS Properties, Inc., a privately owned real estate development and management firm, says timing is essential to their business. "As many of NMS's properties are brand new, there's not always time to gather a photographer when we get the go-ahead to begin leasing a new building. When the scaffolding comes down, and construction crews clear out, we're insanely eager to start promoting our new property with photos."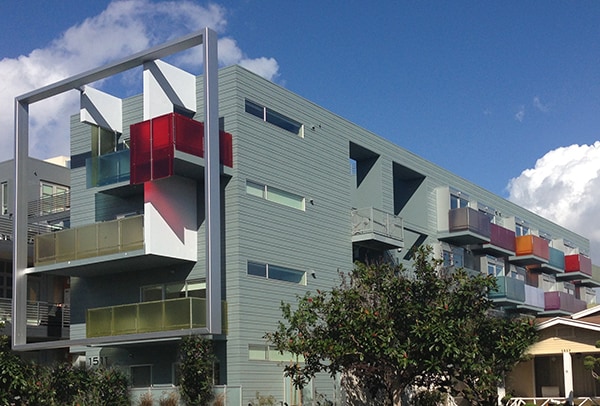 Unique Santa Monica apartment building taken using an iPhone with the brightness and contrast edited slightly in Photoshop (Adobe Photoshop Express, iTunes, free). Photo: Courtesy of Terra Andersen
Andersen adds that they still take professional photos to complement the ones they take themselves. "On days when the weather is just right, we must take advantage of optimal lighting, and this can add a great supplement to pre-existing professional photographs. In our photos, we like to get creative with angles and this seems to make iPhoneography seamlessly integrate with our DSLR photo efforts." ??
Customers are reminded of more than just your product when they see the photos. Julie Pocino, director of communications and development for Barnabas Clothing Co., a positive lifestyle brand that gives back to those infected with HIV/AIDS in Kenya, says customers are also reminded of your brand and values. "Using our own photos in our business is a great and easy way to frequently share with our customers. We find that posting frequently on Instagram keeps our customers engaged with our brand and the cause behind our company."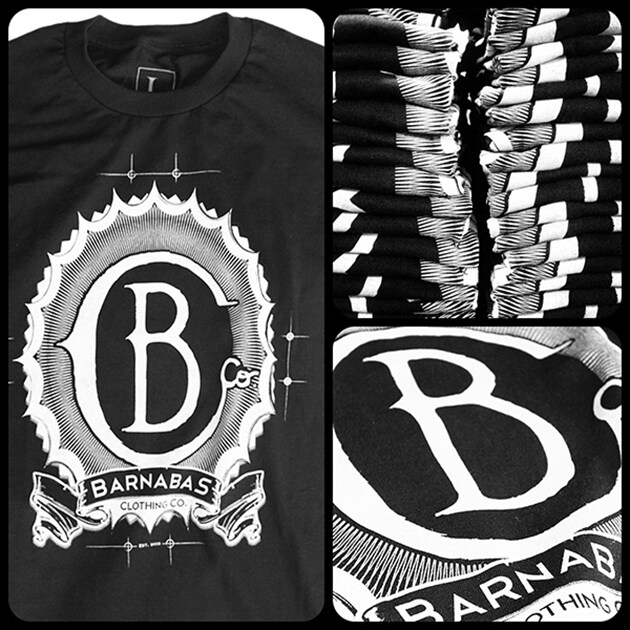 Collage using Pic Stitch (iTunes, free) to promote a sale on this design. Photo: Courtesy of Julie Pocino

Pocino adds that posting frequently is pretty easy to do. "We like to post photos about our brand to our social media on a regular basis. Our iPhones make that incredibly easy to do, and enable us to post pictures of our products, our brand ambassadors and our fans from anywhere, anytime." 
Creating Credibility for Your Business

In some businesses, photos and images are everything. That's the case with style blogger and image coach, Maria Von Losch. "My readers and clients need to visually see what I'm talking about, but I also post pictures of random daily life musings on my blog Savvynista so new viewers get a gist of my personality and what my brand is about."
RELATED: 3 Easy Ways to Get Your Business Ready for Mobile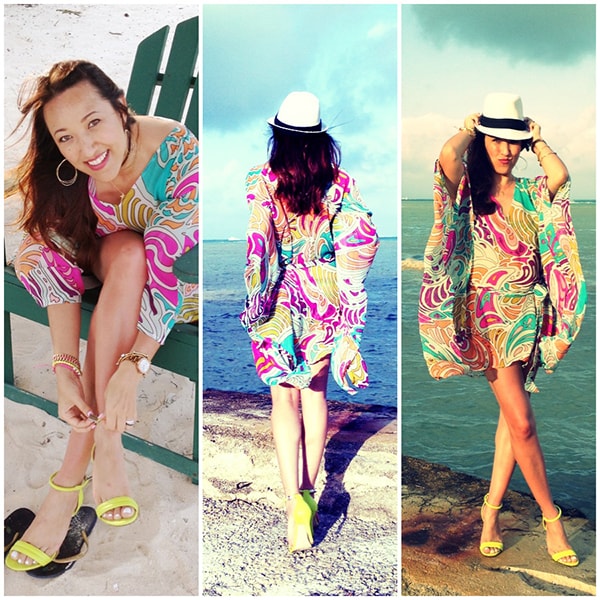 Style blogger Savvynista shared her "outfits of the day" using PicFrame (iTunes, $0.99) for the 3 side-by-side frames and Fx Photo Effect (iTunes, $0.99) for the filters. Photo: Courtesy of Maria Von Losch

Kendra Wright at Geek Powered Studios agrees. Their firm works with small business on Internet marketing and search engine optimization. "Using stock images does not build trust and credibility with users—it can feel fake," Wright explains. "And generating new content will always be limited by your budget. Customers want to know the emotion, the faces and personalities behind your business.
"Stock photos will not build that emotional connection, and they'll bleed your bank account dry in the process."
If images add a level of trust, imagine what images of your awards and accolades bring to the conversation. Nick Schweers, publicist at Quinn & Co., a New York City-based public relations agency specializing in food, wine, spirits, real estate and travel shares his strategy for sharing photos. "We share photos on Facebook and Twitter to highlight our corporate culture [Quinn & Co. was recently named a Top Place to Work in PR], share news from our clients and engage our target audiences, including media contacts, potential employees and interns, and more."

This psychedelic look at Quinn & Co.'s recent HSMAI awards was created using Diptic (iTunes, $0.99) turning each frame to add a mirror effect. LensLight (iTunes, $0.99) created the shine effect and VSCOCam added a boost of color. Photo: Courtesy of Quinn & Co

Schweers added they've seen real results. "Due to the rise of visual marketing, we find that our images have the highest user engagement by far on Facebook, and we are reaching out to a new audience on Instagram. We can show off the awesome work we do and the services we can offer to potential clients."
Sharing the Moment Builds Loyalty

Your customers love you and your products, and they want to feel connected to your brand. One way to accomplish this is by celebrating the company's successes with the community. Erica Swallow, who previously served as director of community for Contently, a technology company that connects journalists and brands, says it's a natural fit. "When I started at Contently, I began experimenting with the startup's social media strategy on various platforms. It soon became apparent that Contently's Facebook following was most interested in keeping up-to-date with the team, peeking in on office gatherings, and seeing us from a personal point-of-view. I began using my iPhone to document our every moment, posting the best photos on our Facebook page."
RELATED: 5 Ways Startups are Using Vine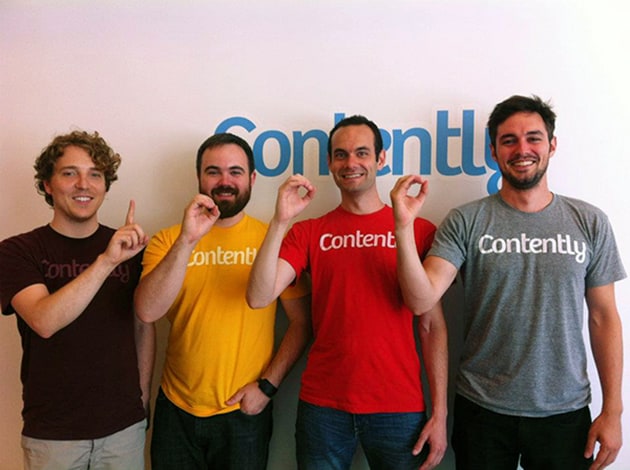 Contently team celebrates 1,000 Facebook likes. Photo taken using Camera+ (iTunes, $0.99) and treated with Vibrant filter. Photo: Courtesy of Erica Swallow
Not only can you use images to share the daily happenings at your company, but you can use them for storytelling purposes. "When I use my own pictures, I can tell my story more effectively," Crystal Kendrick, president of The Voice of Your Customer, a consulting firm that specializes in market research, mystery shopping and media campaigns. "We use photo grids and collages to tell a story in a single frame that includes images and tags of many friends. These posts are very visible throughout social media, and apps allow the images to be easily altered to create variety. Doing so allows us to continue the story without using the exact same images and text."
When it's time to share your images, there are many photo sharing sites out there. A unique one is Beamr, which not only shares photos but transforms them into custom digital magazines, complete with covers. Ashley Manz from Beamr says their differentiator is image quality: "You might not realize you're losing quality when you share photos via Facebook and email. With Beamr, you're sharing them at their highest level of quality—as much as 8 megapixels, depending on the iOS device you use."
Using your own camera provides a timely, cost-effective way to connect with your customers, share your successes and tell your story. It doesn't take extra time and can yield great rewards.
Are you sharing your business photos? Tell us your story in the comments.

Photo: iStockphoto