Walk into most business conferences across America and you'd be forgiven for having a sense of déjà vu. The entire experience has become boilerplate, down to the two huge screens flanking a dais and the lighting sweeping a company's logo across a crowd as they sit in an overly air-conditioned room.
It's a familiar setup that is the antithesis of Fourth Wall Events, the New York City-based event production company founded in 2004 by Jeff Guberman.
"It's about making the audience part of the experience," Guberman says, referencing the theatrical origins of his company's name. "You're not watching, you're involved. It's intimate, it's creative and we believe that's the right approach to take for events.
"When you transform an experience," he continues, "it really changes everything about the event. People are more into networking, people are more into new ideas... It's not just about making something pretty, it's about fulfilling business goals through this experience."
Guberman's vision of immersive and transformative events has found an eager audience in some of the country's biggest companies. But ask him how he's established his company as a go-to for event design, planning and coordination, and his answer is far simpler than the event-scapes his company creates: 
"We just got lucky more than anything else."
That bit of modesty belies the amount of work and "trial and error" learning Guberman has picked up during his career. Guberman started off working in theater as a lighting and scenic designer, then as a technical director. He transitioned into events in the early '90s, and in 2004, with 10 years of on-the-job experience to his name, Guberman quit his job at an event planning firm to start Fourth Wall Events out of his fourth-floor walk-up in the Upper West Side, ready to fill a gap in the event market he'd noticed for years.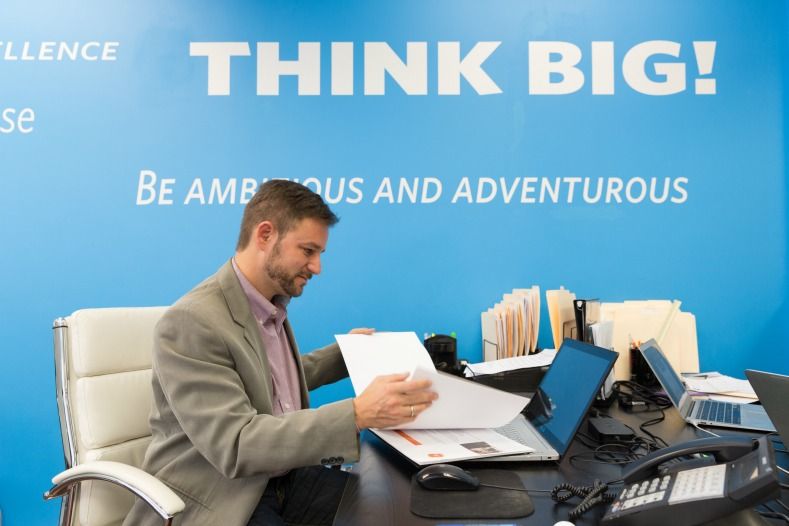 Jeff Guberman, president and founder of Fourth Wall Events
"I wanted to focus on high-touch, high-quality, impactful events—there really weren't that many people doing them in a theatrical way: using technology, using lighting, using impressive scenery," he explains. "My passion was really creating an environment that someone could walk into, and not understand how it could possibly have happened."
With only a little bit of money saved up, Guberman got to work getting clients. But it didn't take long—no more than three months—for him to land his first (and for many years only) huge client: a global innovative software company. (How did he land that huge of a client so quickly? Again, it was "luck": "I knew somebody that knew somebody who was looking for our services," he says.)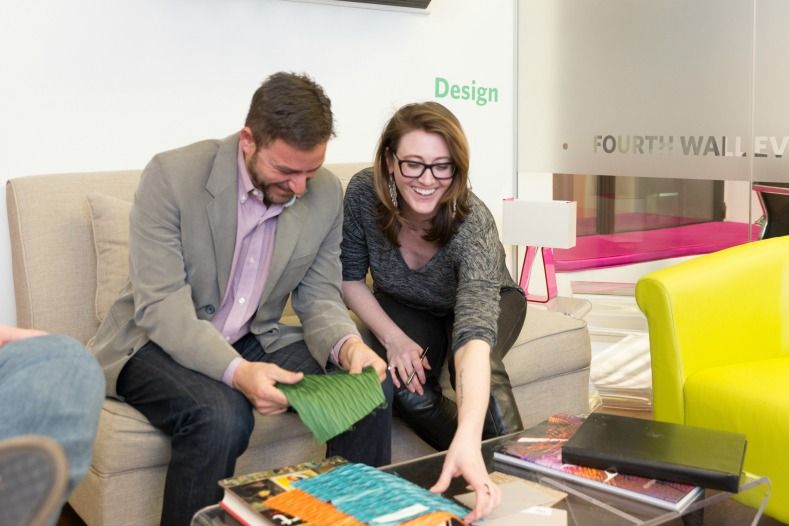 Guberman with one of the company's project managers, Agatha Emmett.
That bit of luck secured Fourth Wall's business—after a year of working out of his apartment with one employee, Guberman was able to move into an office space in midtown Manhattan. But the huge client didn't immediately translate into more business for Fourth Wall; Guberman was still operating like a full-time creative, not as an entrepreneur, and didn't think to leverage the relationship.
"They were a huge percentage of our business, and I was really grateful," he admits. "I was having a fantastic time doing it, so we didn't try and grow for years because of it. It took several years before I realized that changes needed to be made if we wanted to grow."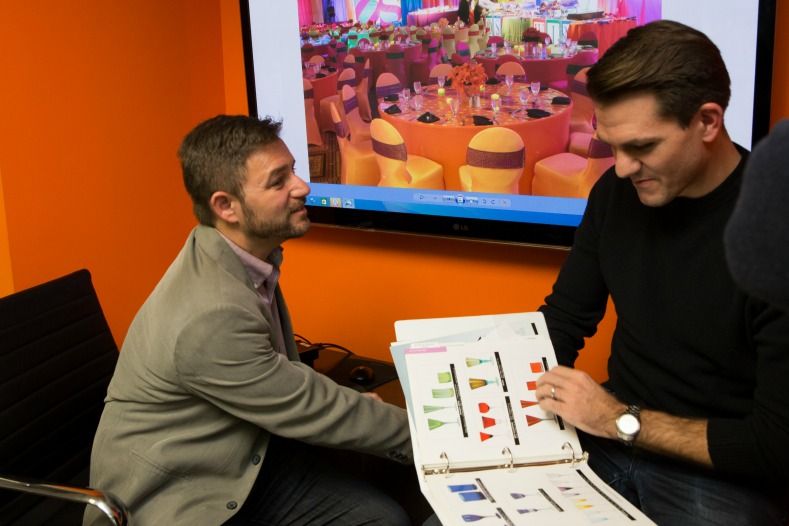 Guberman speaks to Thomas Andrika, Fourth Wall's business development director.
The recession and losing that huge client also encouraged this realization. Some of the biggest changes were internal. "I started hiring more people and taking less of a role in the events so I could work to grow the company," Guberman explains. One of those hires became his business partner, Carvie Gillikin, after he replaced all their lost business in a few months through networking and "sheer talent." ("I realized I couldn't do it without him," Guberman says.)
Now that he was working more on the business-end of his company, Guberman looked for ways to diversify Fourth Wall's revenue streams. "Our business is punctuated by a series of big wins and big losses," he explains. "We're trying to manage our growth by [figuring] out how to smooth out that roller coaster ride."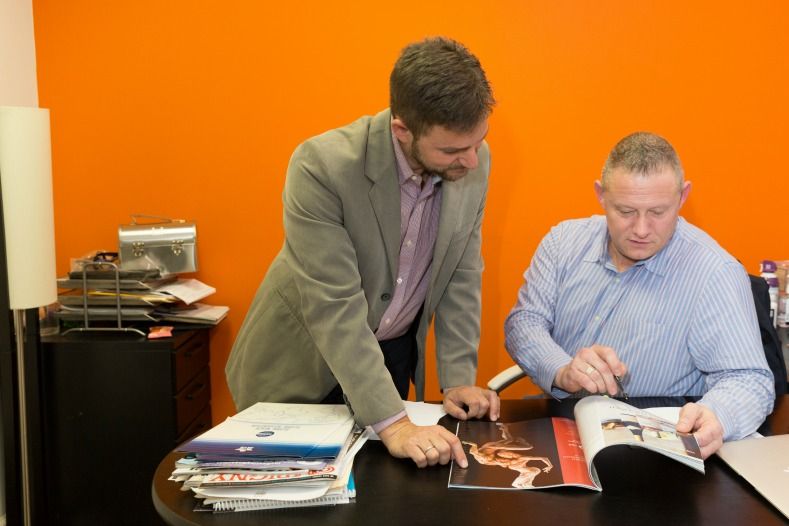 Carvie Gillikin, right, became Guberman's business partner after he replaced the company's lost clients in just a few months.
The company ventured into an entirely new product offering Guberman was tipped off to thanks to his relationships with other New York City vendors: destination management, that is, acting as a manager or consultant for companies having events away from their headquarters.
"Destination management companies are the local expert," Guberman explains. "If a client is bringing a group of people to New York City, we are the local experts. It might be transportation to and from the airport, it might be booking restaurants, doing your events, doing whatever you need to make that experience when you arrive in New York happen—that's now about 50 percent of our business." (Event planning makes up the other half.)
Fourth Wall is also making inroads in hotel sourcing, connecting companies with hotels: "We can help companies source their hotels, negotiate their contracts. It's just a steadier revenue stream [and] something we're very good at. Once a client has selected their hotel, it gives us an opportunity to talk to them about the rest of their event. If the one event doesn't happen [for us], it doesn't matter, because we've built a relationship with them."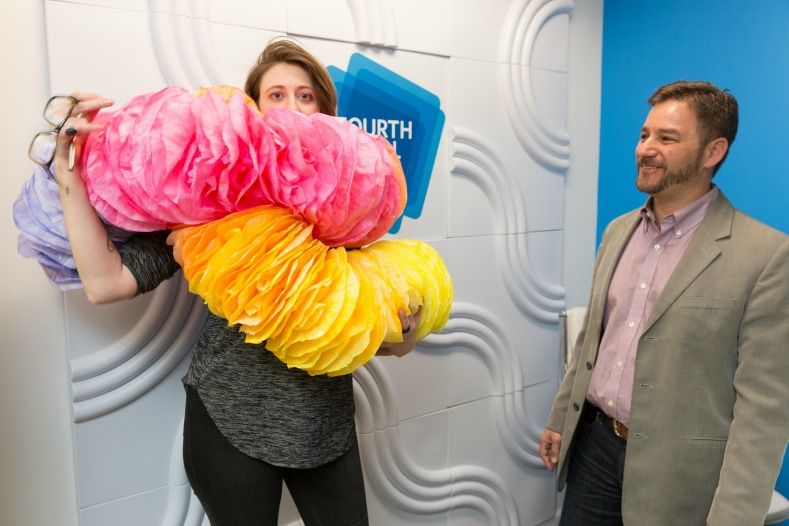 Fourth Wall Events has now grown to 18 employees.
And somehow, in between planning events and identifying new business opportunities, Guberman started two other companies: Dynamic Drape and Decor, a drapery rental and custom scenic fabrication company that he would later sell, and FormSet, an innovative modular wall rental company that's now in 22 markets across the country.
"Every time I start a new one," Guberman says, with a laugh, "I learn something different and hopefully don't repeat as many of the mistakes as I did last time."
Fourth Wall has grown to 18 employees to handle all the new business coming in, and the company's calendar is only getting fuller: Along with coordinating a consulting company's hotels and a large bank's upcoming meeting roadshow, Fourth Wall will soon be heading to Hawaii for an incentive event with a telecom company.
"We're geographically agnostic," he says. "We don't care where you're at, we're going to come with you."
It seems what Guberman calls luck is really just what happens when preparation meets opportunity and drive.
Photos: Christopher Lane