Small businesses make up the backbone of the American economy. Every large company was once a small business: Think Steve Jobs and Steve Wozniak starting Apple in a garage. Small businesses may outnumber corporations 1,162 to 1, but to start up and survive requires strategic, innovative thinking, particularly when it comes to funding the development and expansion of their operations.
It wasn't too long ago that financing was reserved for banks, rich relatives and back alley handshakes, but thanks to the rapid development of digital and social platforms, we're seeing a host of disintermediated solutions emerge that provide fledgling entrepreneurs with new alternatives. In this emerging marketplace, your credit score is less important than your seller rating, online presence and potential for disruptive innovation and who you know.
Finding the Space
One of the largest expenses for small-business owners is opening a physical location. Having a brick-and-mortar store provides a space in which to interact with customers while showcasing your wares, but exorbitant cost and accessibility can make it impossible, especially if owners want to open in a major urban hub. We live in an increasingly shared economy, where things are borrowed, not bought, and this extends to retail space. There are now companies that make it easier to rent spaces temporarily, giving entrepreneurs room to experiment and jumpstart their businesses.
Setting up a pop-up shop can be a complicated endeavor, but We Are Pop Up, a London based startup, streamlines the process to bring together small-business owners and landlords seeking short-term tenants. They handle the nitty-gritty, so entrepreneurs can focus on their temporary shop. Republic Spaces also pairs small-business owners with established retailers willing to rent out a portion of their space. Spaces range from window displays to full gallery rooms, with costs from $200 to $4,000. The company makes it more convenient (and less costly) for creatives to display merchandise in a physical retail setting without having to pay unmanageable amounts for a space of their own.
Finding the Money
While having a retail space is a tricky step in growing your business, it's not as essential as having the money to get the space. Funding a startup is the most difficult hurdle for entrepreneurs, but there are alternatives to traditional bank loans that provide greater access to funds than ever before. The Internet is a breeding ground for new investment models such as crowdfunding, and Forbes predicts that crowdfunding transactions will soon amount to $500 billion annually.

RELATED: 4 Surprising Inside Tips for Attracting Investors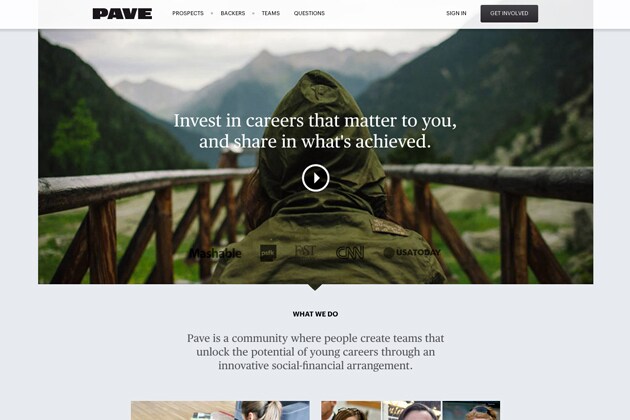 pave.com
While Kickstarter and Indiegogo are great resources for raising money, there are new platforms that provide not only money but also mentoring. Pave seeks to inspire progress by connecting financially accomplished backers with ambitious young people. It matches "prospects," young people with a dream but who lack funding, with "backers," those who have the money and the wisdom to help the prospects succeed. The backers provide resources and guidance, and receive a return from the business's profits in exchange. Unlike a loan, where the initial investment is paid back over time, the Pave system sets up an agreed upon return percentage. In this way, if the venture does not succeed, the prospect is not on the hook for a huge loan. 
Alumni Funder is another great crowdsourcing platform that connects like-minded people within an education context. It allows university alumni to invest in innovative projects at their alma mater while giving others within the collegiate community access to funding. The site is not exclusively for students, anyone within the alumni network can post their project for funding as long as they have a verified .edu email address. It is a marketplace for those seeking capital and advice from fellow peers, who all have a shared intellectual background and experience.
Big Brands Want In Too
Not only are investment models shifting to be more amenable to entrepreneurs, but also there is increasing interest from major brands in partnering with small businesses and seeking ways to insert themselves in the startup boom. Brand Hackathons are officially a thing, with major companies hosting hackathons to meet with developers, judge their work and potentially fund their ideas. Just recently, Friskies and Purina co-sponsored a "Games for Cats Hackathon" with the accelerator Amplify. While many developers may not be interested in developing cat games, it is a stepping-stone to having a conversation with large companies.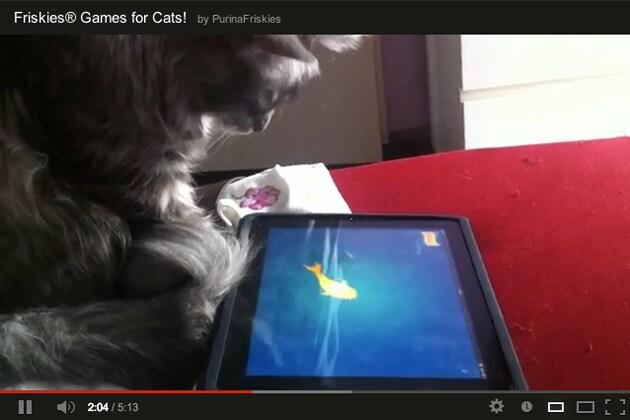 youtube.com

RELATED: Killer Crowdfunding: 5 Companies That Did It Right
Along with hackathons, brands are actively seeking out startups. For example, Proctor & Gamble and General Mills is using crowdfunding site CircleUp to connect with consumer-packaged goods startups and offer mentoring and possible joint ventures. Meanwhile, PayPal is extending its hand to small businesses on eBay, creating a lending program for merchants that use the site as a marketplace. In the pilot, merchants could apply for cash advances, which were approved based on their history of PayPal receipts.
While the challenges of owning a small business are numerous, an equal number of creative resources are available today to help industrious entrepreneurs overcome them. The Internet has lowered the barriers to funding, giving businesses a new set of metrics for defining success and options for securing financing. In this emerging economy, owners, creators and makers are able to take advantage of opportunities, build their ideas and move their businesses forward as they look to compete with the heavyweights.

Piers Fawkes is the President and Founder of PSFK.com, a daily ideas publication for creative professionals. 
Read more articles on small-business finance.

Photo: iStockphoto