On a recent visit to MikMak in Brooklyn, New York, a furniture-delivery guy inquired, "Who's the boss here?" Twenty-eight-year-old Rachel Tipograph replied, "That would be me." Tipograph, MikMak's founder, is used to that kind of greeting, she says, laughing it off with an eye roll before getting right back to work settling into the company's new headquarters.
In the male-dominated tech world, it's unusual to find a female founder, let alone one so young—two qualities that have helped her diversify her growing staff and keep her in tune with how best to serve the millennial market so coveted by brands.
Tipograph describes MikMak, a mobile shopping network, as "QVC for the Snapchat generation." Built for the iPhone, the app is driven by 30-second shoppable videos (you can make purchases through the videos themselves) hosted by improv comedians. These "minimercials" feature accessories, beauty, gadgets, home goods, jewelry and more, all sold for less than $100.
To generate revenue, MikMak has two models. The first is providing free mobile video content designed for the social Web to the 250 vendors—mostly emerging brands—on its platform, in exchange for a percentage of sales that Tipograph says approaches traditional retail margins. The second model involves working with big brands as executive producers of MikMak content. 
I recently sat down with Tipograph to learn more about how her entrepreneurial journey began—and where she thinks the future of online commerce is headed.
How did the collaboration with improv comedians develop? I know that you helped actor-comedian Judah Friedlander with his digital marketing when you were a student at NYU.
This was 2005, when Facebook was only for college kids, but [when I met him] I told him that he needed a Facebook group to galvanize fans to get better shows at college campuses. When we met for sushi soon after, he said, "You seem to get the Internet. I don't. Will you be my webmaster?" So, essentially, I was. I went with him to shows, created digital content and helped with his site and social media.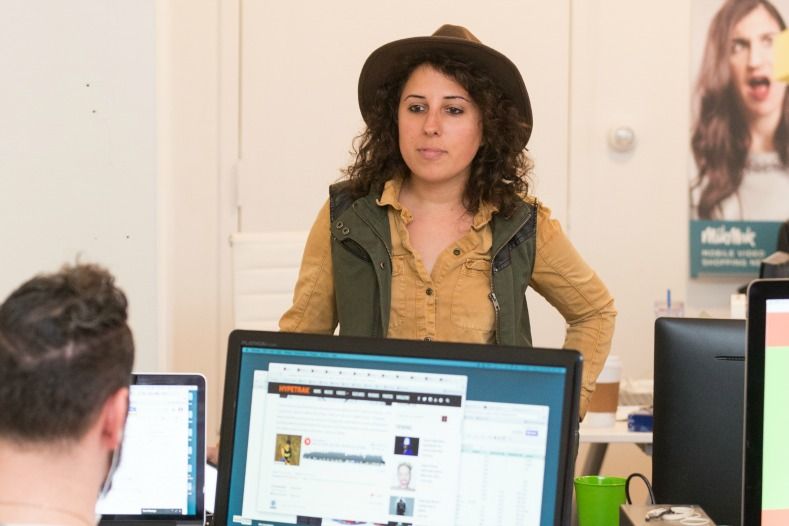 Rachel Tipograph, MikMak's founder
Through him, I realized a big opportunity: Comedians performing at clubs in New York typically get paid next to nothing, like $50 or $75 a night. Performing at a college, they can get $5,000 a night. So I decided to use social media to book comedians' shows at college campuses, and I took 15 percent. Through that, I realized how amazing improv comedians can be at sales, and that's what laid the ground for MikMak.
Where did you go from there?
A few years later, when I was still an undergrad, I started working for a digital-strategy consulting firm. From there, I became the youngest executive ever at a multinational clothing retailer. My job there was to bring down the average age of their customer. They wanted to hire a millennial to reach millennials.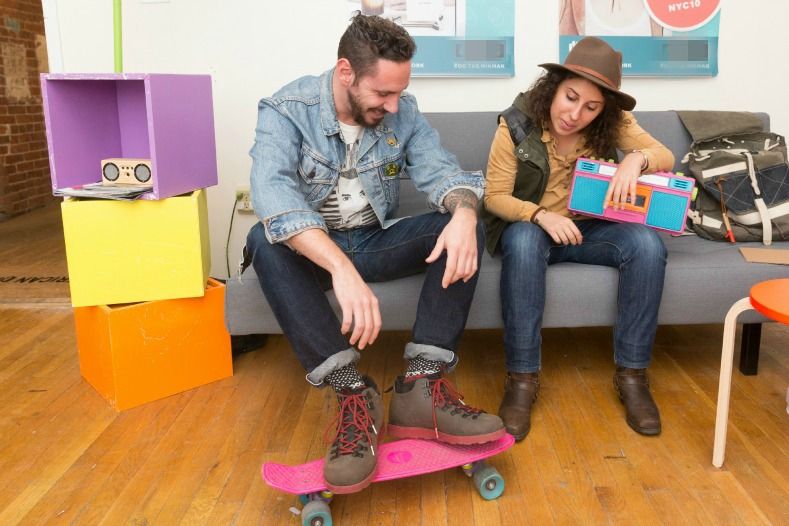 Tipograph with Eric Ornstein, MikMak's vice president of merchandising
When you need to scale an e-commerce business, there used to be just two ways to do it: promotional emails or targeted ads. In general, it's annoying to get those emails and be chased around the Internet by ads. I had a deep curiosity about video's impact on commerce. I knew that Internet users have an insatiable appetite for content, and video is the most powerful storytelling tool in the world. So I asked myself, "How do I create professional video at scale designed for the mobile social web—which is where we watch video content now—that's meant to convert to sales?"
How did you arrive at the 30-second minimercial format?
Through my research about video commerce, I stumbled into the infomercial industry. I learned that it's a huge market, in the hundreds of billions, and always growing. I looked at the industry from all angles—production, talent, merchandising, and distribution—and identified key success metrics. I believed that I could reach young people—18- to 34-year-olds—if I packaged the content differently.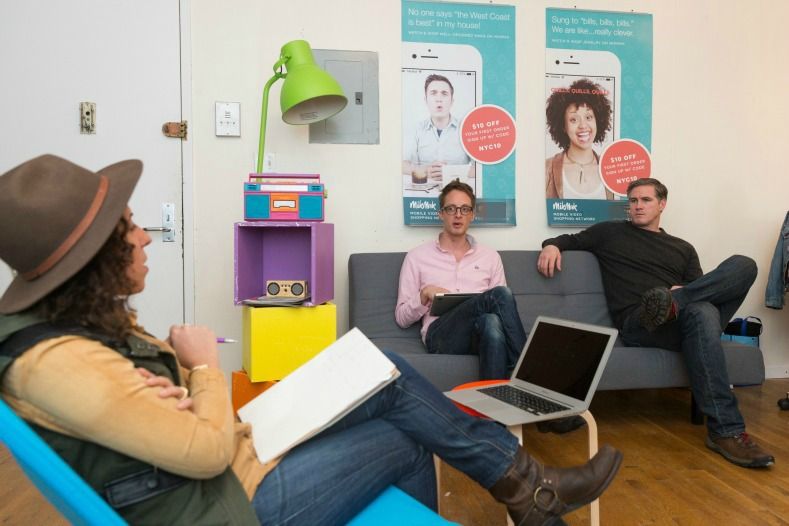 Tipograph meets with Nick Herro (left), vice president of engineering, and iOS tech lead Brian Tobin
I wanted to change infomercials into something digestible and cool—something you could binge-watch and feel totally comfortable telling your friends about. I wanted to make super short, shoppable infomercials made for the iPhone generation and build a mobile entertainment company that happens to sell things. So I created a prototype with money out of my own pocket. It was just me, my prototype and my vision for the future of media and commerce.
How do you stand out with all the noise online and on mobile?
In terms of competition, it's everything on the Internet. My competition isn't just Amazon or Nordstorm or Forever 21. It's BuzzFeed, it's Snapchat, it's Refinery 29, and we also partner with all of them. We are the first mobile-video shopping network, but the idea is that the content is going to live outside the app. I believe the future of commerce is distributed commerce, meaning that if you're on a news site, and they're talking about a cool new coffeemaker, you shouldn't have to leave that site. You should be able to buy it directly there. That's the future of our company and what you'll see over the next several months—our content distributed all over the web via shoppable video player, with the cart directly embedded in it.
How is MikMak different from other shopping apps out there?
First of all, we're video-based, and our users always say, "MikMak is so funny." We are entertainment-first. They also say, "MikMak sells things we can't get anywhere else." That's not true. But MikMak is so different that it reinvents products, and everything feels unique.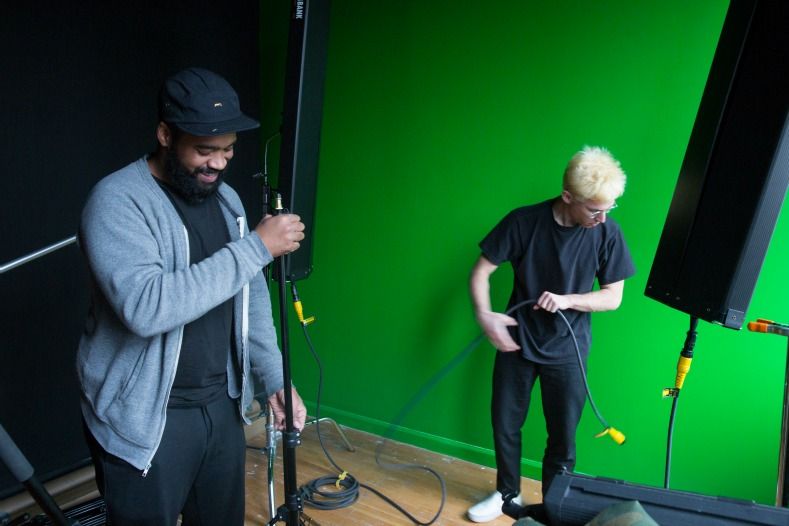 Filmmaker Rashid Zakat and junior editor Nicolas Hen set up for a video shoot.
How do you get people excited to watch the minimercials?
It's about building a community that really appreciates our brand. We're irreverent and authentic, and we see ourselves as imperfect, just like our audience. Nothing is too polished; everything is culturally in-tune. If we were selling a Bluetooth shower radio this week, we would probably frame it in light of Adele. We're timely.
How are you managing the current growth of your business?
Our recent move into a new office space is an attempt to get more work-life balance. I had no separation for 15 months between MikMak and my personal life. My living room was the content studio. My bedroom was storage, hair and makeup. So I bit the bullet and got this lease. I'm excited to see if 2016 brings balance back into my life.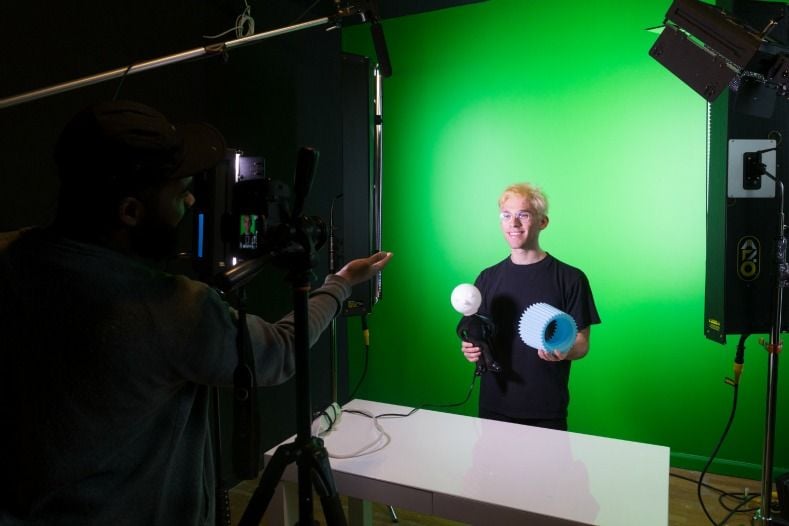 Zakat and Hen practice for a MikMak minimercial.
How do you find capital to grow your business?
Between September 2014 and June 2015, I raised $2.1 million for a seed round. That was a learning process and, at times, really difficult. I probably met with 100 investors. The hardest check to get is your first check, as they say. Once I got that, things became easier. As I raised money, I brought on employees. Our team doubled in size over the past year, from five to 10.
What are your biggest hopes for the growth of your business?
To be the next great media company that happens to sell things. I think every commerce company wants to be a media company and vice versa. We're weaving those two things together from the DNA of our company.
Photos: Christopher Lane