Last winter was a hard one for Georgette Carter. Her father was diagnosed with dementia, and she had to find a new place in her hometown of Richmond, Virginia, to live with him and her two sons. A divorce meant that money was tight. And then she totaled her car. The insurance settlement went toward relocating, and Carter found herself cobbling together borrowed rides and vehicles to get to work, grocery, schools, day care and medical appointments.
That's when Carter started praying.
The 1996 blue Ford Contour arrived a few months later. The car came from Conner Brothers Collision Centers and its "Recycled Rides" program. Conner Brothers rehabs donated cars and then awards them to people who've been nominated by members of their community.
"It's turned my life around," Carter says. "I can get to my job on time, and I don't have to maneuver to get my child out of day care. I'll never take that for granted again."  
Charity Begins At Work
Small businesses like Conner Brothers are creating innovative models for charitable giving that not only support their communities but also help extend their brand, define company culture and provide competitive differentiation. Smart businesses realize that charitable giving doesn't have to bankrupt the company coffers. In fact, good works can actually strengthen the business.
"Small businesses get inundated [with charitable requests], and it's really hard to say no," says Greg O'Neill, co-owner of four Pastoral Artisan Cheese, Bread & Wine stores in Chicago. "We're a bulls-eye for anyone and everyone looking for donation, sponsorship, philanthropy and giving of any kind. A lot of small businesses say yes, yes, yes and give until it hurts."  
O'Neill says three years ago, he was receiving various in-kind requests via snail mail, phone calls, Facebook and email—often at the last minute. He wanted to give back, but he needed to create some structure to streamline the process and prioritize the requests.
What helped the business was to identify brand-extending areas to support. In O'Neill's case, that was sustainable agriculture and feeding programs. He also wanted to focus on smaller, local organizations like schools and churches where donations would have more impact. Then the company added a dedicated page on its website that lists what they support and what documents to submit with requests—four weeks ahead of the deadline.
The change had immediate impact, as the employee managing the requests was able to process them at a scheduled time rather than fielding phone calls during a shift. Overall, the number of requests decreased as some charities reviewed the information and decided they didn't fit the criteria. "We tend to do fewer one-off donations now," O'Neill says, "and instead create more relationships."
A Culture Of Charity
For Kevin Conner, donating 24 rehabbed cars during the past four years has improved his business by helping define its culture. But that took time, as the program wasn't a unilateral hit internally. After the company donated the first car in 2009, Conner expanded the idea to his three other locations, where he says, "We had some push back from some of the guys."
Some of the technicians objected to the idea of giving away something for free when they worked hard for what they earned. "Then I got them involved in actually giving the cars away, handing over the keys," Conner says. "Now the guys at the shop call me and ask, 'When is our next car?'"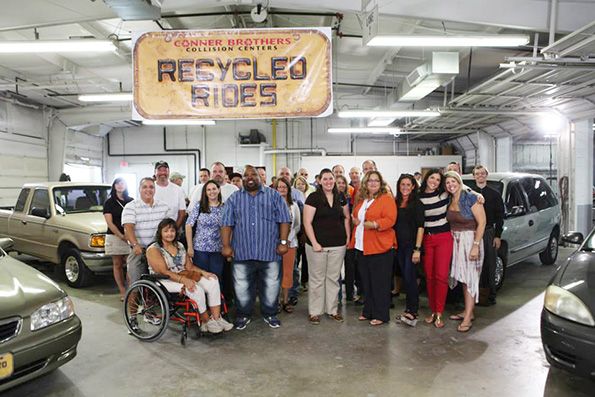 Conner says the value comes from being involved in some way versus just making a donation. "It would be easy to give money or a service here or there," he says. "But it's the teamwork behind the program that creates an amazing atmosphere for a successful company."
The car giveaways have become such an important a touchstone for Conner Brothers that the program helps define the type of employee the company wants. "Giving back is a huge part of our company," Conner says. "I challenge the guys every day to give back in some way, to give customers more than they expect. People remember that."  
Charity Is Priority One
The ultimate innovation in community service is to make charitable giving an essential part of the company's business model. That's what Scot and Jacqueline Tatelman did when they founded STATE Bags at the beginning of 2013. The company is based on an increasingly popular "buy one, give one" model—for each bag sold, STATE donates a backpack to a needy child (the company calls this its "GiveBackPack" program). STATE organizes giant "bag drops" and education events at local schools in the New York City area.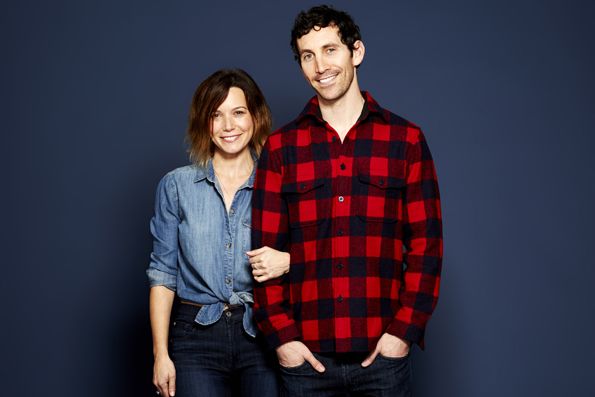 "We're a for-profit company with a nonprofit pedigree," Scot says. With a background in nonprofits, he and his wife could have just started another one, but instead they chose to forge into the business world.
"To offer our customers something tangible was really exciting for me," Scot explains. And in return, STATE offers customers something unique compared to other bag companies. "To buy a bag and feel that made a difference in the life of a child, that's an incredibly powerful experience, and a sentiment that's been voiced by so many of our customers," he says.
The nonprofit perspective has not only provided a competitive advantage and shaped the company culture (STATE employs former inner-city students to lead the bag drop events), but it has generated opportunities for additional revenue streams via creative partnerships. For example, large companies have worked with STATE to make bulk bag purchases and then participate directly in the bag drop experience.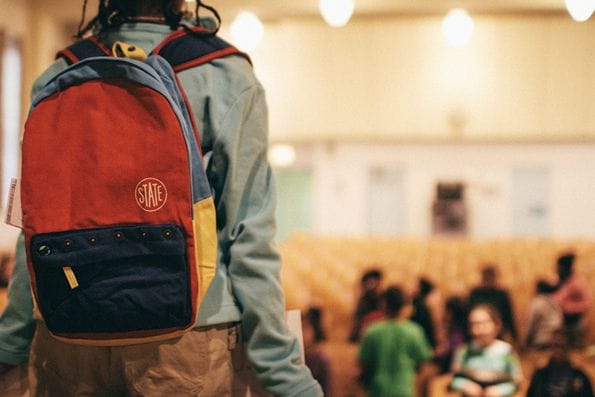 Your own charitable initiatives may be more modest, but that doesn't mean they'll have less impact. These small companies discovered that giving back can not only be a way to feel good about helping their community but also a way to extend and build the company.
Charity may begin at home, but holistic and innovative community support begins with small business.
Read more articles on company culture.  
Photos: Courtesy Conner Brothers, Christine Hahn, Veanne Tsui