OPEN Forum Featured Expert Guy Kawasaki has just self-published a new book, entitled APE: How to Publish a Book. APE is the acronym for the three roles anyone wishing to self-publish a book must play: Author, Publisher and Entrepreneur.
My one word review: Buy.
In 2011, a large technology company wanted to buy 500 copies of the e-book version of Kawasaki's New York Times bestselling book, Enchantment, to use for a promotion. Kawasaki's publisher, Penguin, referred the lead to Apple. Apple told the company to buy 500 gift cards, scratch off the back, then enter individual gift codes one at a time into iTunes. At that point, the company gave up on Apple and tried Amazon and Barnes & Noble. You can't buy multiple copies of an e-book on those sites either. An employee of the company ended up making 500 individual credit-card purchases.
"This fried my brain," Kawasaki writes.
That failure, like the kind behind many startups, prompted Kawasaki to explore the world of self-publishing, which he relabels "artisanal publishing."
What makes APE compelling is that it's much more than a practical guide to artisanal publishing—it's an insightful and inspiring guide to what Kawasaki does best: starts enchanting concepts. The beauty of the book is that it stands as proof of the concept, in that it practices everything it preaches.
There are three major sections, one for each of the three roles.
Author 
I believe the "Author" section, which is ostensibly about the writing process, holds a deeper view. Authorship is critical to any product, not just books—it plays a role in designing games, for instance. Kawasaki navigates the domain of authorship from motivation to implementation, covering territory ranging from your core purpose in authoring something, to editing and copyediting, to tools and techniques you need for financing and launching.
Publisher 
The "Publisher" section is an encyclopedic treatment of the myriad ways to produce the work you've authored. There are 14 chapters covering everything from editing to design to printing and distribution. Kawasaki unlocks the black box of publishing, revealing the nuts and bolts of how any book can be produced, and filled with current, practical and actionable information and advice.
Entrepreneur
The third section of APE, that of "Entrepreneur," I found to be the most valuable part of the book and the most applicable to any small business. As a four-time author of traditionally published business books, I can attest to the mistake most first-time or would-be authors make: expecting someone else to market your book (or business). As Kawasaki rightly points out, no one can do that better than you. Luckily, social media makes building a public presence and "platform" more expedient, and Kawasaki is a master of the social platform, with more than 1 million Twitter followers and over 3 million Google+ circlers.
Everything in the "Entrepreneur" section is directly applicable to anyone who owns a small business, or who is thinking of starting one. Kawasaki pulls some of his best material from Enchantment for APE, which in and of itself is reason enough to devour the book.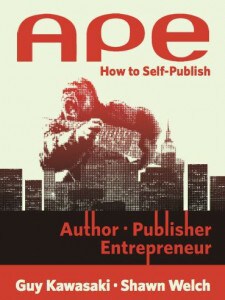 APE is a departure for Kawasaki. It's the first time he's co-authored. It's the first time he's gone strictly without a traditional publisher in the mix (his last book, What the Plus!, was initially self-published, then picked up by McGraw-Hill).
With its hundreds of links to valuable resources, APE stands out as a one-stop shop for how to take an idea from inception to a tangible product that succeeds in the marketplace.
More than the actual content of APE, thought, it's the effect of that content that I find most compelling: I find myself completely rethinking my next concept for my next book. And any book that can change minds that way is a keeper.
APE is available as a Kindle book on Amazon.
Read more tips for small-business owners from Guy Kawasaki. 
Matthew E. May is the founder of EDIT Innovation, and the author of a new book, The Laws of Subtraction: 6 Simple Rules for Winning in the Age of Excess Everything.
Photo: Thinkstock