Many wonders await you inside the Whole Foods in Gowanus, Brooklyn. Though its location isn't exactly known as the most environmentally friendly area due to its close proximity to one of the country's most contaminated waterways, the grocery store is doing its part to be sustainable. It uses solar and wind energy to power the store and was made with a lot of repurposed building materials. (This location is said to be 60 percent more efficient than the average grocery store.)
The 56,000-square-foot store has been outfitted with amenities that turn shopping for organic and healthy treats into an Experience with a capital E: a ramen bar, a rooftop restaurant and beer garden, a vinyl records market and a bike repair shop. But even in the midst of so many options, there's one perk that commands the most attention: A Whole Foods' employee handing out freshly prepared samples of a B.A.L.T.—a bacon, avocado, lettuce and tomato sandwich. The fatty sweet saltiness of the bacon and the creaminess of the avocado are punched up by the crispness of the lettuce and so-ripe-it-just-bursts-in-your-mouth tomato. The produce tastes incredibly fresh, as if it the farmer plucked the tomato right off the vine and hand delivered it straight to your mouth.
That's because he has. The newest outpost of Gotham Greens, a Brooklyn-based company that designs, builds and operates commercial-scale rooftop greenhouses, is located right on top of the Gowanus Whole Foods market—the first time a greenhouse of this size has been integrated into a grocery store, according to Gotham Greens. A wide variety of produce is grown year round in the 20,000-square-foot space, then harvested, packaged and delivered to the produce section downstairs, turning "food miles to food footsteps," Gotham Greens co-founder Viraj Puri has said.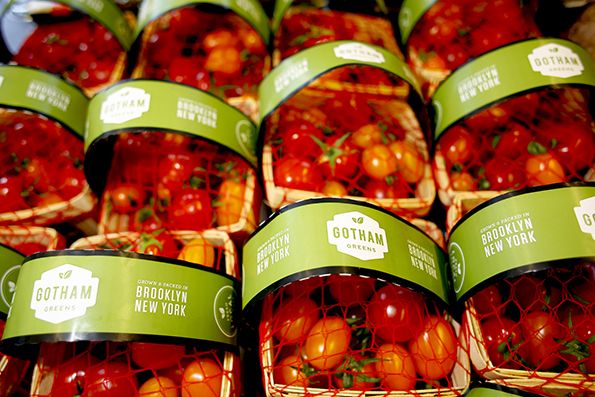 The partnership is just more proof that Puri and his fellow co-founders, Eric Haley and Jennifer Nelkin Frymark, are on to something with their unique brand of urban farming. When the team opened their first location in Greenpoint, Brooklyn, in 2010, it was the first commercial-scale rooftop garden in the United States.
"Traditionally, large-scale greenhouses have been in rural areas," Puri explains. "New York doesn't have a lot of open space [or] arable land. But one vastly underutilized resource we do have is unused rooftop space. We said if we wanted to have a commercial-scale agriculture, we were going to have find a big piece of land, and there's just nothing to find on the ground. So we started looking up."
The gamble paid off. Gotham Greens grew from its co-founders to 50 employees and now produces more than 300 tons of fresh, high-quality produce every year. And while the privately held company won't release revenue, it has secured $15 million in funding to grow the business and already has plans to take the grocery store-greenhouse model beyond Gowanus.
"We're talking to Whole Foods and other supermarket chains about replicating this model so customers can get extremely fresh product that's harvested literally that same day and be able to buy it within a few hours," Puri says. "By cutting out the long-distance transportation, you're improving the product quality, the freshness [and] the nutrition, plus cutting out a lot of the environmental impact [such as] carbon emissions, CO2 emissions, traffic congestion [and] consumption of fossil fuels."
Puri gave OPEN Forum a tour of the greenhouse and explained just how the company is able to grow such tasty and fresh produce all year long.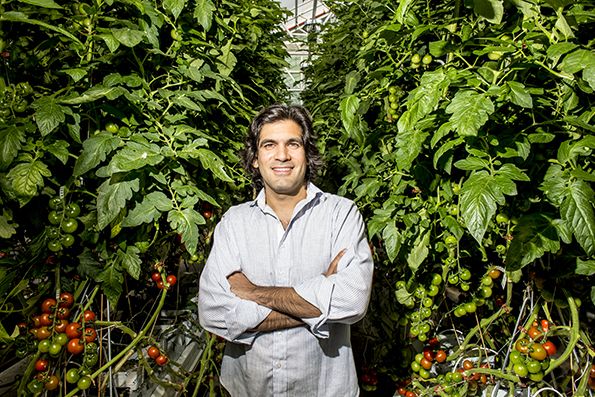 Gotham Greens' co-founder and CEO Viraj Puri in the greenhouse's tomato room. Gotham Greens uses a farming technique known as hydroponics, which doesn't use soil to grow plants. Instead "plants receive all their nutrients from the water itself," Puri explains. "We dissolve nutrients in the water that provide nutrition to the crops and allows them to grow." The water is recycled through their irrigation system, for a more "efficient form of farming."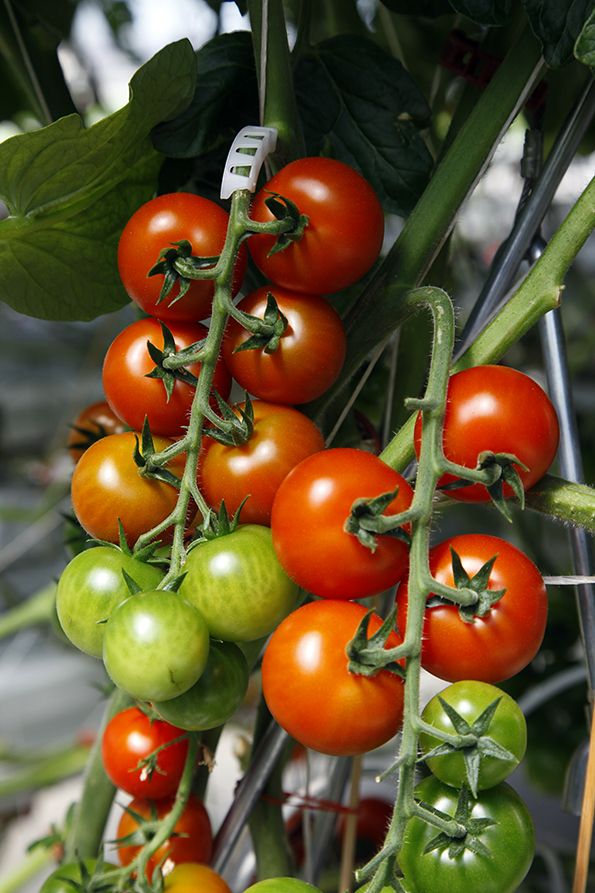 Gotham Greens doesn't use pesticides, insecticides or herbicides on its produce in favor of more natural methods to ward off pests and grow crops. In fact, bumblebees were buzzing overhead in the tomato room as a natural form of pollination.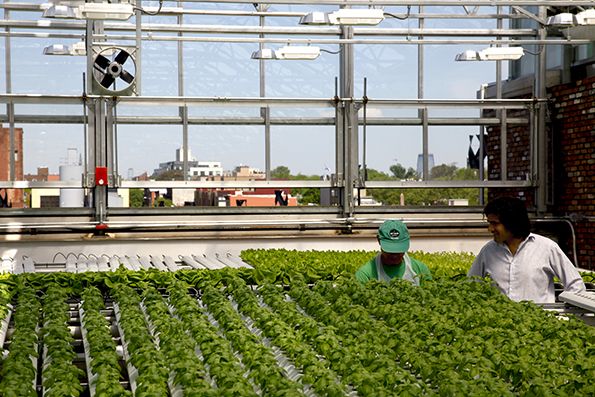 The fresh smell of basil hits you as soon as you walk into Gotham Greens. Here Puri speaks to one of the green collar workers employed at the greenhouse.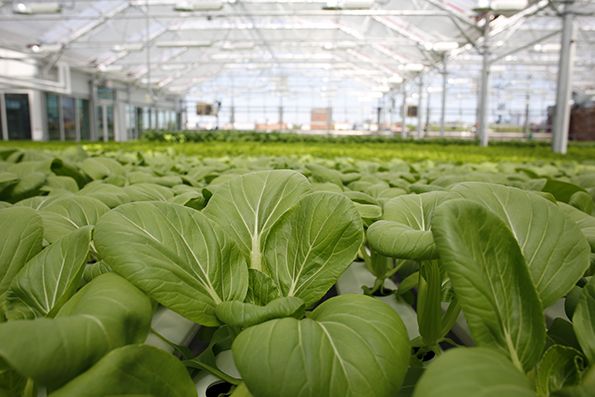 Baby bok choy in the greenhouse, ready to be harvested. The typical harvest cycle is 30 to 40 days, depending on the vegetable. Thanks to their hydroponic irrigation system, the farmers at Gotham Greens are able to produce higher yields than the typical farmer.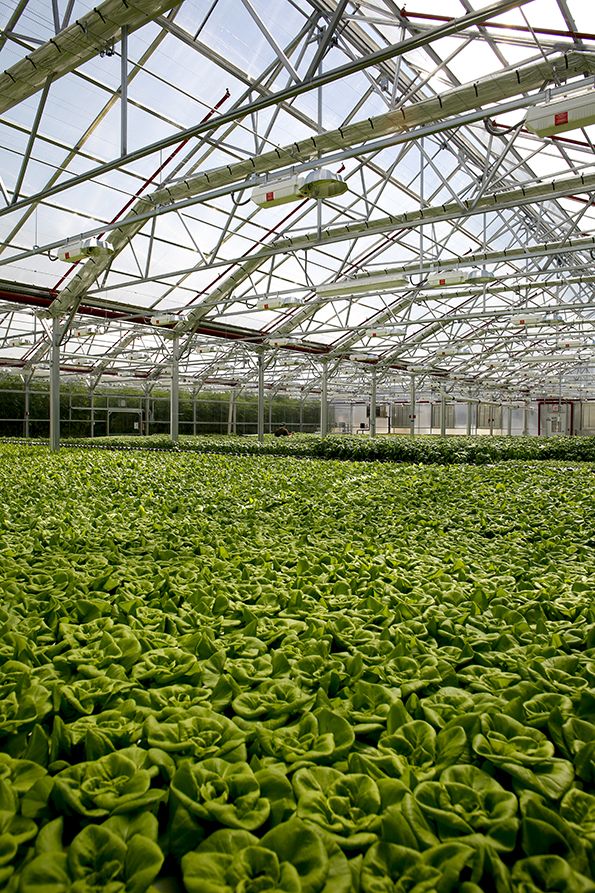 Butterhead lettuce basking in the sunlight. Gotham Greens produce is "coddled from the environment," thanks to technology like shade curtains and heat lamps.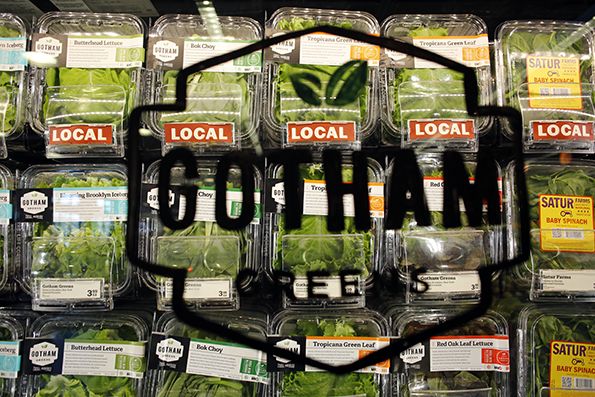 "We really want to bring more of our high-quality products to more urban consumers and communities nationwide," Puri says. "We truly want to be a local brand on a national scale, build more facilities in New York [and] in other cities, and bring this sort of innovative and disruptive model of agriculture to urban communities."
Read more articles on leadership.
Photos: Mark Peterson / Redux for OPEN Forum