It's fair to assume most people would follow the advice of a local homicide detective on matters of safety—especially if that detective were family. But brothers and entrepreneurs Patrick and Daniel Conway aren't so easily swayed. When they mentioned to their cousin on the Cleveland police force that they were considering opening a brewpub on Market Avenue in 1988, he raised his eyebrows and shook his head. 
"He thought we were lunatics for choosing this neighborhood," Pat Conway remembers. "It was a moribund part of the city, and he said people wouldn't come down here because of the crime and lack of parking." Only a mile from downtown Cleveland, the location seemed to have potential, but not everyone agreed. "You needed your imagination, that's for sure," Conway admits now.
A New Vision 
Entrepreneurs can often be blinded by their vision and only see their dream's potential instead of the realities. While that blind spot can look like a weakness to others, it's often the strength that allows the business owner to create something out of nothing, and carry others along. Where his cousin saw boarded-up windows, empty lots, stray cats and rusty chain fences, Conway's vision focused on the cheap rents and the hulking red brick structures from the late 1800s found in the neighborhood, known as Ohio City to locals.
Inside one of those buildings Conway discovered a beautiful and perfectly preserved tiger mahogany bar, complete with a few bullet holes from the days when Eliot Ness ran Cleveland's fire and police departments. It turned out that the building had been the local police watering hole, complete with a burlesque house upstairs. It had ruled during the flourishing "golden age" of the Cleveland brewing industry, and for Conway, the romance was irresistible. 
But the love affair wasn't immediately reciprocated: The building's landlord wanted to keep it boarded up until the neighborhood improved so he could flip it at a profit. "I told him the neighborhood would never change until someone invested in the buildings," Conway says, a point that earned him the lease.
Once the building was secured, Conway began renovations. During the work, as some more modern add-on structures were removed, a vintage beer ad reappeared on one of the outside walls. 
Conway chalked that very literal sign to psychotherapist Carl Jung's concept of "synchronicity," or unrelated events coming together in a meaningful way. "It meant that we needed to occupy," Conway decided.  
Great Lakes Brewing Company
didn't just occupy; it took over. The building was restored to its former glory as a restaurant and brewery that ships beers to retailers nationwide. When his landlord eventually went bankrupt, Conway bought his building at the auction, as well as a former stable across the street and a 60,000-square-foot former department store behind the brewery. Today, Great Lakes owns its entire block, the buildings on Market Avenue are full of shops and restaurants, and the area is one of Cleveland's trendiest residential districts. 
Overseas Inspiration, Local Support
The vision behind Green Lakes was born during Conway's study-abroad summer in Rome in the early 1970s. While overseas, the young student, not surprisingly, spent a fair amount of time hoisting pints in the beer gardens of Austria and Germany and in the pubs of England and Ireland. "I realized that our mass-produced, banal tasting, carbonated beers didn't have as much flavor and weren't as fresh," Conway says. In graduate school back in the States, he sensed during his stint as a bartender that the American palate might be ready for a change. Conway floated the idea to his brother Dan, who had attended the same summer program some years later, and Dan came on board. 
The Conways weren't the only brewing team to seize that particular opportunity. The early '90s saw a foamy zeitgeist of microbrew startups, both restaurants and small-package brewers. The fad was quickly followed by an industry contraction full of shutdowns, and then a new swell of smarter startups making more distinctive brews. The Conways have weathered the changes but now face the same level of competition as their forefathers who occupied their buildings a hundred years earlier. "When we opened, there were four dozen breweries in the United States," Conway says. Now, according to market research firm Technomic, there are 2,600.
There are only so many bar tap handles and grocery cooler shelves available to sell those 2,600 brands. But Great Lakes feels that it has a competitive edge apart from making excellent brew: the community support from Cleveland's government and residents. 
"We wanted to be in the city," Conway says. "We wanted to reintroduce brewing to a community that had a vibrant brewing industry a hundred years ago. We thought that was important for civic pride."
Rebirth Of A Neighborhood 
Great Lakes invested heavily not just in brewing old-world beers, but in neighborhood revitalization. For example, Conway estimates that the company has spent hundreds of thousands of dollars on security alone, including hiring off-duty police officers to patrol the sidewalk and walk restaurant patrons to their cars after dinner. Conway struck up relationships with his city councilman, City Hall and neighborhood development organization. "You want those allies to help support you," he says. 
Investing in the neighborhood paid off when the local government finally responded in a big way. After Great Lakes had been open for about two years, the city of Cleveland decided to upgrade the neighborhood streets and sidewalks along Market Avenue. It was an ambitious project during which the city ripped up the existing sidewalks, then installed a meandering cobblestone street, new sidewalks, shady trees and vintage gas street lamps. "They had been thinking about it, but there hadn't been enough activity in the area to justify the investment," Conway says. "Then we became the activity." The neighborhood was transformed, creating curb appeal that encouraged several restaurants to open al fresco dining areas. "It feels like Europe" now, Conway says.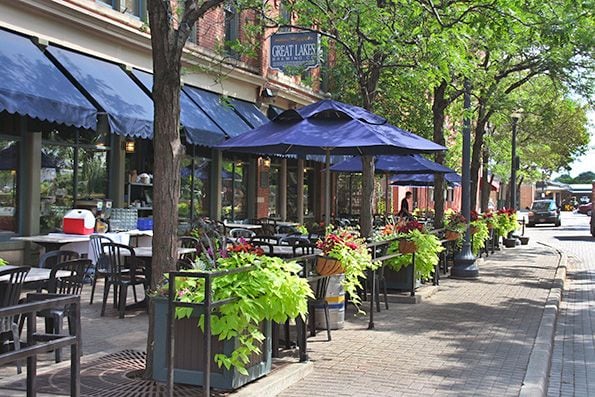 Great Lakes not only sparked government involvement; the brewery's success quickly attracted other businesses. Retail space is close to 100 percent occupancy now, Conway says, and that activity includes restaurants, an ice-cream maker, a wine shop and other breweries. In addition, Conway sold one of his buildings to a developer who invested $17 million turning it into condos, which are now fully occupied. 
The Dark Side 
Unfortunately, while this type of revitalization success story is not uncommon, it doesn't always end well for the business owner. Take the story of
New York restaurateur Colin Devlin
. When Devlin opened his restaurant DuMont in 2001, his Williamsburg neighborhood was a restaurant wasteland. A few Asian takeout joints dotted the landscape, and the residents trotted up to Manhattan for their fine-dining experiences. Devlin wanted to bring affordable upscale comfort food to the gritty neighborhood, and eventually opened three eateries in Williamsburg. His success was widely credited with sparking Brooklyn's culinary renaissance. Competitors followed, and Manhattanites began to make the reverse commute to eat. By 2013, that success had attracted plenty of competition and spiked area rents. 
Devlin struggled with the changing dynamics and rising costs—this past summer, he was found dead in an apparent suicide. After his death,
The New York Times
reported that Devlin had been facing financial difficulties from several sides. Fortunately, not every business owner answers a financial challenge with suicide. But the takeaway from Devlin's story is that the role of a local hero can become a lonely one when you're priced out of the very neighborhood you revitalized. (Read our
infographic on why shopping local is important for your community
.)
Community Spirit
In Cleveland, Great Lakes has chosen to meet its competition by embracing it. "There are four other breweries that have descended on our neighborhood," Conway says. "What goes around comes around, and there were people who helped us when we were formulating our plan. We feel our brand is so strong that we aren't threatened." 
Conway has formed other partnerships with neighborhood businesses, including Ohio City Farm—where the brewery farms an acre of organic vegetables, mulched with composted brewery waste—located down the street. Great Lakes donates its "shorts" (bottles that don't fill up all the way on the production line) to the local ice-cream maker Mitchell's Homemade Ice Cream, which has used them to craft beer-inspired flavors like porter chocolate chip. The ice creamery is now expanding, Conway says, and building a plant in the neighborhood to supply ice cream to Great Lakes' restaurant. "We are active in supporting retail activity on our street that dovetails with what we are doing," Conway says. "We work to make sure they stay in the neighborhood." 
With a strong community base, Conway's next outreach program is to shore up his company's triple bottom line (profit as well as social and environmental impact), while inspiring other organizations to do the same. The company donates 1 percent of sales to arts and environmental movements, and works to incorporate "green" building principles in operations—for example, using recycled heat so patrons can dine in the outside beer garden in the dead of winter. "Our environmental and social bottom lines have given customers another reason to support us," Conway says. The company just celebrated its 25th anniversary this past summer, and Conway and his brother are working hard on the next phase of growth for the company. It might be easier for Great Lakes to relocate to more spacious digs in the suburbs, but Conway is committed to staying in the neighborhood he and his brother rebuilt.
"Now when we run into my cousin, he tells us he can't believe that we made it down here," Conway says. The truth is, Great Lakes and the Conways didn't just make it—they created it.
Photos: Great Lakes Brewing Co.