The entrepreneurial stories of Rich Amundson and Chris "Drama" Pfaff share similar, humble beginnings, albeit 3,000 miles apart. For Amundson, the founder of Dicks Cottons, a maker of sunglasses and accessories, it all started in a small one-bedroom apartment in New York's East Village. For Pfaff, the founder of Young & Reckless, a popular streetwear apparel brand, his first office was a windowless cubby underneath a set of stairs in a Los Angeles warehouse—albeit one with an MTV camera focused squarely on it.
Amundson first had the idea for his line of fashionable, travel-inspired sunglasses in 2009, while aboard a catamaran in the Adriatic Sea. He was catching a brief break from a seven-day-a-week job as a real estate broker back in New York, and he began to brainstorm business ideas that would allow him to travel and, well, live life the way he wanted to live it. He came to an interesting conclusion: No matter what people are doing, when they're wearing sunglasses, they're usually having a pretty good time, be it a walk to the office on a sunny day or a month-long vacation in Saint-Tropez. With an optometrist grandfather as his inspiration—better known as "Papa Dick"—he hit the drawing board, had prototypes made and began growing Dicks Cottons organically through partnerships and social media. Today, he and business partner T.J. Eaton are based in Orlando and count fans in more than 50 countries, including dozens of A-list celebrities, with plans for a spinoff sunglasses-subscription service called Shades Club.
Fresh out of high school, Pfaff headed west to Los Angeles from Ohio in 2005, and landed an impromptu job as the personal assistant of his cousin, skateboarding mogul and soon-to-be MTV star Rob Dyrdek. For 10 seasons over two successful shows, Pfaff more or less came of age on camera, as Dyrdek's sidekick and co-star. Over time, Pfaff took notice of the entrepreneurs he was surrounded with, most notably Dyrdek, and began putting together a methodical and largely off-camera plan for Young & Reckless, a brand that celebrates a "Stay Reckless" motto, encouraging fans to aim high and take an entrepreneurial approach to all aspects of life. The line of T-shirts, hoodies, hats and other edgy gear celebrates the idea that cool can still be attainable to the masses and is now available in 3,000 stores, while Pfaff and his brand count nearly 6 million followers across social media.
Their growth over the past several years has taken Amundson and Pfaff a long way in closely tied industries. But until a recent Tuesday afternoon in Los Angeles, they had never met before. Growth Talk brings together growth-minded entrepreneurs for the first time, over a casual meal, to trade stories and tactics.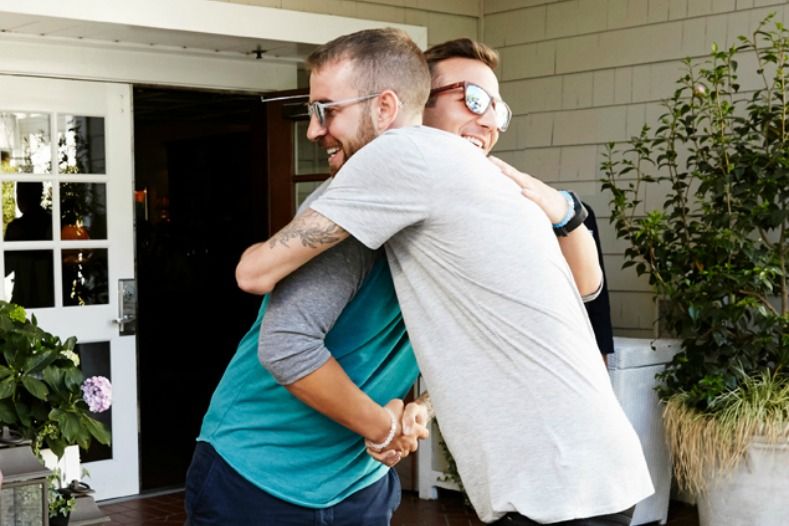 A meeting of the minds: Dicks Cottons founder Rich Amundson and Young & Reckless founder Chris "Drama" Pfaff meet for the first time.

In this first installment, Amundson, 33, and Pfaff, 28, joined me at Coast, the oceanside restaurant at Shutters on the Beach, a hotel in Santa Monica, California. The two young entrepreneurs riffed for close to two hours, sharing stories from the trenches and samples from their brands.
Here is some of what they had to say:
One of my favorite things in the world is bringing great entrepreneurs together and watching them riff and learn from each other's experiences, which was the inspiration for this series. So I'll start with kind of an age-old, philosophical question: Do you think entrepreneurs are born or made—and which category do you fall in?
Chris "Drama" Pfaff (CP): Man, to be honest, I think it's a little of both. You have to be born with certain values mixed with your experiences, education. I always say to kids who maybe haven't figured it out yet, that doesn't mean that you weren't born an entrepreneur. It takes a spark or something to get you inspired to make that happen.
Rich Amundson (RA): I think what Chris said is probably spot-on. You're either someone with a ton of ideas and an entrepreneur from birth, or you're forced into a situation where you realize, "I need to come up with an idea." There are two types and they're probably very different in how they operate.
Rich, you're actually coming up on an entrepreneurial milestone, aren't you?
CP: Your anniversary?
RA: Yeah.
CP: Nice!
RA: I quit my job five years ago this week.
CP: Remind me, what were you doing before?
RA: I was working for a real estate company. It was seven days a week. People want to see apartments on the weekends, suit and tie, all that. And I'm thinking, "Everyone's at the beach having fun, and I'm stuck in New York." So I went to Croatia. I went shopping for sunglasses for the trip and couldn't find anything I liked. On the boat, I started to sketch. When I got home, I went to the Fashion Institute of Technology (FIT) at night. Then launched a pair and just said, "Screw it," and quit my job.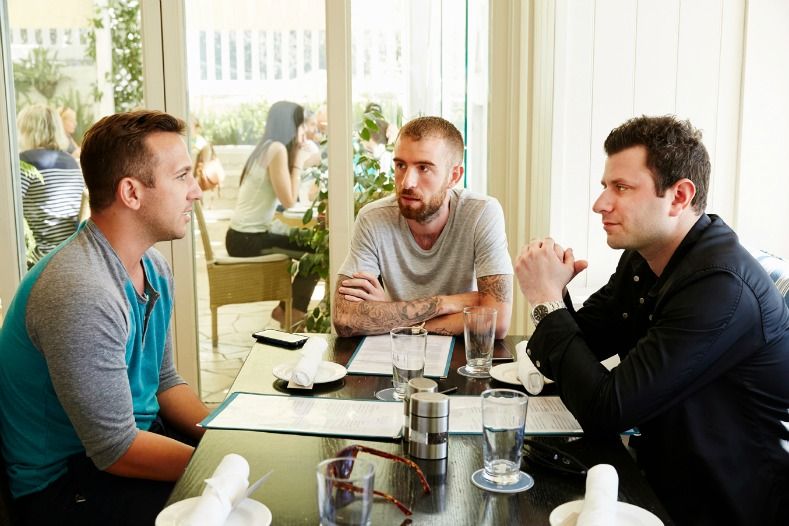 Breaking bread: Amundson, Pfaff and OPEN Forum editor-at-large Rod Kurtz chat before lunch.

Chris, you had a slightly different kind of frustration, but you also wanted to break out.
CP: I moved to LA really just to get out of Ohio. The moment I graduated, as soon as I could, I moved to LA just to kind of go for it. My cousin, Rob, had lived out here for about 10 years, but I didn't really know him very well. I didn't grow up with him. I moved out and then six months later, we ended up doing our first reality show. I never wanted to be famous, but I had this instinct that I wanted to be around it. I just knew there was some stuff happening here and I wanted to be around where the stuff is happening. I was like, "How do you make this into something else?"
Something tangible.
CP: Yeah, so I did music production for a while, but I realized that I had an interest in clothing, and I realized that clothing was so much easier to market and use the little bit of celebrity that I had to leverage it, so that's why I really dove into that. But really, it was fueled very much like your situation, Rich—you didn't want to do real estate, I didn't want to do club appearances as a reality "star."
I'm almost three years into my own entrepreneurial journey, and I feel like every entrepreneur has a "Whoa, what did I get myself into?" moment. Early on, what was that for you guys?
RA: When my second batch of sunglasses arrived, the "Stickman" logo was falling off. My whole summer delivery of 5,000 pairs. I was just like, "What is going on?"
CP: [Points to sunglasses.] What, this guy on the side here?
RA: Yeah.
CP: First of all, I probably have these moments once a week. But I would say that my first one was when we launched the brand, we launched it in conjunction with the TV show airing. It went really well and we shipped all doors and sell-through was incredible. I think that I probably got a little ahead of myself. I was like, "I made a clothing brand, I'm killing it, I'm an entrepreneur, right?" Then there was a massive gap in between the seasons of the show and obviously the brand wasn't established yet. In my head it was. I was already celebrating like I'm an apparel mogul, and sure enough, the show was off the air for long enough and sales dropped. There were about three months that we couldn't sell a T-shirt to save our lives. It's not that easy.
For many businesses, they either grow or die. How have you been able to scale? And what's your advice to other entrepreneurs out there?
CP: Especially in apparel, you see people go too quickly too soon, and before you know it, your overhead is insane. As we've grown, I've realized more and more the importance of talent and finding the right people. I think you can have five people that do just as good a job as 25—if you have the right five.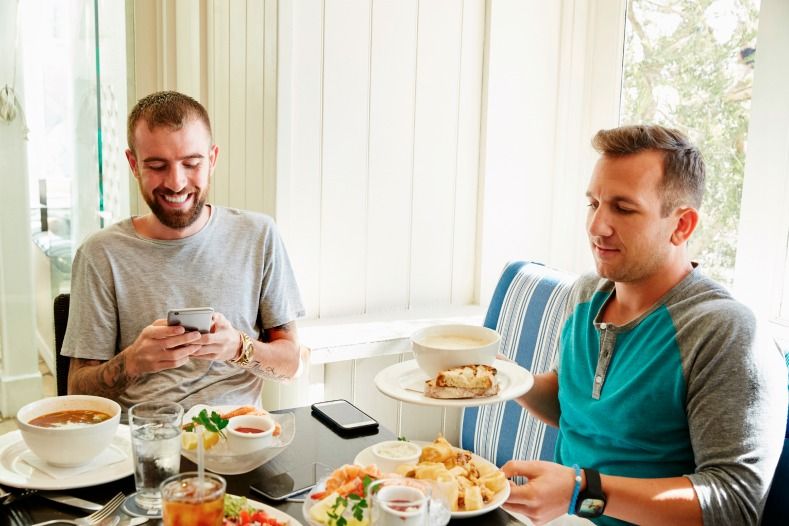 Multitasking: Pfaff takes a quick email break while Amundson digs into lunch.
So what do you look for in people?
CP: You obviously look for the basics—the hard workers and the good attitudes—but something that I'm learning that's so important is just someone who truly understands your brand and your mission. Literally, I would rather hire someone from a coffee shop who understands my brand than an executive from a major apparel company who doesn't. It sounds stupid, but I'm telling you, it's so important.
RA: That's good advice.
And Rich, you're at that stage where you're really starting to scale up.
RA: Yeah. We just started recently doing it, but we're trying not to get so mired in the little stuff and start to focus on big stuff only. It's so hard to do that when you're worrying about the little things—every little customer, every little problem. You have to just release that somehow and realize these opportunities are more important. But it's hard when it's your baby and you care so much and don't want one unhappy person. It's hard when you don't have a big enough staff to handle everything.
What does your day-to-day look like?
RA: It changes every day, which is kind of the exciting part. I'm sure it's the same for you, Chris. I keep a top-30 hit-list and I try to at least keep it moving a little bit. I take a little step each day because it always takes longer than you think.
CP: Always.
And you're by the pool most of the time, Chris?
CP: [Laughs.] I wish.
At least on Instagram?
CP: I spend more time in the office than anyone believes.
RA: It's the best way to get stuff done.
CP: Yeah, that's my problem. I was talking to Rod about your lifestyle, and what I can improve is getting out and about and traveling more and opening my mind a little. But I just learned that if you force yourself to go to the office, there's nothing else to do but work and get your little checklist done. So, like you, I have a list every day and then I have a book of all the marketing projects and the production dates and everything that we're working on. Really, it's amazing how much of it is not very glorious. Some kids think my life is just the best thing on Earth.
RA: They see the pictures with celebrities.
CP: Yeah, that all I do is hang out with girls and famous people, but there is a lot of secretary-style checklists, email-sending.
RA: Deadlines.
CP: Yeah, it just is what it is. But my goal is definitely to travel a little more and get my mobile office a little bit more honed in, in 2015 and beyond.
RA: It's incredible how much inspiration you get from seeing different things.
CP: I know, it's true, and I just haven't done enough of it. That's my biggest personal weakness.
All smiles: Pfaff and Amundson share a laugh about shared struggles.
Rich, that's something you're very good at—you're based in Orlando, you just came from Vegas and now you're here in LA. How do you manage all the travel while growing a brand?
RA: It's all mental. You have to just trick yourself to enjoy the moment you're in. If you take a week off and a couple of things are a week delayed, it's not the end of the world. It's the hardest thing to do, to trick your mind, but you also have to think about the people you're going to meet or the inspirations you're going to come across. That's going to be worth more in the long run than whatever you're missing or not getting done. We started to name all of our sunglasses after places we travel to—that's where we get the inspiration.
What's the name of the ones you have here?
RA: Santorini. Greece.
See, Chris, you should just make a travel checklist based on their sunglasses.
CP: Yeah, just go!
RA: It's a trick against yourself, because you feel guilty at the same time. But personal guilt doesn't get you anything.
CP: You know what? I think it's all about balance. You have to balance getting into your checklist with actually enjoying yourself, because I've noticed it's very, very possible to burn yourself out. Then you find yourself literally just being a secretary and just following your checklist and you're like, "Wait, I haven't created anything in a month." I'm just calling people back for a month straight. That's a huge thing to me. Also, I feel like with social media and how accessible the heart of the company is these days, it's a really cool responsibility, but it is our responsibility to continue to live what we preach. Sometimes I think, "Man, you go into an office every day and you have all these kids who follow you on social media and you're not really doing what you say they should." I should just go skydiving on a random day or do something weird, because that's what I'm preaching.
RA: I relate to that so much.
CP: It's the reason you started your brand. The reason why you put those values into it. It takes a lot to live what you preach. And, to me, the moment you stop doing that, you start asking why you started it in the first place.
Read part two of our conversation with Amundson and Pfaff, as they explore building an authentic brand, finding a balance between personal and professional growth—and the importance of going to the beach.
Photos: Amanda Friedman