It's easy to lose sight of the real meaning of your work when you're part of a large organization. We're great at describing what we do... on a business card, with a job title. Why? Because we get caught up in the form our work takes—positions, occupations, careers. I'm in sales, I'm an attorney, I'm a writer, I'm VP of Marketing.
But those are merely convenient descriptions of activity. They can block us from seeing the importance of our work, our connection to a greater cause or purpose. As a result, we're not as good as we could be at pinpointing exactly why we do what we do. Without that connection, though, it's hard to be at our best.
The challenge, then, is to get to the bottom of the deceptively simple question: "Why is my work important?"
And that's where Peak: How Great Companies Get Their Mojo from Maslow, by Chip Conley, can help. Mr. Conley is CEO of Joie de Vivre Hospitality, the second largest boutique hotel company on the planet. This is Mr. Conley's third book in 10 years, and was actually published three years ago (2007). It was recently updated and re-released, with a foreword from another like-minded author, Zappos.com's CEO, Tony Hsieh.
Big Idea: Peak performance demands peak experiences. To transform an organization into one in which everyone is fully engaged, you must create an environment in which people can "seek their peak": by moving toward self-actualization—the highest level of Maslow's Hierarchy of Needs. They must find meaning not only in their specific job task, role or function, but also connect with an inspiring purpose.
Backstory: In late 2001, things were bleak for Mr. Conley and his company. He was struggling to make payroll for his 1,000 employees. He walked into a local bookstore in search of a book that would somehow help him survive. He realized that what he really needed was some serious personal guidance. So he moved into the self-help section, where he reacquainted himself with the work of psychologist Abraham Maslow.
Key Takeaways: Mr. Conley's two-by-two matrix says it all. It's simple, insightful and actionable. Meaning at work relates to how an employee feels about the company, their work environment, and the company's mission. Meaning in work relates to how an employee feels about their specific job. What it says is that you could be in the job you're born for (meaning in work), but if you're fuzzy on the significance of it (meaning at work) in the grand scheme of things, you may disconnect.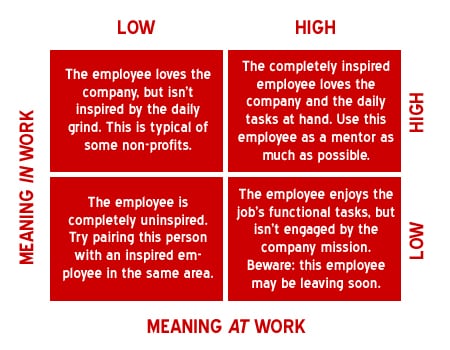 Surprising Insight: Peak allowed me to better understand why so many companies do an annual dance, often spending days in offsites to conduct what amounts to a creative writing exercise in which they draft pithy statements meant to inspire, but that inevitably ring hollow and fail to capture the real reason they exist. Mr. Conley's straight ahead style allowed me to conjure up a mental "before and after Maslow" image, from the employee perspective. In other words, I was able to almost feel the difference.
The "before" image: 
I feel like a misfit. Everything is a bore and a chore. The day drags on in dismal drudgery and stifling mediocrity. On a bad day I think about sabatoge—to others, to the company. I live for the raise, for the promotion. I get better at my job, but for reasons of advancement only. I'm constantly searching for something more or better. If it comes along, I won't think twice about grabbing it. I've got no skin in the game—no commitment, no connection.
The "after" image: 
I feel independent, free to flex and stretch my abilities in pursuit of the goal, which always seems clear. Taking risks doesn't seem so scary, because I feel confident. I define the work differently, expanding my role without giving it a second thought. I'm able to use constraints as creative fuel, and see them as opportunities to improve and innovate. Nothing seems impossible, and I naturally pursue mastery. I feel connected to something larger than my immediate task.
Best For: Leaders and managers needing successful, practical ways to turn less-than-optimal circumstances into high-potential opportunities to inspire engagement and deepen commitment of the company.
What Others Say: "If you're interested in building an enduring brand and business, this book will be one of the best investments you'll ever make. I encourage you to do what we've done at Zappos: get a copy for each and every one of your employees. This book is one of the rare few that can help you and your employees grow both personally and professionally." Tony Hsieh, CEO of Zappos.com (from the Foreword).
Rating: 9.75 (out of 10)
Links: You can watch Chip Conley speak at the February 2010 TED Conference here.
Matthew E. May is the author of The Shibumi Strategy: A Powerful Way to Create Meaningful Change. You can find his fan page on Facebook at ShibumuStrategy, and you can follow him on Twitter @matthewemay.