Josh Tetrick is a vegan who cares deeply about animal welfare and the environment, and his plant-based food company, Hampton Creek, reflects those values. But Tetrick faces a bit of a conflict: The only road to success for his startup is to be better and cheaper than the competition, no matter what values his customers hold dear.
"Ultimately, I want my dad to go the Piggly Wiggly in Birmingham, where I was raised, and see eggs for $1.29 a dozen and our product for 59 cents," Tetrick says. "I want him to choose ours not to save the world, but because he wants to save money and have some eggs. If vegans never buy it, that's fine. As long as my dad buys it." 
The Aha Moment
It's an ambitious vision, but it wasn't the one Tetrick started out with. The 33-year-old founder launched Hampton Creek two years ago after a conversation with Josh Balk, a childhood friend and the Director of Food Policy at the Humane Society of the United States. Tetrick, who had worked with the United Nations on sustainable business models in Kenya and Liberia, was on the hunt for a business idea. When Balk told him about the conditions under which hens lay approximately 1.8 trillion eggs a year—cramped cages, no sunlight, injected with antibiotics, etc.—a light bulb went off. "The more he told me, the crazier it sounded," Tetrick says. "Eggs are the cheapest, most abundant source of protein and 99 percent of them come from places that are gross and degrading."
Tetrick started thinking big: "What would it look like to create a model that is so compelling from a cost perspective that it makes that model obsolete in the same way that cars made the horse and buggy obsolete?" he asked himself. He and Balk decided to find out, and co-founded Hampton Creek.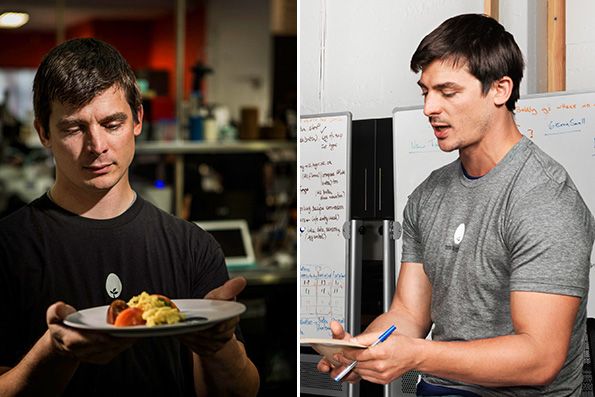 They never intended to create a consumer product, but instead set their sights on large food companies that use eggs as ingredients. Tetrick called a few of them and discovered that most manufacturers cared less about the actual egg than the function it performed, such as emulsifying mayonnaise, or making muffin dough rise. If a cheaper, high-quality substitute was available, it seemed they'd be game to try it.
Taking The Egg Out Of Eggs 
Tetrick spoke to chefs about their experience with substituting chicken eggs with plants, and he put together a rough prototype. "It kind of worked so I took it along with a vision and an understanding of the market to Khosla Ventures and told them there was an opportunity to disrupt a massive market," he says. The pitch earned him $500,000 in seed funding, and the company was off and running.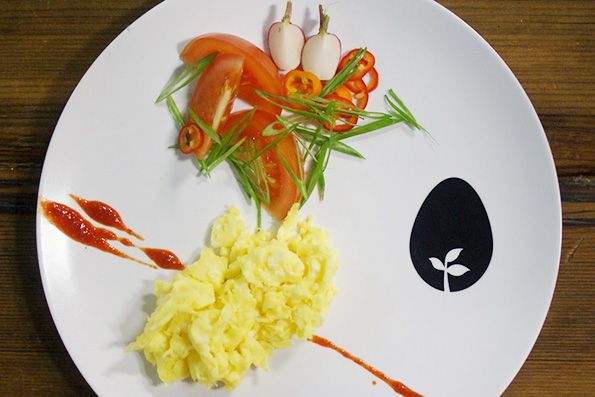 Tetrick recuited some "very smart scientists" who experimented with more than 2,000 plants to find 11 that were highly functional substitutes for eggs. The company's first product was an industrial ingredient for food manufacturers. "Those companies buy hundreds of millions of eggs every year for everything form cookies and muffins to mixes and sauces," Tetrick says. He can't reveal the names of Hampton Creek's customers but says that he's now working with two major food companies and that sales to them represent 20 percent of revenue. Tetrick concedes that there was initial resistance. "The biggest impediment to us is when people have been doing something the same way for many years," he says. His comeback: Substituting Hampton Creek's product will save 21 percent and customers won't be able to tell the difference.
A Consumer Brand 
While Tetrick never intended to build a consumer-facing brand, widespread interest in what he was accomplishing with plants motivated him to pivot slightly. "People were really interested in this stuff and we wanted to take advantage of this movement," he says. He discovered that mayonnaise—an $11.3 billion market globally—uses copious amounts of eggs and that "it's very difficult to make without a chicken egg."
Tetrick put his team of scientists to work and discovered that a particular cultivar of Canadian yellow pea "makes some pretty outstanding mayonnaise at a price that's more affordable than conventional mayonnaise." Development took several months, but Hampton Creek's first consumer product, Just Mayo, hit the shelves at Whole Foods in the fall; a national roll-out is now in the works. In 2014, Hampton Creek will launch an eggless cookie dough (edible in raw form) and Just Scramble, the egg substitute Tetrick hopes consumers like his dad will buy.
In the meantime, the company has landed another $1.5 million in capital from Khosla Ventures. Other high-profile investors are also on board, including PayPal co-founder Peter Thiel, and Bill Gates, who named Hampton Creek one of three companies changing the future of food. Tetrick says he's now in the middle of another capital raise.
His success thus far has not escaped notice by the egg industry. Google Tetrick's name, Hampton Creek or Just Mayo, and one of the related ads that frequently pops up is from The American Egg Board. "They're buying ads against my name," he says. So while Hampton Creek is still tiny, it's being perceived as a threat by the industry it is seeking to disrupt. Tetrick's reaction? "Bring it."
Read more articles on leadership.
Photos: Hampton Creek