Five years ago, Ellen Bennett was working as a line cook at two top Los Angeles restaurants, with dreams of becoming a chef. She loved the lightning pace of her jobs, but was struck by the disconnect between the appearance of the kitchen staff and the exquisite attention to detail that went into everything else at the acclaimed restaurants, one of which had two Michelin stars.
"I was cooking and working crazy hours and thinking how are we doing this—making amazing food and yet everyone looks and feels terrible?" she recalls. "I wanted to improve things, radically."
Bennett, then 25, asked one of her chef bosses if she could make him an apron, one with quality fabrics that had adjustable straps and lap pockets that didn't rip. He said yes, and when he ordered 40 more for his staff, Bennett suddenly found herself blazing a new career path.
Hedley & Bennett founder Ellen Bennett
At the time, most chef's aprons were made by "gigantic monopolized dinosaurs that had no sense of design or style or culture. It was a commodity item," Bennett says.
She started Hedley & Bennett (Hedley was her paternal grandfather's first name) in her Los Angeles living room with the goal of being "360 degrees from that. We are all about community and building relationships."
She envisioned durable but stylish aprons with reinforced pockets, straps that wouldn't twist, brass hardware that could withstand the heat of any kitchen, and colors that pop (canary yellow is her hue of choice).
Bennett, who went to culinary school in Mexico City, bartered for tips from friends on where to buy fabrics and how to make a pattern. "I had $300 and a deposit on the first order, and I used that to pay for materials," she says. "Then I bartered all kinds of stuff. I cooked for people—I said, 'Let me cook you breakfast, and you can make me a pattern.'"
Hedley & Bennett clients include celebrity chefs and TV stars.
To keep the momentum and orders coming, Bennett started approaching chefs at farmer's markets and food festivals and pitching her aprons. She hand-delivered their orders in wooden baskets tied up with twine.
"I had to go out and make things happen," she says. "When you don't have orders, you go out and you talk to people, and you get more orders. I'm very old school that way."
Soon, her clients included celebrity chefs and TV stars, who ordered customized aprons. Orders from home cooks started coming in via the website, where aprons made of top-grade American canvas and raw Japanese selvedge denim start at $65 and come in colors like abalone and bordeaux.
If you use what was done in the past to make your business successful and combine it with what you've got today, you've got twice as much opportunity to succeed.
—Ellen Bennett, founder, Hedley & Bennett
Even though the company saw profits almost immediately, Bennett kept her line-cook jobs and didn't take a paycheck for the first year and half. She took the same frugal approach she did when she was a teenager helping her mother balance the family budget after her parents divorced.
"It was so basic: Don't spend more than you make," she says. "I would do a rough breakdown of our [family] finances and say, 'We spent this much and this is how much we have left.' That's also how I ran my business."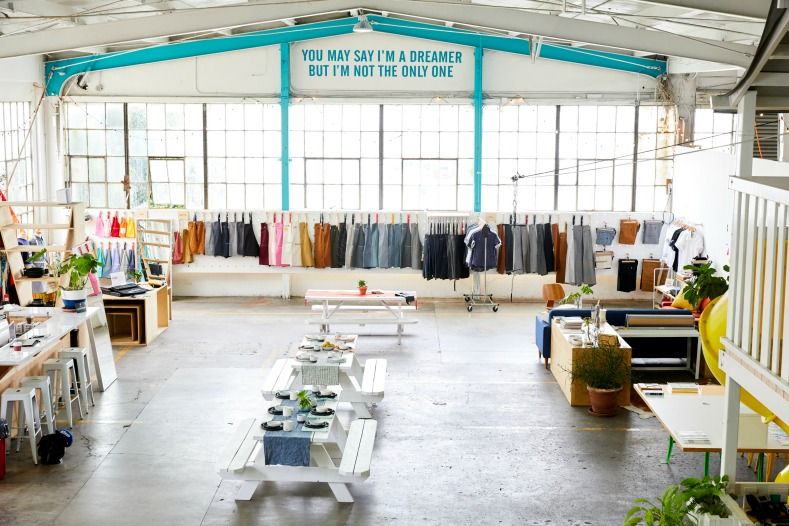 Hedley & Bennett's headquarters is located a 17,000-square-foot-warehouse near downtown Los Angeles.
Today, Hedley & Bennett's aprons are featured in about 4,000 restaurants around the world and sold at Whole Foods Market, Williams Sonoma and Sur La Table. Its product line has expanded to chef's coats, linens and knife bags, and clients now include not only chefs but "makers" such as carpenters and ceramists. The company operates out of a 17,000-square-foot warehouse near downtown Los Angeles with Pinterest-like walls covered in fabric swatches, photos and magazine clippings, and a zipline, which guests and employees are encouraged to use.
Bennett's office sits above a showroom that doubles as a setting for photo shoots, holiday crawfish boils and staff meetings. While the CEO's youthful ebullience permeates the place, she stresses that hard work is how she landed here and tries to make sure that all potential new hires understand that.
"We're very honest: While Instagram can make everything seem like a colorful dream, the truth is there's a lot of hard work that happens here every single day," she says. "We chose not to go the investor route, so it's on us to make it work. We've had to actually know what is happening and why it's happening, and that makes you more resourceful."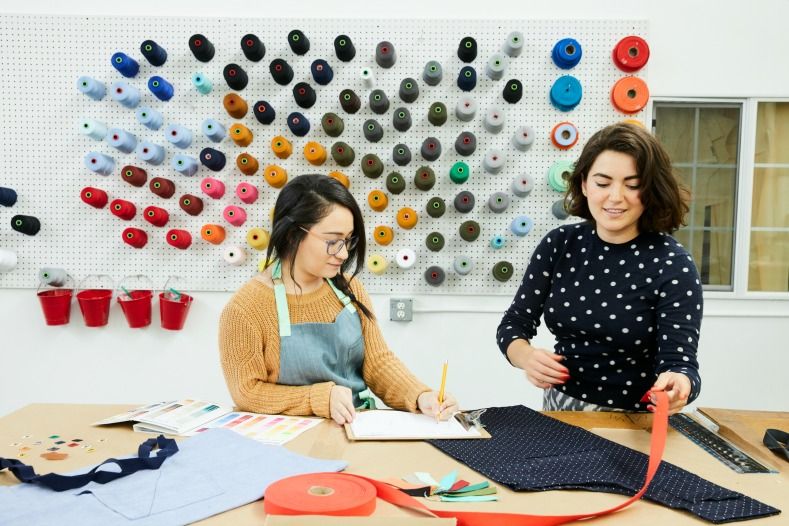 Bennett with production manager Jasmine Aguayo.
For Bennett, one of the biggest challenges has been managing growth without losing control. "Growing pains—that's a real thing," she says. "You have to keep the ship sailing while everything else is changing. It's 'How do I go from a one-man ship to a ten-man ship and still make sure everything gets shipped on time while implementing new systems along the way?'"
The company, for example, recently began offering health care to all employees for the first time in its five-year history. "It's something we've been wanting to do for a long time," Bennett says. "The more my team and I get educated, the more we understand what we're doing and where we have resources to pull from to do things like that."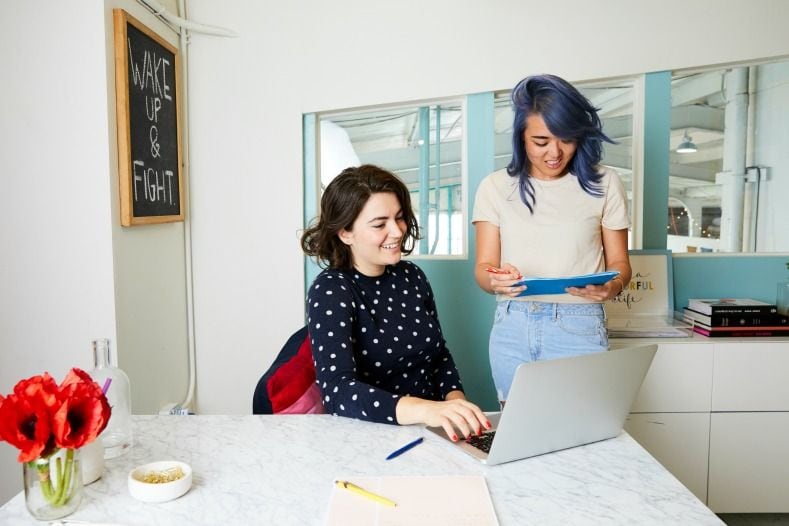 Bennett speaks with brand manager Diane Lieu.
As a millennial, Bennett also believes she has the best of both worlds when it comes to marketing her product.
"If you use what was done in the past to make your business successful and combine it with what you've got today, you've got twice as much opportunity to succeed," she says. "You should never just rely on an email or hope that maybe somebody will notice you because you have an internet pop-up. You need to get out into the world, and that's something even now I'm still very adamant about."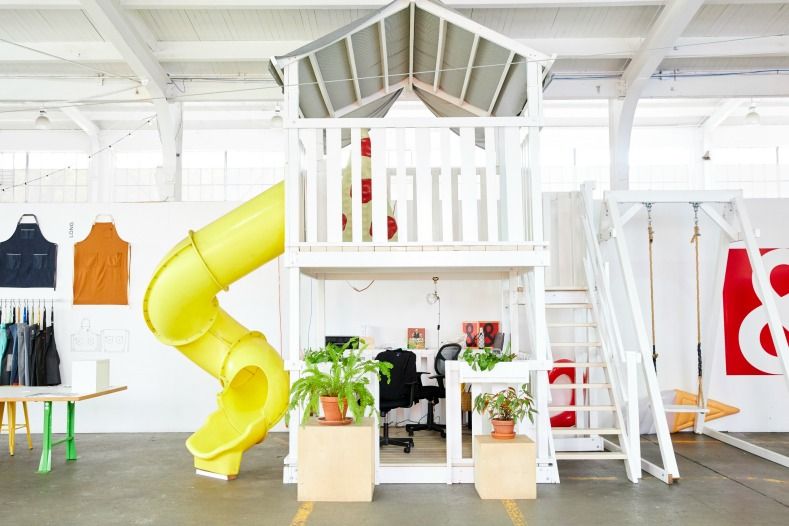 As the company expands, Bennett has been working on managing its growth without losing control of her vision.
That sometimes means making an appearance at her old employer, the Michelin-starred Providence, where she is known to show up on a Saturday night and join the line of cooks julienning carrots and sautéing morels.
"I find it therapeutic on a personal level," she says. "Boots on the ground, out there in world."
Photos: Amanda Friedman